West Bengal Assembly elections 2018: BJP beats Congress, CPM, turns No. 2 party behind Trinamool
West Bengal Assembly elections 2018: According to the list of nominations filed by various political parties for the panchayat polls, the TMC is way ahead of its rivals in all the three segments of the panchayat polls. The panchayat elections will be held across 48,650 seats in  3,358 gram  panchayats, 9,217 seats in 341 panchayat  samitis  and 825 seats in 20  zilla   parishads  in three phases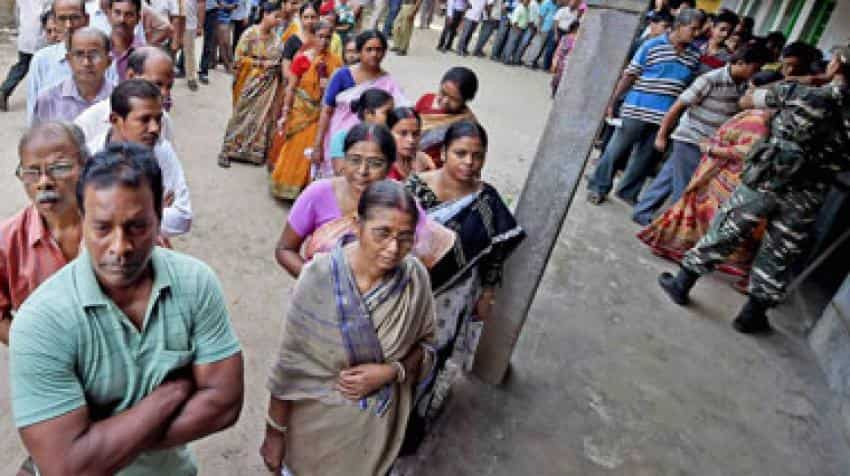 West Bengal Assembly elections 2018: The TMC has filed 1,085 nominations for the zila parishads, followed by the BJP, which had filed 832 nominations. Image source: PTI
Updated: Wed, Apr 25, 2018
10:31 am
PTI
West Bengal Assembly elections 2018: The BJP today defeated the Congress and the CPI(M) to emerge as the second largest party after the ruling Trinamool Congress in the number of nominations filed for the upcoming three-tier panchayat polls. According to the list of nominations filed by various political parties for the panchayat polls, the TMC is way ahead of its rivals in all the three segments of the panchayat polls. The panchayat elections will be held across 48,650 seats in 3,358 gram panchayats, 9,217 seats in 341 panchayat samitis and 825 seats in 20 zilla parishads in three phases.
The TMC has filed 1,085 nominations for the zila parishads, followed by the BJP, which had filed 832 nominations. The CPI(M) and the Congress had filed 568 and 430 nominations respectively. For the panchayat samitis, the TMC has filed 12,860 nominations, followed again by the BJP, which has filed 6,351 nominations. The figures for the CPI(M) and the Congress are 4,509 and 1,807 respectively. The picture is the same in the case of gram panchayats for which the TMC has filed 59,736 nominations, BJP 28,696, CPI(M) 17,904 and the Congress 7,649 respectively. Asked about the reason behind the TMC filing more nominations than the number of seats in all the three segments, a senior party leader said, "There are many aspirants for the party tickets so many people have filed nominations. But the TMC symbol will be allotted to only those who have been asked by the party to contest."
State BJP president Dilip Ghosh said the party would have filed nominations in all the seats "had there been no violence or threats by the TMC goons". "We still have candidates who are waiting to fight the polls. But they couldn't file their nominations because of the politics of violence by TMC. People of Bengal want a change and feel only BJP can bring it," he said. Now the challenge lies in ensuring that candidates do not give into the threats and withdraw nominations, Ghosh added.
TMC secretary general Partha Chatterjee rubbished the allegations of violence and said the number of nominations filed by the opposition only proved that they are "concocted". "If we had unleashed so much violence then how come opposition had filed so many nominations? The allegations are baseless and concocted. They don't have manpower to file nominations in so many seats and they are blaming us," he said.
The filing of nominations for the panchayat polls in the state was held from April 2 to April 9 and then again on an extended date on April 23. It was marred by violence and clashes between the ruling TMC and opposition political parties in the state, which saw four deaths.