Rakesh Jhunjhunwala lost hefty money in Being Human! A journey of a stock from Rs 188-level to just Rs 34 in 1 year; do you own it too?
Well, the company to blame is linked to none other than superstar Salman Khan's Being Human trademark holder The Mandhana Retail. Yes you have read it right! Jhunjhunwala faces massive lossed from Mandhana.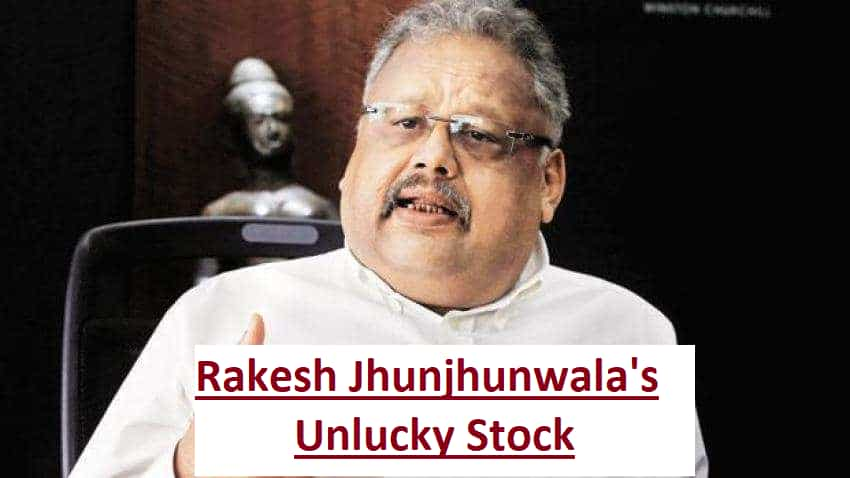 Representational Image: Photo: Reuters
Being called the most successful investor in India is, surely, both a boon and curse. All interested parties watch your strategy, your ideas are put under the microscope and discussed loudly on the microphone and tomes are published about their top quotes and more. Some even seek to emulate these strategies and pave their way to stock market success. This is definitely true in case of big bull Rakesh Jhunjhunwala, who is the face of  stock market success in India.
Make no mistake, Jhunjhunwala is a name every one watches when stock market does up or down. Jhunjhunwala, referred to as Dalal Street king too, has his own favourite icon. He has idolized another equity king, Warren Buffett. Jhunjhunwala who began his trading career from scratch, with just $100 and turned it into a massive $2.9 billion asset. But the best, even top leaders, are bound to taste some failure at some point of life. In case of Jhunjhunwala, here is this one company that surely qualifies as a bad investment. A company which he might have bought at over Rs 200, has now become a penny stock for him.
And which company has sought to tarnish the reputation of Rakesh Jhunjhunwala? Well, the company to blame is linked to none other than superstar Salman Khan's Being Human trademark holder The Mandhana Retail. Yes you have read it right! Jhunjhunwala faces massive lossed from Mandhana. 
Today, The Mandhana Retail share price was trading at Rs 34.70 down by 1.14% at around 1313 hours. However, so far in the day's trading session, the company has plunged 2.42% after touching an intraday low of Rs 34.25. 
Why has this stock grabbed attention is because, it touched an all-time low of Rs 34 in yesterday's trading session. 
What is even more surprising is that, in less than a year The Mandhana Retail is not even at 3/4 of its all-time high mark, which was not a very long time ago. 
On January 09, 2018, the company was trading gloriously at an all-time high of Rs 188.40 per piece. Can you imagine a stock tumbling at such extreme level in just a few months, and it needs to be noted that, Jhunjhunwala still holds some crores in it. In fact he has barely made any buying and selling in this stock since the investor bought them.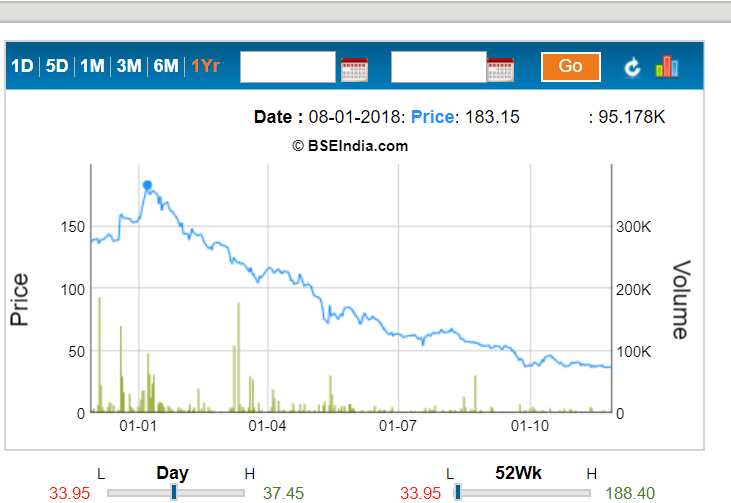 After clocking an all-time high, The Mandhana Retail, within four months, dropped near Rs 100-mark, something that can be perhaps, blamed on Salman Khan's blackbuck case where the actor was jailed for few days in Jodhpur central jail. 
Even though Salman Khan was released soon enough, there was no stopping The Mandhana's downfall. Between May 2018 till first week of September, the company was performing between Rs 50 to Rs 80. 
But then came the massive bear market time in second half of September, where almost every company was touching a new low and The Mandhana was no different. 
The company by end of September clocked an all-time low of Rs 40, and within two months time now it's current 52-week low is Rs 34 recorded on November 28, 2018. 
It can surely be said, Mandhana's shares were definitely a bubble, which could not retain its over Rs 188 level, and had to burst. In less than a year, The Mandhana share price dropped by nearly 82%. 
This is a blow to Jhunjhunwala. In percentage terms, Mandhana is Jhunjhunwala's second highest stock. The ace investor holds about 12.74% stake in the company with 2,813,274 shares worth Rs 9.7 crore. 
TrendLyne.com which tracks Jhunjhunwala's portfolio performance, revealed that the investor began trading in The Mandhana from December 2016. Jhunjhunwala has neither invested further, nor removed money in this company since then. Is that a thumbs-up from the big bull? You decide!
For your information, historical data reveals that The Mandhana had clocked an all-time high of Rs 246 per piece on December 16, 2016. One can assume, Jhunjhunwala must have made his move in Mandhana during that time. 
If that is the case, then The Mandhana has disappointed Jhunjhunwala extremely. In less three year's time, The Mandhana has plunged by 86.17% in three years, with 2018 being its worst year. 
So, if you have also invested in this company, then just like Jhunjhunwala you have made some losses as well. However, Jhunjhunwala will not be troubled with Mandhana's performance as his investment loss is just a tiny fraction of his overall gains. His major investment flows in companies like Titan, Dewan Housing, Escorts, Lupin, Delta Corp and NCC.
Who is behind The Mandhana Retail Ventures?
Company was incorporated as 'Mandhana Retail Ventures Limited' dated February 12, 2011 and the Company's name was changed to 'The Mandhana Retail Ventures Limited' dated September 26, 2016.
Mandhana Industries Limited (MIL), the Demerged Company had entered into global exclusive Brand License Agreement with "Being Human – The Salman Khan Foundation" on December 23, 2010 effective from January 1, 2011 to use trademark & logo of "Being Human" for all clothes range/clothing lines.
Post approval of Scheme, MIL and The Salman Khan Foundation agreed to terminate the erstwhile Brand License Agreement vide Termination Agreement dated August 24, 2016 and simultaneously our Company entered into global exclusive Trademark License Agreement on the even date to design, manufacture, retail and distribute men's wear, women's wear and accessories under "Being Human" trademark until March 31, 2020.
Updated: Thu, Nov 29, 2018
04:16 pm
Mumbai, ZeeBiz WebDesk