Raghuram Rajan to S Gurumurhty: Shock reactions on RBI Governor Urjit Patel resignation here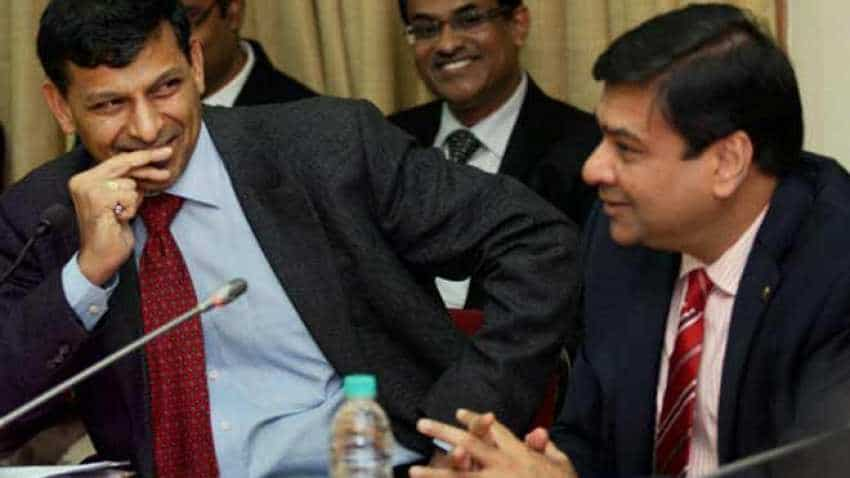 Raghuram Rajan and Urjit Patel. Image: PTI File
Updated: Mon, Dec 10, 2018
06:43 pm
New Delhi, ZeeBiz WebDesk
The Reserve Bank of India`s Governor, Urjit Patel, resigned for "personal reasons" on Monday, a decision analysts linked to the intense pressure on the central bank from the government to ease regulatory curbs.  The government and the RBI have been fighting for weeks over how much autonomy the RBI should have as the administration of Prime Minister Narendra Modi seeks to reduce curbs on lending and to gain access to the RBI`s surplus reserves. Here are the reactions: 
COMMENTARY 
RAGHURAM RAJAN, FORMER RBI GOVERNOR
"I think Dr Patel has made a statement. I think this is the ultimate statement a regulator or a civil servant can make. I think his statement should be respected. We should go into the details on why there was an impasse which forced him to take this ultimate decision and I think this is something all Indians should be concerned about because the strength of our institution is really important …"
S GURUMURTHY, RBI BOARD MEMBER 
"Surprised at the news that RBI governor has resigned. The previous meeting was held in such cordial atmosphere that it comes as a shock. All directors said media had created a wrong perception while inside it was totally different. That makes it even more surprising."
"I enjoyed several hours of personal discussions with him where we found large areas of agreement as well as mutually understandable disagreement. His resignation is indeed set back to the effects of the convergence of views that was taking place. We will miss him." 
VIKTOR SZABO, ABERDEEN STANDARD INVESTMENTS
"We had this row between the government and the central bank over independence, we thought it had faded but it seems not." 
"Perhaps it plays into the pre-election campaign for next year, that is something that we will be watching really closely"
SANDIP SABHARWAL, FUND MANAGER AND INVESTMENT ADVISER 
"There can be no positive spin given to the resignation of Urjit Patel. This is a failure of the current government in handling a systematically important institution. It is unprecedented and is a clear reflection of the interference in the operations of RBI."
NARENDRA MODI, PRIME MINISTER
"Dr. Urjit Patel is a thorough professional with impeccable integrity. He has been in the Reserve Bank of India for about 6 years as Deputy Governor and Governor. He leaves behind a great legacy. We will miss him immensely."
"Dr Urjit Patel is an economist of a very high calibre with a deep and insightful understanding of macro-economic issues. He steered the banking system from chaos to order and ensured discipline. Under his leadership, the RBI brought financial stability."
FINANCE MINISTER ARUN JAITLEY
"The Government acknowledges with deep sense of appreciation the services rendered by Dr. Urjit Patel to this country both in his capacity as the Governor and the Deputy Governor of The RBI. It was a pleasure for me to deal with him and benefit from his scholarship."
"I wish Dr. Patel all the very best and many more years of public service."
R. SIVAKUMAR, HEAD OF FIXED INCOME, AXIS MUTUAL FUND
"I think typically when central bank governors or leaders anywhere in the world quit that potentially can have significant effect on the currency and bond markets. I think it`s something that we`ll be watchful for tomorrow. I think tomorrow and over the next few days we can expect heightened volatility in the markets." 
"For tomorrow, markets certainly will be concerned unless there is further clarifications that come through tonight. Otherwise it is likely that there will be some amount of volatility."
A PRASANNA, HEAD OF RESEARCH, ICICI SECURITIES PRIMARY DEALERSHIP, MUMBAI
"The news is definitely a big surprise. The timing just before this week`s board meeting suggests that there's still a huge gap between government and RBI positions on key issues. Markets will now hope that the government has a plan of action ready so as to restore calm."
ASHWANI MAHAJAN, CHIEF OF AN ECONOMIC WING OF RASHTRIYA SWAYAMSEVAK SANGH,
"I think it was unexpected, this is something not on expected lines. Our country runs on a system and it is not individual centric. Board of RBI comprises educated and learned people, there are economists on the board. They all are also opinionated. The board is not just a rubber stamp" 
ANJALI VERMA, ECONOMIST, PHILLIPCAPITAL INDIA, MUMBAI
"This comes as a surprise, and should (have) an adverse impact on investor confidence."
LAKSHMI IYER, CHIEF INVESTMENT OFFICER, FIXED INCOME, KOTAK MAHINDRA AMC
"Markets were not prepared for this. Tomorrow is also the political uncertainty day. So, if that saves then you`ll see some saving grace. Otherwise, I don`t think markets may take this very kindly, especially dollar-rupee."
"I was not expecting this. From a markets standpoint, it might rebound, that`s a different thing, but for a knee-jerk reaction, I think it`ll be negative for dollar-rupee and, therefore, logically for bonds also. We`ll have to wait and watch." 
YASHWANT SINHA, FORMER FINANCE MINISTER
"Quite clearly the resignation of Urjit Patel shows that nothing has changed ... Things were quite as bad as they were before. The resignation is a clear sign of the government trying to interfere with the working of the RBI."
Y H MALEGAM, FORMER RBI BOARD MEMBER
"Very unfortunate ... It`s a combination of what perhaps has been going on for a long time"
"One of the factors that could be affecting this is the fear that the (RBI) board is no longer independent ... therefore the governor maybe feeling the ability to function is in some sense being restricted."
Get Latest Business News, Stock Market Updates and Videos; Check your tax outgo through Income Tax Calculator and save money through our Personal Finance coverage. Check Business Breaking News Live on Zee Business Twitter and Facebook. Subscribe on YouTube.