Q4FY17 GDP at 6.1% but some sectors defied demonetisation impact
 India's GDP numbers were at 6.1% in Q4FY17 – indicating a strong demonetisation impact. Difference between nominal and real GVA reflects slowdown was due to higher deflator.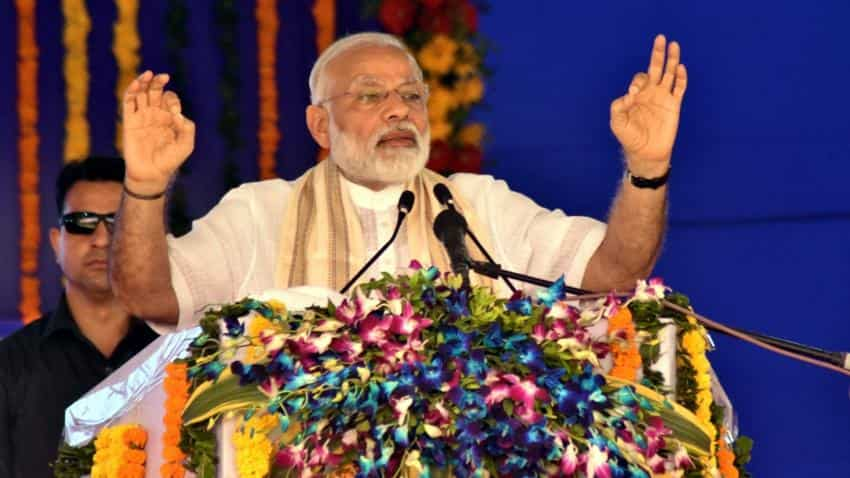 Prime Minister Narendra Modi delivers his address at the inauguration of the Kiran Multispeciality Hospital. Photo: IANS
Updated: Thu, Jun 01, 2017
03:53 pm
Mumbai, ZeeBiz WebDesk
In the last quarter of FY17 (Q4FY17), India's GDP numbers missed estimates and dropped to 6.1% as demonetisation's impact showed in its full glory.  Real GDP at constant (2011-12) prices for FY17 is estimated at Rs 121.90 lakh crore showing a growth rate of 7.1% over the year 2015-16 of Rs 113.81 lakh crore, as per CSO.
As per Devendra Kumar Pant, Chief Economist, India Ratings & Research, GDP growth was supported by higher growth of net taxed on products (12.8%). 
However GVA growth of 6.6% is lowest since FY15. 
The impact of demonetisation is clearly visible in fourth quarter GVA growth of manufacturing (declined to 5.3% from 8.2% in third quarter) and trade hotels, transport & communication and services related to broadcasting (declined to 6.5% from 8.3% in third quarter), he said. 
The data released by the Central Statistics Office (CSO) points to something else as well.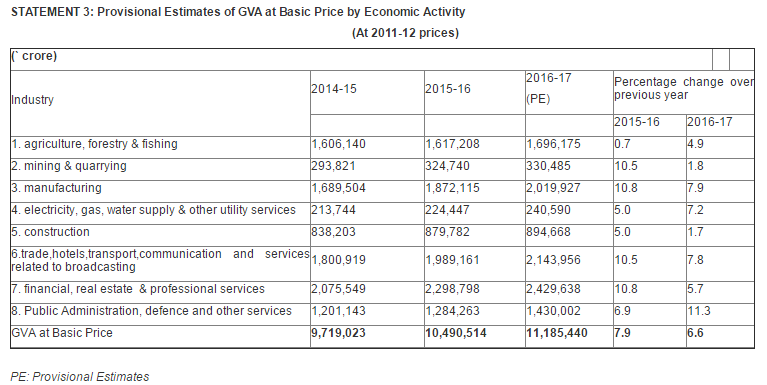 In percentage terms, sectors like mining, manufacturing, construction, service sectors (trade, hotels, transport, communication), financials, real estate and professional services witnessed deceleration in FY17.
Yet their provisional estimates (PE) in value terms as per CSO were higher in FY17 compared to FY16.
Manufacturing sector had PE of Rs 20.19 lakh crore vs Rs 18.72 lakh crore in FY16, while construction had PE of Rs 2.40 lakh crore vs Rs 2.24 lakh crore of FY16, service sectors stood at Rs 21.43 lakh crore of PE vs Rs 19.89 lakh crore in FY16 and that of financials, real estate saw PE of Rs 24.29 lakh crore vs Rs 19.89 lakh crore.
HDFC Bank said, "The sharp slowdown in Q4 should be partly seen in light of a higher deflator impact, which is visible in the difference between growth in nominal and real terms –nominal GVA expanded by 11.3% in Q4, but in real terms the growth fell down to 5.6% in Q4 reflecting a higher GVA deflator (5.7%)."
Similar opinions were from State Bank of India (SBI). It stated that GVA deflator in some sectors and the distinct slowdown in GDP could be explained partly by the price impact.
Deflator in GDP is a measure of the level of prices of all new, domestically produced, final goods and services in an economy.
SBI highlighted the performance of sectoral GVA deflator in percentage terms. It stated that the economy was in slowdown mode till first half of FY17 (before demonetisation) and has actually accelerated in the second half.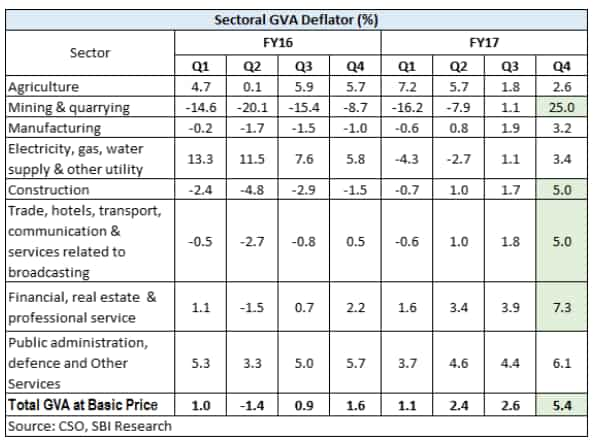 Data in consideration with GVA deflator indicated that mining & quarrying sector has actually recorded a growth of 25% in Q4FY17 and 1.1% Q3FY17 compared to negative 8.7% and 15.4% of Q4FY17 and Q4FY16 respectively.
At the same time, manufacturing sector has been higher by 3.2% (Q4FY17) and 1.1% (Q3FY17) as against last two quarters of FY16 where it was negtaive 1% and 1.5%, respectively.
Service sectors like (trade, hotels, transport and many more) has also risen by 5% in Q4FY17 verus 0.5% growth in Q4FY16. Construction sector also saw growth of 5% in Q4FY17 from negative 1.5% of Q4FY16.
Going ahead, certain changes made in the new IIP series with base 2011-12 compared to the old series with 2004-05 base also shows higher growth.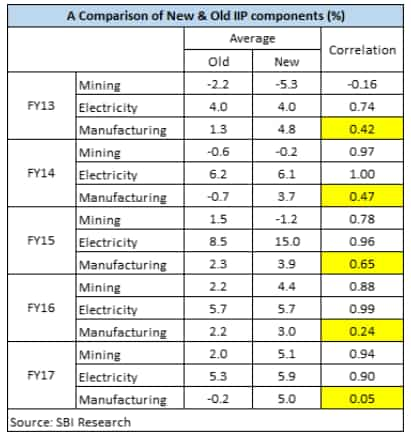 Mining, manufacturing and electricity sector has grown by 5.1%, 5.9% and 5% in Q4FY17 compared to 4.4%, 5.7% and 3% growth in the corresponding period of the previous year.
RBI, in its Monetary Policy Report, had indicated that activity in the industrial sector gained momentum in H2 FY17, buoyed mainly by the better performance of the mining and quarrying sectors.
A part of slowdown can also be explained by a higher base of Q4 FY16 - GVA growth was revised higher by 50 basis point from 8.2% to 8.7%. 
HDFC Bank said, "In our view, this factor explains around 40 bps of dip or revision in the 4Q growth numbers, we suspect that some of it could also be accounted by GST related factors – some companies are going for production cuts in anticipation of a July implementation."
"With regard to the adverse impact of the note ban, it is important to read the data very carefully in order to put things in the right perspective," added HDFC Bank. 
Get Latest Business News, Stock Market Updates and Videos; Check your tax outgo through Income Tax Calculator and save money through our Personal Finance coverage. Check Business Breaking News Live on Zee Business Twitter and Facebook. Subscribe on YouTube.