Now, Gujarat hit with shortage of cash; some banks cap withdrawals
The cash shortage, according to informed sources in the banking sector, has been there for almost a fortnight as lesser amounts of cash was received from the RBI. The cash crunch is believed to be right from the level of currency chest, from where the cash is disbursed to various bank branches across the state. The RBI has 257 currency chests in the Gujarat region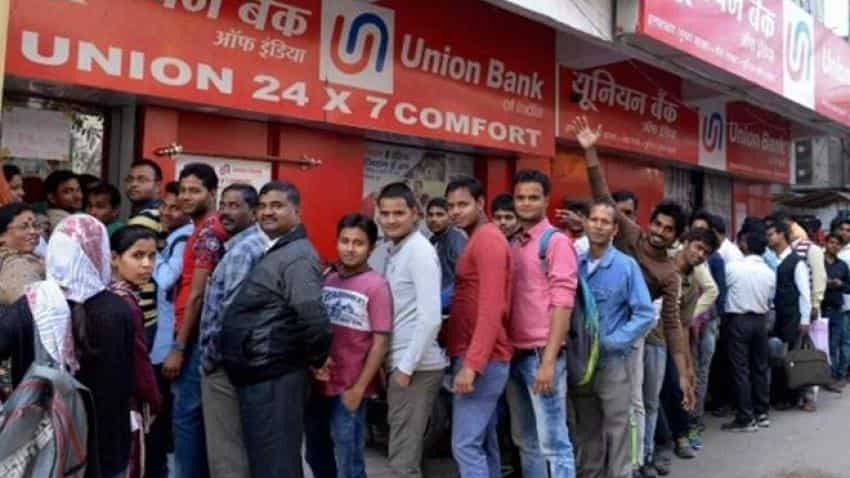 The cash crunch has affected the entire state but more so in the rural areas. Several nationalised and cooperative banks in the rural areas are facing the pinch, informed sources say. Image source: PTI
Updated: Sat, Apr 14, 2018
10:00 am
IANS
Reminding one of the post-demonetisation days, a fortnight of cash crunch has affected Gujarat, especially the rural areas. "We have come across instances of cash crunch and have spoken to the Reserve Bank of India. We have also instructed the Chief Secretary to be in touch with RBI officials," Gujarat Deputy Chief Minister Nitin Patel said on Friday. The cash shortage, according to informed sources in the banking sector, has been there for almost a fortnight as lesser amounts of cash was received from the RBI. The cash crunch is believed to be right from the level of currency chest, from where the cash is disbursed to various bank branches across the state. The RBI has 257 currency chests in the Gujarat region.
The cash crunch has affected the entire state but more so in the rural areas. Several nationalised and cooperative banks in the rural areas are facing the pinch, informed sources say. Notices were put up in some of the branches of these banks in north Gujarat districts of Arvalli, Sabarkantha, Mehsana and Unjha informing the account holders about the limit on cash withdrawal.
The Gujarat Urban Cooperative Banks Federation (GUCBF), the body representing cooperative banks in the state, had even made written representations regarding the deteriorating situation of cash availability in the state to the RBI, the Governor and the Gujarat Chief Minister. Some banks are receiving only 10 per cent of their weekly requirement of cash, according to a banker. "The situation is not that severe as yet in urban areas. But rural areas are in a plight, especially in wake of farmers seeking loans or coming in to sell their harvest in the markets. Looking at the situation, it is really worrisome," he added.
"We are ensuring that the currency flow in the state is maintained and looking hopefully to the RBI for that," Nitin Patel said.