Narendra Modi speech highlights: From hardcore politics, to changing times, what PM said
Narendra Modi asked lawmakers to work towards fulfilling developmental targets in their regions. The prime minister said that though he can't ask them to leave hardcore politics, but  changes in society will make them do so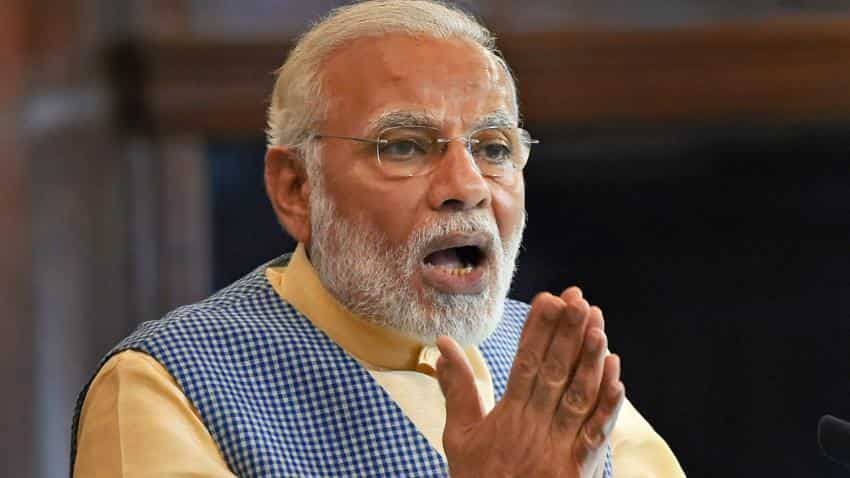 Prime Minister Narendra Modi delivering his inaugural address at the National Legislators Conference in New Delhi on Saturday. Image source: PTI
Updated: Sat, Mar 10, 2018
03:07 pm
PTI
Prime Minister Narendra Modi today told lawmakers that working for development in most backward districts would be a step towards social justice and that "hardcore politics" of struggle and agitation was no longer as relevant as it used to be.
Addressing a National Legislators Conference on "We for development" at Parliament's Central Hall, he spoke about social justice in the context of all-round development of 115 most backward districts identified and dubbed by his government as "aspirational".
If all children go to schools and all households get electricity, then it would be a step towards social justice, the prime minister told the gathering of central ministers, MPs and legislators from states. Asserting that shortage of budget or resources were not the reasons for lack of development but governance was, Modi said good governance, effective implementation of schemes and focussed activities were needed for development. "There used to be a time when hardcore politics, round-the-clock politics involving agitations and struggle would work. Time has changed. Whether you are in power or in opposition, what matters is whether if you come to people's help," he told parliamentarians and legislators from states.
Things like how much agitation you did, how many 'morchas' you took out and how many times you went to jail would matter to your political career 20 years back, but things have changed now, Modi told the lawmakers and asked them to work towards fulfilling developmental targets in their regions. The prime minister said that though he cannot ask them to leave hardcore politics, but changes in society will make them do so.
A discussion on social justice is often confined to social conditions but there are more dimensions to it, he said, adding that if there is electricity in one home or one village but not in the neighbouring home or village, social justice dictates that they too get electricity.
In India, the phrase 'social justice' is loaded with political meaning as political parties, especially those from 'Janata Parivar', have used the plank to rally backward castes and other weaker sections of society around them.
The BJP under Modi has injected a narrative of development into this and often succeeded in winning over a large section of these communities in one election after another. The prime minister said lawmakers who get elected repeatedly, were often those identified with something beyond politics by their constituents.
Recalling that icons like Jawaharlal Nehru, B R Ambedkar and Sardar Patel sat in the Central Hall of Parliament to prepare the Constitution, he likened the lawmakers' presence in the hall today to a pilgrimage and pitched for development.
That parliamentarians and legislators from different parties are sitting together on the issue of development is a living example of federalism, the prime minister said and asked them to work like a "helping hand" to state machinery.
He said development in the 115 districts would be a work of social justice and if the lawmakers worked sincerely for one year, with people's participation it would bring about a sea change, and help India go up in Human Development Index.
Governments have the tendency of focusing on what gives them results easily and it often results in developed districts doing better still while backward districts slide further, Modi said, adding his government has identified these 115 districts as "aspirational" and not backward as the latter has negative connotations. "We don't have to do a competition of backwards but of forwards," he said.
The prime minister also called for posting young officers, a reference to those directly from the IAS instead of those promoted to the all India service from state cadre, with a sense of purpose, as district magistrates in these places. Modi said the average age of a district magistrate is generally 27-30 years but he was surprised to find in a meeting with officials of these 115 districts that 80 per cent of them were aged more than 40 years.
Elder officers have many other concerns, such as family and career, and these districts should not be seen as places where anybody can be posted, he said. Working for development in these districts would also be a form of the social justice envisaged by the makers of our Constitution and there is little possibility of any fight in this, the prime minister said.
He said it is necessary to identify the reasons for backwardness of these districts and once it is done, then problems of 80-85 of them can be addressed easily in a similar manner troubles afflicting a diabetic person are cured once his disease is found out.
Rest of the 115 districts are hit by left-wing extremism, Modi said.
If work is done on a mission mode with available resources and manpower, then it will lead to very good results. Where this has happened, things have changed, he said.
Underlining the importance of good governance, the prime minister said his experience showed that MNREGA, the rural employment guarantee scheme, has been used less effectively in more poor places and more effectively in richer regions because of good governance in the latter. Speaking on the occasion, Speaker Sumitra Mahajan said lawmakers should think collectively how India can develop and become a strong country by 2022. 
 
Get Latest Business News, Stock Market Updates and Videos; Check your tax outgo through Income Tax Calculator and save money through our Personal Finance coverage. Check Business Breaking News Live on Zee Business Twitter and Facebook. Subscribe on YouTube.