Minors can't opt out of Aadhaar after attaining majority: UIDAI to SC
In response to the query as to what were the Aadhaar authentication failure rates in the states and at the national level, Attorney General K K Venugopal said the UIDAI cannot provide authentication failure rates at the state level since it does not track the location of the authentication transactions. Referring to the data, he further said that the biometric failure rates are at 6  per cent  for fingerprints and 8.54  per cent  for iris at the national level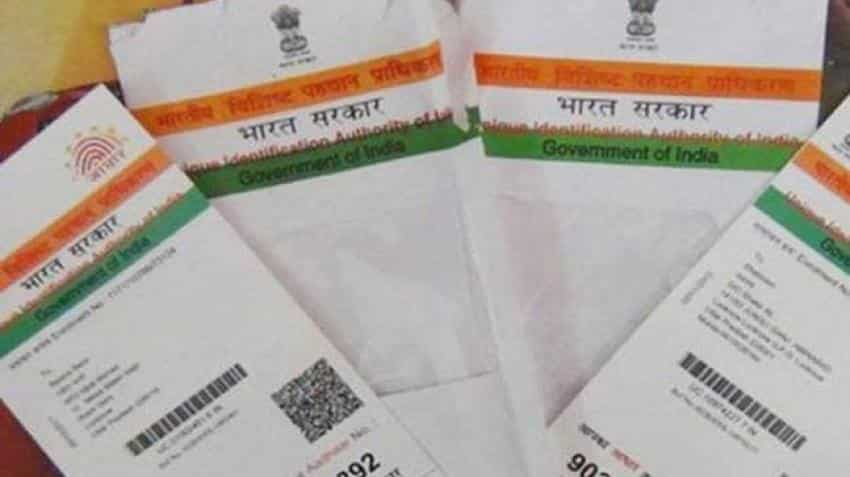 K K Venugopal said that as on March 21, the total number of biometric de-duplication rejections that have taken place are 6.91 crore. Image source: PTI
Updated: Tue, Apr 03, 2018
08:46 pm
PTI
Minors, whose Aadhaar card has already been generated, cannot opt out of the Aadhaar scheme after attaining majority, the Unique Identification Authority of India (UIDAI) today told the Supreme Court. Attorney General K K Venugopal was referring to the written replies of UIDAI CEO Ajay Bhushan Pandey to the queries posed by the petitioners, opposed to the Aadhaar scheme and its enabling 2016 law, before a five-judge Constitution bench headed by Chief Justice Dipak Misra. He said that school authorities can act as introducers to get children, between the age group of 5 to 15 years, enrolled for Aadhaar with the parental consent.
Responding to a query whether a child, after attaining the age of 18 years, can opt out, the top law officer told the bench, also comprising justices A K Sikri, A M Khanwilkar, D Y Chanadrachud and Ashok Bhushan, that it is not permissible under the Aadhaar Act, 2016. "However, residents have the option of permanently locking their biometrics and only temporarily unlocking it when needed for biometric authentication as per Regulation 11 of the Aadhaar (Authentication) Regulations, 2016," he said. The lawyers for the petitioners had given a list of queries to the UIDAI CEO after he had concluded his PowerPoint Presentation (PPT) to allay apprehensions with regard the Aadhaar scheme.
In response to the query as to what were the Aadhaar authentication failure rates in the states and at the national level, Venugopal said the UIDAI cannot provide authentication failure rates at the state level since it does not track the location of the authentication transactions. Referring to the data, he further said that the biometric failure rates are at 6 per cent for fingerprints and 8.54 per cent for iris at the national level. "It must be stated that authentication failures do not mean exclusion or denial from subsidies, benefits or services since the requesting entities are obliged under the law to provide for exception handling mechanisms," he said.
In response to a question as to how a leprosy patient or a person, who does not have a mobile number, is being enrolled for Aadhaar, the top law officer said, "Aadhaar enrolment is done for all residents, even of residents with leprosy. Biometric exception process is defined in the UIDAI resident enrolment process. "In the case of a leprosy patient, who may not be able to do fingerprint authentication, iris authentication can be used for update (and the mobile number added). This was the reason for multi-modal enrolment and authentication being selected for use in Aadhaar." As part of the exception handling mechanism, the UIDAI has already implemented a digitally signed QR code into eAadhaar which allows agencies to verify the Aadhaar card in an offline manner and trust the data, he said.
Venugopal said that as on March 21, the total number of biometric de-duplication rejections that have taken place are 6.91 crore. "This figure merely pertains to number of applications which have been identified by the Aadhaar de-duplication system as having matching biometrics to an existing Aadhaar number holder... "It is highly improbable for the biometrics to match unless the same person has applied again. There are a number of reasons why the same person might apply more than once.," he said.
Venugopal said, "For instance, many individuals innocently apply for enrolment multiple times because of the delay in getting their Aadhaar cards due to postal delays, loss or destruction of their cards or confusion about how the system works." Those whose enrolments have been rejected for any reason and who do not have Aadhaar can re-enrol and obtain it, he said, adding that rejection of enrolments did not mean that a person will never be able to get it.
 
 
Get Latest Business News, Stock Market Updates and Videos; Check your tax outgo through Income Tax Calculator and save money through our Personal Finance coverage. Check Business Breaking News Live on Zee Business Twitter and Facebook. Subscribe on YouTube.