India to create 175 million jobs, no poverty by 2032: Amitabh Kant
Niti Aayog Chief Executive Officer Amitabh Kant also projected India will become $10 trillion economy and achieve  growth  rate of 10% by 2032.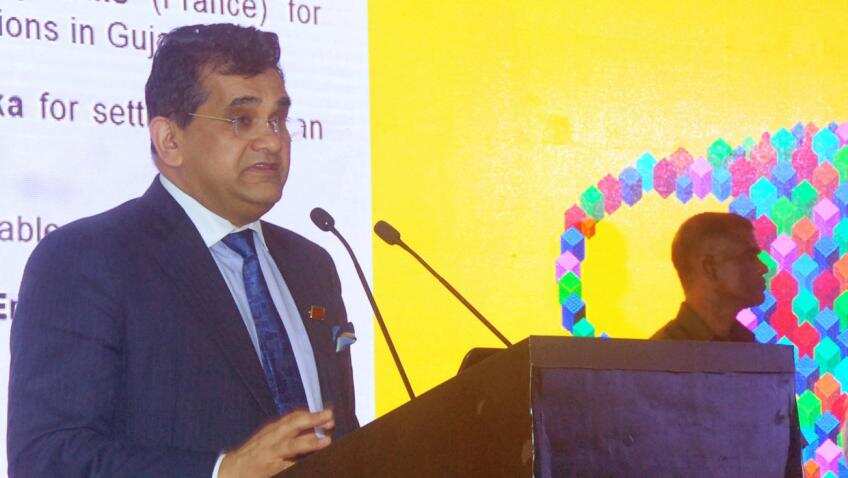 India will be a $10 trillion economy with no poverty in 2032, said Amitabh Kant. Photo: IANS
Updated: Thu, Apr 21, 2016
05:29 pm
New Delhi, PTI
India will become $10 trillion (about Rs 665 lakh crore) economy and achieve growth rate of 10% by 2032, Niti Aayog Chief Executive Officer Amitabh Kant said on Thursday.
The country's growth rate was 7.6% in 2015-16 and its economy worth $1.7 trillion (about Rs 113 lakh crore).
In a presentation made during Civil Services Day function attended by Prime Minister Narendra Modi and large number of civil servants, he projected creation of 175 millions jobs and zero percent of Below Poverty Line (BPL) population by 2032.
"Growing at 10% will transform India. India will be a $10 trillion economy with no poverty in 2032," his presentation reads.
The presentation was made on the status of implementation of reports of 'Group of Secretaries' formed by the Modi government. A total of eight Group of Secretaries were formed in December last year on focus areas.
"These eight groups had officers from different ministries. Further, there were 16 groups of Joint Secretaries who simultaneously worked on their focus areas. We cut across silos so that we can act on the eight themes and act as agent of change," Kant said.
The groups has decided on sub-themes, Some of its recommendation have been acted on whereas a road map has been suggested for the rest to achieve intended target.
Under the sub-theme "accelerated growth", Kant said there will be Rs two lakh crore worth investment in roads and railways in Financial Year 2017. It intends to complete 10,000 km of road project during the same period.
LPG connections to below poverty line women through Pradhan Mantri Ujjwala Yojana and promotion of medical tourism are other action points suggested by the group under "health and pharma" category. 
Linking all employment exchanges with e-platform through national career service by March 2017 and opening of 62 new Navodaya Vidyalayas is targeted during the ongoing fiscal, according to Kant's presentation.
Third party scrutiny of road project execution agencies and development of incentive mechanism for contractors for early completion of road projects is suggested by the sub-group on ease of doing business by this year-end.
A Nation-wide toll collection system by September 2016 and broadband connectivity through optical fibre for all gram panchayats by December 2018 are the other action points.
The group has decided to achieve creation of buffer stock for pulses and online order of farming equipment, products via post offices by 2018.
Blue revolution through target of 15 million metric tonnes fish production by financial year 2020, improve fuel efficiency norms for vehicles by financial year 2017, incentivise construction of energy efficient buildings (FY17) and setting up of 15 new coal washeries to reduce ash content, improve quality and reduce transport cost by October 2017 are other action points.
Power public sector undertakings to adopt railway stations, schools, bus stands, hospitals, religious, heritage sites for cleanliness during the ongoing fiscal is another task to do in the ongoing fiscal, as per the presentation.
"Targets are ambitious but they are doable. As they have been agreed upon by the officers," said Kant.
The eight themes of recommendations of group of Secretaries included 'Accelerated Growth with Inclusion and Equity', 'Employment Generation Strategies', 'Health and Education: Universal Access and Quality', 'Good Governance: Challenges, Opportunities' and 'Farmer Centric Issues in Agriculture & Allied Sectors'.
Besides these, 'Swachh Bharat and Ganga Rejuvenation', 'Energy Conservation and Efficiency' and 'Innovative Budgeting and Effective Implementation' are other themes.