India intends to sign pacts to seize wilful defaulters' assets
The new framework would help in improving India's position in the World Bank's ease of doing  business  ranking.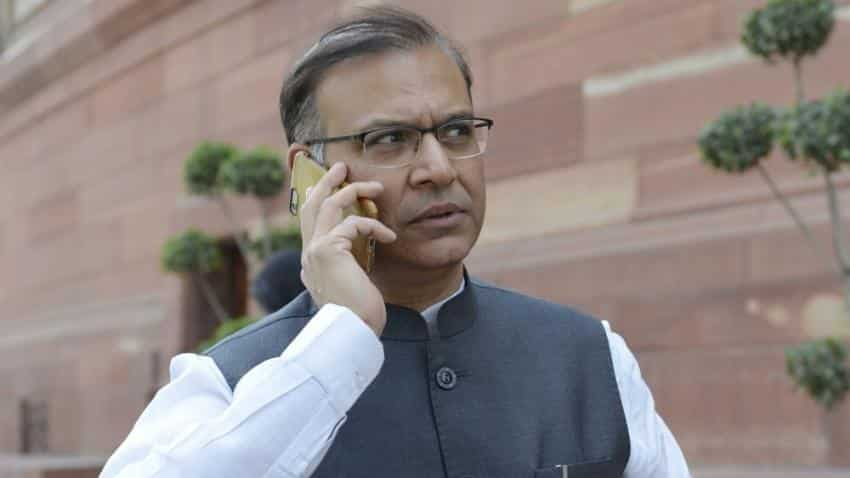 Over 7,000 wilful defaulters have been identified and process for identifying such people is going on, Sinha said. Photo: IANS
Updated: Thu, May 05, 2016
07:44 pm
New Delhi, PTI
Against the backdrop of Mallya episode, government today said it intends to enter into cross-border treaties to confiscate overseas assets of wilful defaulters and recover dues of banks as the Lok Sabha passed a bill that seeks to update existing laws in this regard.
Amid concerns expressed by members over rising instances of wilful defaults as highlighted by the case of liquor baron Vijay Mallya, Minister of State for Finance Jayant Sinha said bankruptcy framework and the normal procedure against them would continue in a parallel manner.
He was replying to a debate on the Insolvency and Bankruptcy Code Bill that seeks to update and consolidate existing laws, which was approved by the House later.
The legislation is a "transformational building block" for the economy and there would be one law dealing with bankruptcy while doing away with at least 12 different legislations, some of which are centuries old. This will also make the whole process more "transparent", Sinha said.
The new framework would help in improving India's position in the World Bank's ease of doing business ranking, he said.
To a query on whether the new legislation would help in taking the overseas assets of wilful defaulters, Sinha said in this regard first cross-border treaties need to be put in place.
"We have to make cross-border treaties. We have to have an understanding with other nations that we are taking action on this defaulter. When we have a good law like this in which the other nations will be clear that by due process of law we are taking action, then they will also believe us and they will cooperate with us in attaching the assets and properties in their countries," he said.
According to Sinha, India has already discussed the matter with other countries. "They have said that when we have such a law in the country, then such attachments and confiscation will be easily done... This law will help," the Minister said.
Earlier, the members questioned what the government proposes to do in the event of cases like "Mallya syndrome".
Sinha said "employees and workmen" would have first right during liquidation of assets under the law.
"We have made sure that workmen, employees, who in many cases have no other means of support, are right on top of the waterfall... On the waterfall, you cannot cherry pick," Sinha said referring to provisions in the law. Under this legislation, government comes only after them, he said and emphasised that "we want people to come first".
Touching upon various aspects of the legislation, the MoS Finance said it would re-address the powers of borrowers and creditors as well as bring in more transparency in the bankruptcy process. At present, the information about the process is fragmented, he added.
As per this law, information utilities would be created to provide creditors with information about borrowers such as how much money has been borrowed. The information utilities would be regulated by the bankruptcy board and the information would be "almost real time", he noted.
Further, Sinha said, implementation of the legislation would also help in having a "much deeper and broader corporate debt market".
On the issue of those wilfully defaulting on loans, Sinha said the process of going after wilful defaulters is independent of the bankruptcy process.
"For example, suppose somebody has not defaulted, but we know they are infact diverting fund, siphoning fund away, we can immediately start taking action on them. We can file an FIR and we will pursue them through the investigative agencies and kind of police action we can take, and they will end up in place because of the kind of laws we have," he noted.
Noting that everyone wants to avoid people operating as wilful defaulters, the Minister said wilful defaulters are being identified.
Over 7,000 wilful defaulters have been identified and process for identifying such people is going on, Sinha said.
Going after wilful defaulters and taking criminal action against them is "very well defined. It is a parallel process from the bankruptcy process and they will both continue to operate".
On the issue of personal guarantees, Sinha said once the bankruptcy law is in place, hopefully it would reduce the "need for personal guarantees because you know you will be able to recover your loans and dues".
About the role of asset reconstruction companies after the law comes into effect, Sinha said they would a "valuable sequence" in the overall framework.
The bankruptcy bill was introduced in Lok Sabha on December 21, 2015 and was later referred to the Joint Committee of Parliament.
Supporting the Bill, Sushmita Dev (Congress) said it is an important piece of reform, much needed for the economy. She said while the government was emphasising on 'start-ups', it was also essential to smoothly exit the business.
"A public perception is being created that the Congress is stalling Parliament and the GST Bill. My party supports the Bill," she said.
Dev said after this legislation comes into force, lending is expected to become more bolder. The bill also lays emphasis on timely liquidation of the assets of the sick companies, she said.
But the member also raised concern over setting up infrastructure and human resources required after the bill comes into force.
P P Choudhary (BJP) said the legislation will improve India's World Bank ranking of ease of doing business from 136 out of 189. He said the Bill also enables disqualification of an MP or and member of the state legislature if he proved to be bankrupt.
The BJP MP also said that the legislation takes care of the interest of the labourers as it seeks to give them wages for 24 months, as against 12 months.
Saugata Roy (TMC) said despite bringing in this legislation, sickness of companies will not go. He questioned from where will the professionals come from in the insolvency agencies prescribed by the law---Chartered Accountants, Company Secretaries.
Tathagata Satpathy (BJD) said the bill is trying to address insolvency problem, but lacks clarity on who is a genuine defaulter and who is a cheat. He also raised concern about banks not talking to each other which leads to problem of "cheats" taking loans from different financial institutions.
Get Latest Business News, Stock Market Updates and Videos; Check your tax outgo through Income Tax Calculator and save money through our Personal Finance coverage. Check Business Breaking News Live on Zee Business Twitter and Facebook. Subscribe on YouTube.