Markets Live: Sensex ends over 161 points; banking stocks stole limelight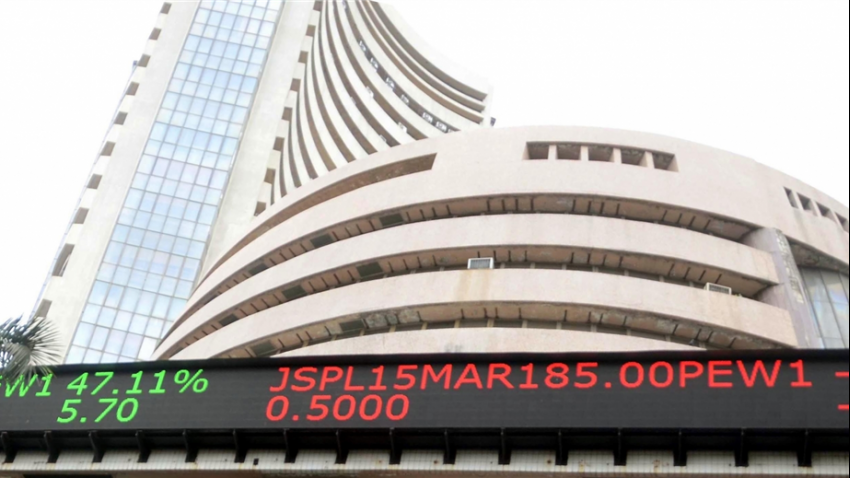 After touching over 200 points on Monday, the Sensex indices finished at 33,788.54 above 161.57 points or 0.48%. Overall there were, 17 scrips that advanced on BSE having turnover of Rs 273.37 crore, while 13 scrips declined with turnover of Rs 1038.35 crore, whereas 1 scrip remained unchanged. 

On the other hand, Nifty 50 closed at 10,379.35 higher by 47.75 points or 0.46%. On the index, 26 scrips advanced, while 24 scrips declined with no scrip unchanged. 

On BSE, Axis Bank and IndusInd Bank were among top gainers on BSE, trading at Rs 518.70 per piece and Rs 1864.70 per piece - rising by 3.61% and 2.24% respectively.

At around 0928 hours, the Sensex was trading at 33,744.99 higher by 114.84 points or 0.34%, while Nifty 50 surged by 45.05  points or 0.44% trading at 10,376.65.

On BSE, there were 24 scrips that advanced with total volume Rs 13.27 crore, while 7 scrip saw declines having total volume Rs 6.70 crore.  

In pre-market opening, the BSE Sensex index was trading near 33,645.55 up by 18.58 points or 0.06%. 

Talking on Nifty, analysts at Share India said, "With headwinds from the US China trade war still fresh, few traders were seen willing to carry long positions. Due to sharp losses in global markets, Nifty may see a tepid start on Monday. 10250 is immediate support. A violation will push the index towards 10220-10180 levels. On the higher side, 10350 remains immediate resistance while 10400 is near term target and crucial resistance."

For this week, the Indian market is expected to be guided by a range of factors macroeconomic data, onset of corporate earnings season and trade tariff tussle. 

Motilal Oswal on Monday said, "On domesticfront, focus will now be shifted back to Q4earnings season which will commence fromthis week, along with that macro data such asinflation and Industrial Production numbers willset the direction for the market."

In case of Nifty, the agency said, "Nifty index opened flattish and remained range boundfor most part of trading session." It added, "Itformed a Doji Candle on the daily scale which meansfollow up buying is missing at higher levels. Now till itholds above 10276 zones, it could extend its movetowards 10440 while on the downside support are seenat 10222 then 10180 levels."

On markets today, Prabhudas Lilladher said, "The support for the week is seen at 32850/10080, while the resistance would be at 34300/10550 levels. Bank Nifty would have a range of 24080-25760."

 
Latest Updates