Live RBI Policy Review: Sensex ends below 800 pts, Nifty down 283 pts; Rupee roars at 74-mark post RBI policy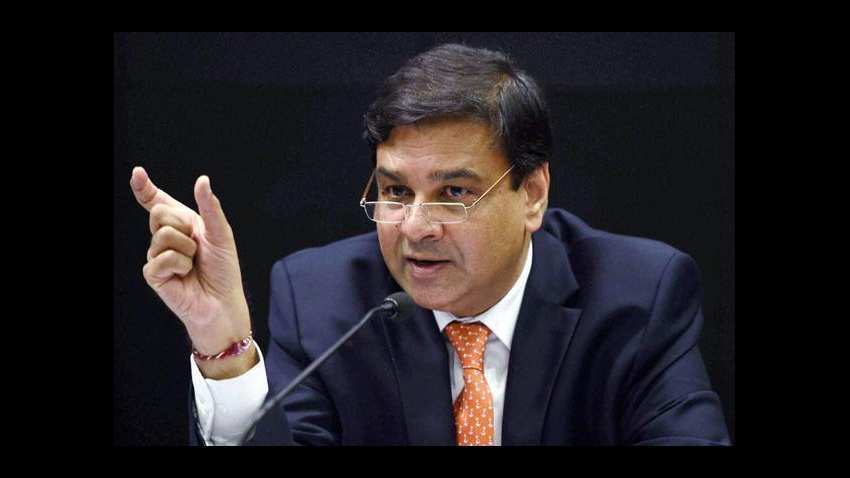 BSE Sensex ended at Rs 34,376.99 per piece low by 792.17 points or 2.25% whereas Nifty 50 ends at Rs 10,316.45 per piece low by 282.80 points or 2.67%.

BSE Sensex plunged over 900 points after RBI announced it was sticking with the current repo rate of 6.50%, refusing to go with what was expected - a rate hike by 25 bps was on the cards. However, Governor Urjit Patel led RBI chose to stick with the status quo. Sensex fell as much as 905 points to 34,263 even as Nifty dropped under the 10,300 level.

Top gainers on BSE were only companies. IT-giant Infosys was took lead in gainers list by ending at Rs 721.85 per piece high by Rs 15.50 or 2.19%. Followed by another IT-major TCS at Rs 2103.10 per piece high by Rs 38.85 or 1.88%. Meanwhile, Indusind bank was also in the list ending at Rs 1609.90 up by Rs 21.60 or 1.36%, however, HDFC Bank finished subdued at Rs 1962.85. 

Whereas, the losers list involved a long line of companies, with ONGC taking the tag of top loser ending at Rs 146.95 low by Rs 27.85 or 15.93%, Reliance industries at Rs 1049.85 low by Rs 70.70 or 6.31%, followed by Adani ports at Rs 299 low by Rs 16.95 or 5.36%, State bank at 257.80 low by Rs 12.80 or 4.73%, Bharti Airtel at 296.75 low by Rs 13.25 or 4.27%, Maruti suzuki at Rs 6893 low by Rs 300.65 or 4.18%.

The Reserve Bank of India today surprised experts and markets, by keeping repo rate unchanged at 6.50%. Consequently, the reverse repo rate under the LAF remains at 6.25%, and the marginal standing facility (MSF) rate and the Bank Rate at 6.75%.

The decision of the MPC is consistent with the stance of calibrated tightening of monetary policy in consonance with the objective of achieving the medium-term target for consumer price index (CPI) inflation of 4% within a band of +/- 2%, while supporting growth. The main considerations underlying the decision are set out in the statement below.

In the third bi-monthly resolution of August 2018, CPI inflation was projected at 4.6% in Q2:2018-19, 4.8% in H2 and 5.0% in Q1:2019-20, with risks evenly balanced. Excluding the HRA impact, CPI inflation was projected at 4.4% in Q2:2018-19, 4.7-4.8% in H2 and 5.0% in Q1:2019-20. Actual inflation outcomes, especially in August, were below projections as the expected seasonal increase in food prices did not materialise and inflation excluding food and fuel moderated. 

Going forward, the inflation outlook is expected to be influenced by several factors, as per RBI.

First, food inflation has remained unusually benign, which imparts a downward bias to its trajectory in the second half of the year. Inflation in key food items such as pulses, edible oils, sugar, fruits and vegetables remains exceptionally soft at this juncture. The risk to food inflation from spatially and temporally uneven rainfall is also mitigated, as confirmed by the first advance estimates that have placed production of major kharif crops for 2018-19 higher than last year's record. An estimate of the impact of an increase in minimum support prices (MSPs) announced in July has been factored in the baseline projections.

Secondly, the price of the Indian basket of crude oil has increased sharply, by US$ 13 a barrel, since the last resolution.

Thirdly, international financial markets remained volatile with EME currencies depreciating significantly. Finally, the HRA effect came off its peak in June and is dissipating gradually on expected lines.

Taking all these factors into consideration, inflation is projected at 4.0% in Q2:2018-19, 3.9-4.5% in H2 and 4.8% in Q1:2019-20, with risks somewhat to the upside (Chart 1). Excluding the HRA impact, CPI inflation is projected at 3.7% in Q2:2018-19, 3.8 - 4.5% in H2 and 4.8% in Q1:2019-20.
Latest Updates