We have total contract value of $5.9 billion: N Ganapathy Subramaniam, TCS
N Ganapathy Subramaniam (NGS), Chief Operating Officer, TCS, and Ajoy Mukherjee, EVP and Head, Global Human Resources, TCS, during an interview with Zee Business, spoke about the growth drivers, hiring and attrition, growth momentum and investment in skill development.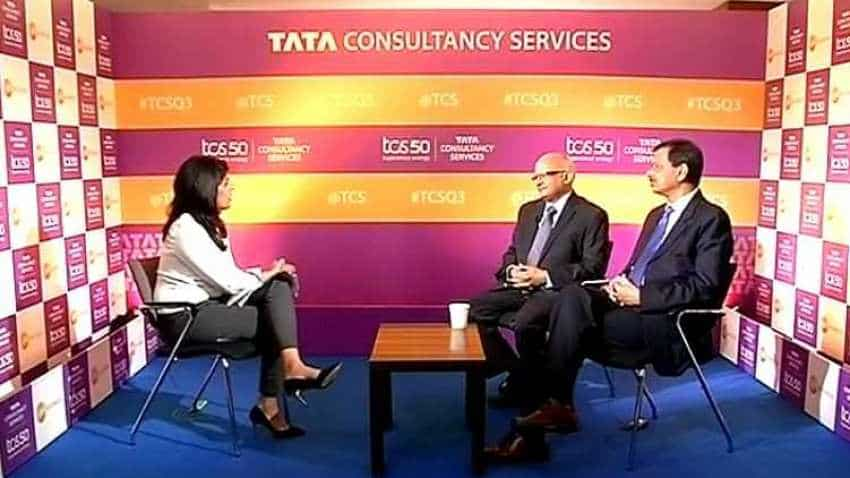 Ajoy said that there is a significant jump as far as hiring is concerned as net hiring in the financial year (FY) 2019 stands at 23,000 vs 7,700 of FY18. Image source: Zee Business
N Ganapathy Subramaniam (NGS), Chief Operating Officer, TCS, and Ajoy Mukherjee, EVP and Head, Global Human Resources, TCS, during an interview with Swati Khandelwal, Zee Business, spoke about the growth drivers, hiring and attrition, growth momentum and investment in skill development. Edited Excerpts: 
Q: TCS has posted a robust result in Q3FY19. Provide the growth drivers of the quarter and outlook in this volatile time?  
NGS: This quarter is seasonally a weak quarter and we are happy the way we have ended the quarter. Moreover, for the financial year perspective, we are well on the way to register double-digit growth. And, overall order book looks very strong and the head of total contract value (TCV) is 5.9 billion $, which is in a healthy and robust situation that comes on the top of a 4.9 billion $ order book that we had in Q1 as well as Q2. Overall, we see a demanding environment which is very-very positive across geographies, for example, the US is growing well, and the UK and Europe are registering a put a fire of 20 per cent year-on-year growth. And across verticals, banking and financial services, we have done well and have seen that it has grown in last two quarters and overall demand in the banking financial services, as well as insurance, looks very robust and positive. Barring one situation in retail, manufacturing and auto, we see that the demand outlook for our IT services is quite robust. 
Q: There has been a constant growth in every quarter. When do we see very strong momentum, let's say a double-digit growth, is coming? Is that in a vicinity, can we say in the next quarter you are targeting to reach there? 
NGS: We are very confident about it due to the trajectory if you look at it where did we start 2-3 quarters ago in banking financial services. It came from 2 per cent to 4 per cent to 6 per cent to 8.6 per cent right now. So, I think that we probably end the year, from a trajectory perspective, if we are not double-digit then we are close to the double digit. I think we will be very happy. The trajectory in banking financial services looks on the upside, barring some macro-issues, which could affect the sector. There will be no reason for us to believe at this point in time that we can't continue that growth momentum. 
Q: Ajoy, provide an overall outlook on hiring? Also, tell about the attrition rate with which you are comfortable with? 
Ajoy:  There is a significant jump as far as hiring is concerned as net hiring in the financial year (FY) 2019 stands at 23,000 vs 7,700 of FY18. Taking out the last year, when we registered a slow growth which is related to hiring, we were hiring at least 25,000-35,000 on an average and we are back to around 23,000 now, in the first nine months and we will be reaching somewhere to our usual kind of hiring rate as we go forward in this financial year. So, I can't give the exact number that we will be hiring but we will keep hiring in this quarter and the hiring remains strong, as far as, India and overseas hiring is concerned NGS has said that our outlook from a point of view of growth is looking good and trajectory is very high, so we are maintaining our hiring. 
On the attrition side, we are happy with where we are of around 11.2 at this point in time and there are various factors, which will help us in controlling our attrition. So, we are at the industries benchmark in retaining our people and the kind of competency development that we do the kind of investment and the company makes in our own people. 
Q: It is a good platform to tell about you are doing in terms of skill development and making sure that you are putting that effort investment made on people to scale their skill?
Ajoy: I will like to talk about TCS's philosophy that has been with us since the beginning (when we started) in which we have been always saying that technology becomes legacy not people. We hire people so that they make their career in TCS for a long term, we don't want people to come and go, hiring and firing model doesn't work with us. So, we have given the group ethos and our own core values in which we invest enough in our people once they come in, which includes, initial learning program and then they go to different projects. The best part of TCS is that you have liberty where we don't concentrate a person in only one technology, we give rotation. For instance, if, someone is working on dot(.)net will be moved on Java, Analytics, and so on a different project and for different customers, different verticals, different geography, different countries. Such an opportunity helps in developing a different outlook for an individual and as new technology is coming we invest in training people on the technology. 
Another benefit of that is that as you are working on TCS for a longer period, you get a chance to understand the processes and customers, how they work. And, this is something that we call as contextual knowledge, so that is very important in our domain. 
Q: We were talking about BFSI but there are concerns still in the retail and auto space as you were talking about but TCS is investing heavily in connected cars and other technology like artificial intelligence, cognitive learning and so on. What is your focus on it and how you will leverage on it?  What is your outlook on other markets like the US and Europe especially due to BREXIT concerns?
NGS: See, if you look at the software in everything, for instance, there is a software in the light as well as the connecting cars. So, the technology is so advance that there is software in everything. So, in terms of the demand, I see that it is on the imagination to decide where you all want to go. Like, whether you want to stop at enterprise application service or you want to look at the digital applications or at embedded software. So, overall, I think that we see enormous opportunity in providing our expertise in building the internet of things, connected cars, autonomous cars everywhere we see opportunities. And coming back to the specifically automotive side I think automotive in manufacturing is in a turnaround in North America, where we are growing a lot in these two verticals. In Europe and the UK, we see some softness as they are working on a few things like what should be their business model in the Brexit scenario. How the data go here and there among others. So, they are conscious about spending that happens over there. The second is that look on the future platforms whether they are electric vehicles or connected cars. They all are working to build a common platform across customers like BMW, Fiat and provide an opportunity to share the cost or creating a common platform of technology so that the investments are fast and shared and innovations can be harvested together. All these means that they are working on a future direction and what kind of platform and technology they will shape up. I think that probably will be completed in the next two and a half quarters and after then I feel that the auto sector in Europe and the UK should turnaround. 
Q: Talk about the kind of impact that cross-currency headwinds will have on TCS?
NGS: It is very difficult to predict that. So I think in TCS we don't want to worry much about this and we should look at the demand and opportunities that we see. And, in this quarter we have embraced the risk paradigm and we saw a demand and opportunity to capture that demand, so we invested in the business and hired more people, trained them and made them ready so that they can start from January 3 on the opportunities that are available in our hand. So, consequently, that has resulted in higher cost in manpower than we originally budgeted in Q3 and that has consequently flown down into margins for the quarter. But overall you know that we remain very positive about the demand outlook, where we are with respect to the financial year at the end of this year. In terms of how we are starting the financial year in the calendar year 2019 as we started in the year 2018. So, very secular growth and all over market are growing and we don't see any major issue that can call out in any of our lines of businesses where we are operating in barring macro-economic situation that is not in our hand and how the currency is going. But, we are confident to continue that growth trajectory of 26-28 per cent guidance that was given, and we are working on that. 
Q: Markets are growing in India and overseas. Is there any market where you see an opportunity and you want to grow there in a big way and why? Also, how you deal with the visa concern and cost and challenges of each market?
Ajoy: It is a loaded question. There is no geography where we don't want to grow. We want to grow in every geography where we are operating and that has been our philosophy and we have been growing in the same way in every geography. When it comes to hiring then we have been hiring very strongly in India too. This year, we have introduced TNQ, TCS National Qualification test. Earlier, we used to conduct a test at different institutes, followed by an interview and so. But, now, we felt that instead of going to each institute, let us democratise it, so people from all institutes can participate in it. So, we have conducted a test at a national level from 1800 institute in a day. Interestingly, more than 2 lakh people participated in the test and then the interview was conducted and then we gave offer letters as far as the campus is concerned. So, hiring remains strong and as far as onsite hiring is concerned that we have been saying over a period that there are different reasons like visa, the kind of skill you need, the capability of languages that you need. So, given that, it depends on the business model and your manpower strategy that you require. It is not a concern and we are going to hire and continue hiring for onsite projects also. It is a way it is going to be, and our business model is a rotation, so global mobility will continue. It is standard practice and will continue. 
Q: What is your outlook on large deals and order pipeline for the future?
NGS: I think that the overall value of the contract that we have signed is good out of that 5.9 billion more than 1.3 billion came from North America and nearly 2 billion came from banking and financial services and 800 million $ came from retail but they were not a type of mega-deal, which in a way good for us because in 2018 when we started the year on the back of large deal. But, here it is a more secular and diversified deal, which is good. But specifically, to the question that are we working on large deals than obviously, we are working on large deals, from bank, insurance, manufacturing and retail, but the deal cycle of those deals are quite long and they will take around 12-18 months. 
Get Latest Business News, Stock Market Updates and Videos; Check your tax outgo through Income Tax Calculator and save money through our Personal Finance coverage. Check Business Breaking News Live on Zee Business Twitter and Facebook. Subscribe on YouTube.
Updated: Mon, Jan 14, 2019
01:16 pm
Mumbai, ZeeBiz WebDesk