We expect that cinemas will be allowed in October, the next phase of Unlock: Nitin Sood, CFO, PVR Ltd
Nitin Sood, Chief Financial Officer (CFO), PVR Limited, talks about PVR's business plans, content pipeline, challenges from OTT platforms, growth, expansion plans, Open-Air theatre and opportunities during an exclusive interview with Zee Business Executive Editor Swati Khandelwal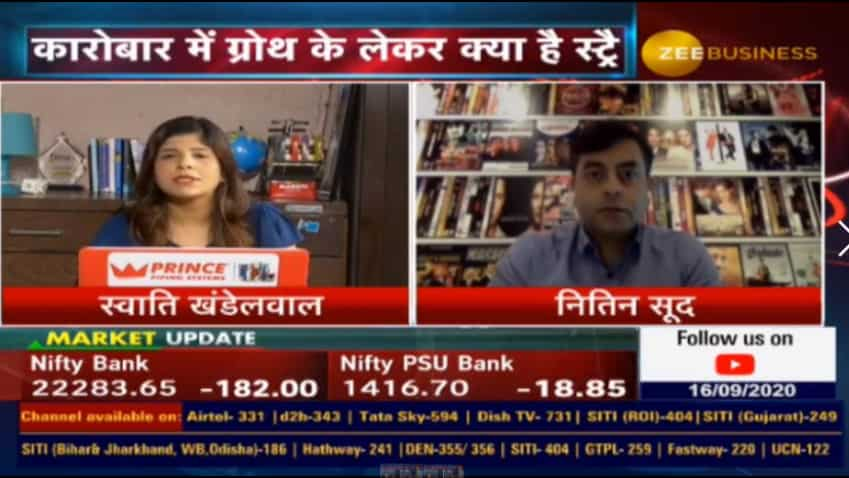 "If you have a look at the last six months then I think many films, roughly 20-25 films, which have moved on various OTT platforms. But most of the producers didn't have any other mechanism to release their films," Nitin Sood said
Written By:
Jitesh Kumar Jha
Updated: Thu, Sep 17, 2020
05:15 pm
new delhi, ZeeBiz WebDesk
Nitin Sood, Chief Financial Officer (CFO), PVR Limited, talks about PVR's business plans, content pipeline, challenges from OTT platforms, growth, expansion plans, Open-Air theatre and opportunities during an exclusive interview with Swati Khandelwal, Zee Business. Edited Excerpts: 
Q: The Q1FY21 numbers are out on the back of the closure of the cinema halls. What kind of outlook do you have and going forward what are the business plans as there is no clarity on the opening of the cinema halls, yet?
A: Correctly said, the cinema halls have been closed since mid-March across the country, it has been almost 6 months. The first-quarter result is reflecting it. The revenue was almost zero in the quarter and there were certain expenses. The management has tried to restrict it the bare minimum and has reduced its fixed cost by around 72% as compared to Rs 150 crore our monthly expenses was brought down to Rs 32 crore per month and are trying to keep minimum cash burn till the cinema halls are closed. This is our request to the government that as the whole economy has been unlocked and almost all the activities are committed, may it be gyms, spas, metro trains, shopping malls and the local markets, so please allow the cinema halls to open so that they can start their business. We also had a meeting with the government in the recent past and the meet was attended by all cinema representatives from across the country.
They all have met with the government officials, where we were assured and I think the decision will be announced soon. So, we are hoping that cinema halls will be allowed to open in the next phase of unlocking that will be announced for October. However, this year is going to be a little tuff but I feel that things will start moving towards normal in two-three months. And, at least the cash burns the cinemas are doing at present and the industry, which is in huge pain, will be able to restart their business. Hopefully, we will be able to bounce back, soon. 
Q: If cinema halls are allowed to open as per your timeline then tell us about the content pipeline that you have at present?  
A: Lot of films is there and they are waiting for the release in the theatres, whether you see Bollywood films or regional content or Hollywood films, which have started to be released globally since last week. So, there is a line of films and I think that we will have to stagger the release dates and plot the by sitting with the producers, once the theatres are allowed to open. But there are big films like 83, Sooryavanshi and there are many films of Yash Raj, which are pending release. Plus, there is a good line-up of films from big studios. We are really hoping that once the cinemas are allowed to open in the next four to eight weeks then films will be lined-up, which are waiting for being released. Besides, regional content is very strong in South India. Many Tamil and Telugu films are ready and are waiting for the opening of the theatres for being released, so they will also be released at the earliest. 
Q: OTT platforms is having a competition with your business and has emerged little more in the last few months. What are your plans to deal with it and how will you strategize the plans to make sure that it doesn't hit but you grow in it? What changes PVR is doing in its business plan to deal with the changing environment, where the technology will play a very big role?
A: If you have a look at the last six months then I think many films, roughly 20-25 films, which have moved on various OTT platforms. But most of the producers didn't have any other mechanism to release their films. Even today, theatres have 60-65% contribution to the revenue of the film. Interestingly, the theatres' revenue determines whether the film is a blockbuster or not and whether it is a successful one or not. And, remaining rights and its value, whether it is rights of the OTT platforms or the rights to sell it on the satellite television, is determined on the basis of the same. So, the last six months were an exception in some form. Many films that are made will go straight to OTT but more than 1,000 films are made in India. Putting together all the languages around 4-5 films are released on put on the release window every week. So, we believe that many producers, who are holding their films, will return to theatres, as soon as theatres will open. So, the films will move on OTT platforms after eight weeks as we have an Eight Week Net Bharat window. Some films may directly move on the OTT platforms.
But overall, the market is very big and many releases are available. I think the OTT platforms are actually fuelling the theatre consumption because as people will start consuming more content at homes in India then they may become curious and think about consuming out-of-home entertainment. The theatrical industry will be benefitted from it in the long-term. So, we are trying to co-exist with them and this is a win-win situation for the producer and the filmmaker as they are getting an opportunity to increase their revenue from both platforms. 
Q: What are the expansion plans of PVR on a mid to long term strategy? Also, tell us about the fundraising plans you will have to make for it?
A: 2019-20 has been a very good financial year for us. We had the best financial performance until February in the last five years in the previous financial year. The company has added roughly 87 new screens, which is the maximum number of screens that have been added in a year in the cinema chain. So, we are on a very strong footing of growth. This year, obviously, COVID has shaken all the plans because a lot of pressure is there on the cash flows and there is no certainty on growth, till things are not back to normal. So, the entire CapEx is expanded but we have 30-40 screens which are almost ready and we will try to open those screens this year after the cinemas are allowed to open. Hopefully, if business comes back to normal by next year then we will go back to our normal plans and will try to open 80-100 screens, which were being opened during the pre-COVID level. As far as liquidity and funding are concerned then the company has adopted a very conservative approach and has raised equity twice in the last year. The company did a QIP of Rs 500 crore in November last year and did a rights issue worth Rs 300 crore in July this year.
The company has added equity of Rs 800 crore in its balance sheet. Today, when we are talking then the company has liquidity of Rs 550 crore of which Rs 400 crore is cash in hand and Rs 150 crore is undrawn credit lines. So, the company is well funded to sustain in this period and maintaining the growth momentum, when we get out from this COVID. 
See Zee Business Live TV Streaming Below:
Q: There are talks related to Open-Air Theatre and some activities are happening on the front. So, what is PVR's view on it and do you think that it can be an opportunity, if yes, then how big it can be or it is a temporary phenomenon?
A: Open Air Theatres existed in India in the past and today they still exist here but in a very small proportion. The most important thing that is needed for an Open-Air theatre is, I think, a good piece of real estate and proximity to the key central location, which is very tuff in India given the high real estate cost. The second issue is related to weather conditions in India. You can run maximum one to two shows in the Open-Air theatres in the evening. Definitely, some opportunities will emerge and people will do experiments. But looking at India's weather conditions, it doesn't look like a very big opportunity but PVR will like to participate in conducive commercial terms. 
Get Latest Business News, Stock Market Updates and Videos; Check your tax outgo through Income Tax Calculator and save money through our Personal Finance coverage. Check Business Breaking News Live on Zee Business Twitter and Facebook. Subscribe on YouTube.