Vijay Mallya gets bail: Here's what happens next
India cancelled Mallya's passport and applied for his extradition but the UK denied as Mallya was in possession of a valid UK visa.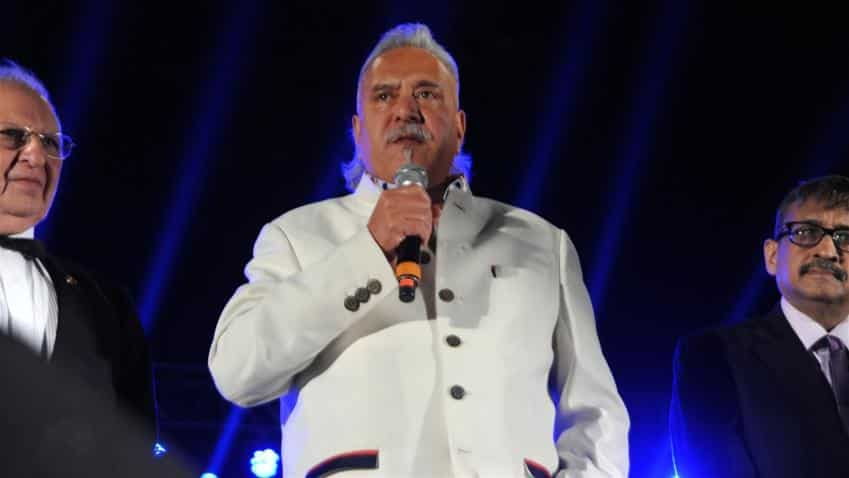 Extradition is the only option left to bring Mallya back to India and face courts. Photo: IANS
Updated: Tue, Apr 18, 2017
05:22 pm
Mumbai, ZeeBiz WebDesk
Liquor baron Vijay Mallya was granted bail by Westminster Court shortly after he was arrested by Scotland Yard in London on Tuesday.
The Metropolitan Police, in a statement said, "Vijay Mallya, 61, was arrested on behalf of the Indian authorities in relation to accusations of fraud."
It further said, "He was arrested after attending a central London police station, and will appear at Westminster Magistrates' Court later today, 18 April."
CBI officials that Zee Business spoke to, said, "Vijay Mallya has been arrested on the request of CBI on February 8, 2017," adding,"CBI had sent a formal extradition request on IDBI bank loan case.
In this case chargesheet had been filed on January 24,  2017. This case was registered on July 29, 2015."
India cancelled Mallya's passport and applied for his extradition but the UK denied as Mallya was in possession of a valid UK visa. Therefore, extradition was the only option left to bring him back to India and face courts. 
Sources further said that the CBI will now present its case in front of the Westminster court and fight the case in order to bring Mallya back to India. 
"India will present his case before the UK court through proper channel," they said. 
It was only in November last year when Prime Minister Narendra Modi and his UK counterpart Theresa May held talks to extradite nearly 60 people, including Mallya.
ALSO READ: Extradition request for Mallya certified by UK secretary of state
Meanwhile, State Bank of India, which was led the 17-banks consortium to give loan to Mallya tried to auction off his properties including his private jet, property in Vile Parle and Goa and cars among others.
Here's a list of cases against Vijay Mallya:
Banks:
Seventeen Indian banks led by the State Bank of India (SBI) had lent over Rs 9,000 crore to Kingfisher Airlines and United Breweries. After years of pursuance, SBI, United Bank of India and Punjab National Bank have declared SBI) had lent over Rs 9,000 crore to Kingfisher Airlines and United Breweries. After years of pursuance, SBI, United Bank of India and Punjab National Bank have declared Mallya a wilful defaulter.
It all started with a deal between Diageo and Mallya in February-end. Mallya, after refusing to step down from the company's board for several months, inked a deal with Diageo to take $75 million as severance pay to exit the company and have all the accusations against him dropped by the company. Out of this, $40 million was to be paid to him immediately and the rest, over five years. The severance package also includes a five-year no-compete clause.
The banks moved the Debt Recovery Tribunal (DRT) to get a freeze on the payment claiming first rights on it -- but Mallya had already received the first tranche. However, the DRT then gave Diageo an interim order to freeze the rest of the payment till March 28, 2016, the next date of the hearing.
The banks, on March 8, 2016, moved the Supreme Court to stop Mallya from leaving the country, seeking a restraining order against the businessman – but Mallya had already departed on March 2. They'd also sought for a freeze on Mallya's passport.
According to a report in The Hindu, the consortium is fighting over 20 cases in various courts, including the DRT. So far, there have been 500 hearings with 180 adjournments.
Enforcement Directorate (ED):
The ED had filed a case against the beleaguered businessman on the basis of an FIR filed by the Central Bureau of Investigation (CBI) in 2015. The agency had summoned Mallya on March 18 under the provisions of the Prevention of Money Laundering Act (PMLA). 
The central agency is also looking for details of Mallya's overseas and domestic assets with the help of other agencies like the CBI.
A case was filed by the ED with Delhi High Court in connection to the alleged violation of foreign exchange rules under the provisions of Foreign Exchange Regulation Act (FERA).
ALSO READ: Fresh non-bailable warrant against Mallya in a FERA violation matter
Central Bureau of Investigation (CBI):
The CBI filed a First Information Report (FIR) against Mallya on July 29, 2015. This complaint also mentions A Raghunathan, chief financial officer at Kingfisher Airlines and unknown officials of IDBI Bank.
The agency alleged that loans sanctioned to Mallya's company were way beyond the permissible credit limits and by foregoing protocol. The CBI has now also widened its probe, saying that it will look into over six lakh bank transactions with nearly 60% of them done with overseas entities. The central agency has also sought help for the investigation from at least four countries but has refrained from naming them.
The CBI had a 'lookout' notice on Mallya which means the agency would be informed when Mallya left the country, as it was on March 2 when Mallya boarded a Jet Airways flight to London. As of now, the agency has said that it doesn't intend to change the notice from 'lookout' to 'detain'.
Serious Fraud Investigations Office (SFIO):
The SFIO, often touted as the government's white collar fraud detection agency has been investigating Kingfisher Airlines for financial irregularities and fund diversion.
Now, the agency is also looking into Kingfisher Airlines' inflated Rs 4,000-crore plus brand valuation. In the case, the agency is also trying to ascertain Grant Thorton LPP's – the company that arrived at the brand valuation – role to figure if the valuation was arrived at fraudulently only to get more loans and siphon off the additional money for other purposes than investing into the business.
ALSO READ: Faulty aircraft engines led to Kingfisher collapse: Vijay Mallya
Employees' Provident Fund Organisation (EPFO):
Following Labour Minister Bandaru Dattatreya saying that his Ministry was going to launch an investigation to check anomalies in provident fund contributions from the now-grounded air carrier, the EPFO has formed an enforcement squad to investigate it.
The company has been issued notices of up to Rs 7.62 lakh – including penal damages (Rs 3,34,016) and interest dues (Rs 3,55,678) for bleated remittances for certain months and payment of short remittances of Rs 71,910.
ALSO READ: Indian authorities have no grounds to extradite me from Britain,won't come back: Mallya
Income Tax, Service Tax department
The Service Tax department has filed two applications with the Bombay High Court for the recovery of over Rs 32 crore from Mallya. One application challenges a magistrate's order granting anticipatory bail to him and others in a case filed for the recovery of the aforementioned amount -- the money was collected by the airline from the service tax department but not deposited with the government treasury.
The second application seeks direction to Mallya and other directors to appear before the trial court on April 6 for the next hearing, and also in the high court in this case. The Bombay HC has deferred the case till the next hearing on March 28. The department also asked the Bombay HC to impound his passport, considering him "flight risk".
GMR Hyderabad International Airport Limited:
Five non-bailable warrants have been issued by a local court in Hyderabad after Mallya failed to appear in court in connection with alleged dishonour of cheques issued to the GMR Airport in Hyderabad. The warrants have to be executed by March 29.
In October 2012, the Airport had withdrawn a case filed earlier after the company promised to pay the dues. But later only half the amount was paid, defaulting on the rest, which led to eleven cases being filed against Mallya under the Negotiable Instruments Act.
Parliament ethics committee: The ethics committee of Parliament will be taking up the loan default issue.
ALSO READ: Mallya says ready to talk to banks for one-time settlement
Employees:
Employees of Kingfisher Airlines wrote a letter to Prime Minister Narendra Modi seeking his intervention in the non-payment of their dues. The women employees also wrote a separate letter to them. Soon after, the employees said they will move the Supreme Court against Mallya to seek resolution for the non-payment of their salaries. 
Senior lawyer MV Kini had said the case will be put before the apex court and has offered to fight it pro bono on behalf of the employees.
Airport Authority of India (AAI)
The Comptroller and Auditor General (CAG) has said Kingfisher Airlines caused a loss of over Rs 290 crore to the authority. Three cases have been initiated in this regard, the government has said.
Get Latest Business News, Stock Market Updates and Videos; Check your tax outgo through Income Tax Calculator and save money through our Personal Finance coverage. Check Business Breaking News Live on Zee Business Twitter and Facebook. Subscribe on YouTube.