VA Tech Wabag has a strong order book of Rs 9,500 crore: Rajneesh Chopra
Rajneesh Chopra, Global Head - Business Development, VA Tech Wabag Ltd., talks about March quarter numbers, order book, margins and working capital cycle among others during a candid chat with Zee Business Executive Editor Swati Khandelwal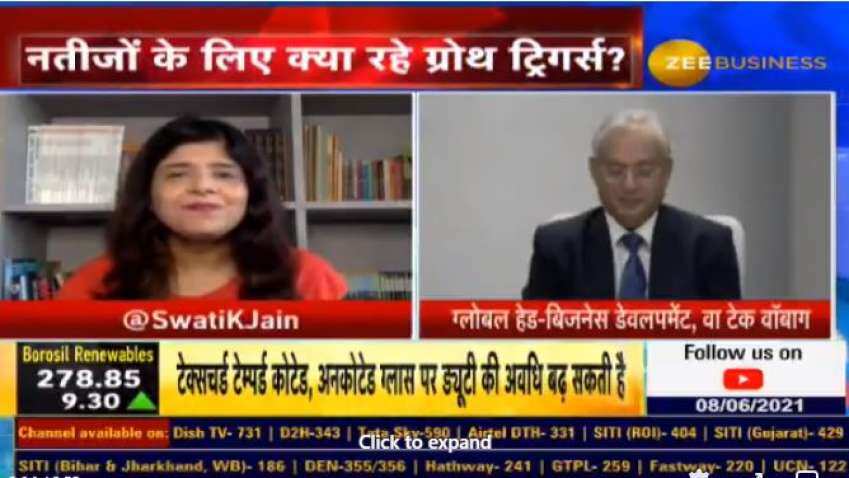 "Previous year's results are quite encouraging, especially in the fourth quarter, there is a 27% revenue growth and 53% profit growth. Overall, in spite of CORONA, the year has been a growth year for us," Rajneesh Chopra says
Written By:
Jitesh Kumar Jha
Updated: Wed, Jun 09, 2021
03:30 pm
New Delhi, ZeeBiz WebDesk
Rajneesh Chopra, Global Head - Business Development, VA Tech Wabag Ltd., talks about March quarter numbers, order book, margins and working capital cycle among others during a candid chat with Swati Khandelwal, Zee Business. Edited Excerpts:
Q: Congratulations! For the strong performance of the company in the March quarter. What led to such a performance and do you think that the performance will be maintained in the coming future?
A: As you said, our previous year's results are quite encouraging, especially in the fourth quarter, there is a 27% revenue growth and 53% profit growth. Overall, in spite of CORONA, the year has been a growth year for us. But the biggest highlight of the last year is that the company at the group level has reached from debt to net cash, which is a very encouraging thing. We have a very strong order book of Rs 9,500 crore, so it will also help us in speeding up our execution. At the same time, I would like to share that we are the first Indian company to be recognized globally in the top five private water operators by the Global Water Intelligence (GWI) nuclear-based organization for serving 71 million customers. So, it is the first time, not only as a real tech representative but even as an Indian, we feel proud for it.
See Zee Business Live TV Streaming Below:
As far as the future is concerned, I think that all of us know that CORONA has taught us that we can't work in a normal manner and we have to work in a style. From the last two months – April & May – many places were under a lockdown. But the most encouraging aspect in this is that as a company and as an organization, we have learnt that during the last lockdown our construction activity was closed completely and our migrant workers who come from faraway villages have returned. But this time, we have provided regularly sanitized accommodations to all our workers on all our sites. They get food, water, and all kind of things within the complex where we have regulatory permission, maybe it is a government contract or an industrial contract and we are continuing our work there.
Watch Full Interviews Here:
Q: Give us a sense of your strong order book of Rs 9,500 crore that you have talked about. What is the revenue visibility of the order book and what are the execution timelines for the same? Also, tell us about the target order book that you expect this year and what is the breakup – international and domestic play? 
A: You have asked a good question. As you said that there is unlocking overseas as the second wave of Corona came first, therefore unlocking is started first. As far as India is concerned, recently, we are seeing that unlocking has started. Around 4-5 months ago in a media interaction, I said, as far as industrial contracts are concerned, the new enquiries and the new tenders, we have started seeing traction in it from December-January. So, I feel in the coming time in the next one to two quarters our Industrial order book from India as well as overseas will strengthen more. As far as government tenders are concerned, international tenders are coming and even in India, the tenders are coming.
I feel that in the second half the Indian tenders will convert into orders. We are more hopeful about the industrial and we are seeing a strong order pipeline in the first half. As far as the complete year is concerned, I think that the available order book of Rs 9,500 crore will be strengthened further. When it comes to execution, then our normal cycle period is that we complete a project in two to two-and-a-half-year. So, we have visibility of next three years in this Rs 9,500 crore. This order book also includes O&M contracts, which are long term contracts. I would like to highlight that as far as our revenue in the O&M contracts is concerned, we have seen good growth in it last year. Secondly, O&M are essential services related to water and wastewater, water and sanitation. So, CORONA didn't have any impact in these sectors last year and we worked at 100% and this year also we are working at 100%.
Q: Can you please provide a ballpark figure that what it can be above Rs 9,500 crore?
A: In the past, till the CORONA didn't have an impact, we used to provide guidance on revenue and order book but this year, we are not giving guidance. As I said, we are very very bullish on both revenue and order book.
Q: What is your outlook on the margins? Also, what impact the rising commodity pricing will have on your company? You are also saying that O&M has good business prospects, does it have a good margin?
A: It is a very valid question. As far as the margin is concerned, definitely, in our EPC business, you would have seen that the prices of steel and cement have increased regularly. We have a price escalation clause in the maximum of our contracts, in which the price indexes both retail and wholesale are linked with the escalation. So in maximum cases, I will not say 100% of the price escalation, it is covered to a great range in most of the contracts. When we do multilateral funder projects then normally there is an escalation.
So in it, we are generally covered. So, I do not think that it will have any major impact on our margins. Secondly, as I said that we are cash positive and being cash positive, if we will increase our execution peed then definitely, we will get its advantage in the margin. As far as O&M is concerned, this business is not a top-line business for us. It is a bottom-line business, in which the margins always remain good. Currently, we are trying that in the coming time, we want to increase the O&M share from 15% to increase it gradually to 20% and then to 25%. Its impact will be visible on the margins in the coming two to three years.
Q: You have been able to improve your working capital cycle and there has been a reduction in the number of days to below 100 as well. How were you able to achieve that and how will you be able to maintain or improve this in the year ahead?
A: In this, our total focus in last year has been on collection. We do government contracts, industrial contracts, and definitely, if you will have a look on the last one year then our receivables has reduced by around Rs 150 crore compared to previous years. Going forward, we will have a focus on the collection and improve our collection cycle. In this, we will need support from the government because like last time there was a directive that the contractors because of CORONA were severely impacted, so it should release the payments at the earliest. We have a similar request this year as well from the government to improve the payment cycle. And, if it does it then our working capital which has come down from 127 days to 97 days will improve further.
Get Latest Business News, Stock Market Updates and Videos; Check your tax outgo through Income Tax Calculator and save money through our Personal Finance coverage. Check Business Breaking News Live on Zee Business Twitter and Facebook. Subscribe on YouTube.