This investor's 'meagre' investment in MRF in 1990 is now worth Rs 130 crore!
MRF shares have risen by over 14000% becoming the most expensive stock on Indian market indexes. MRF share price has touched over Rs 74,000-mark and is expected to reach even above Rs 80,000-level.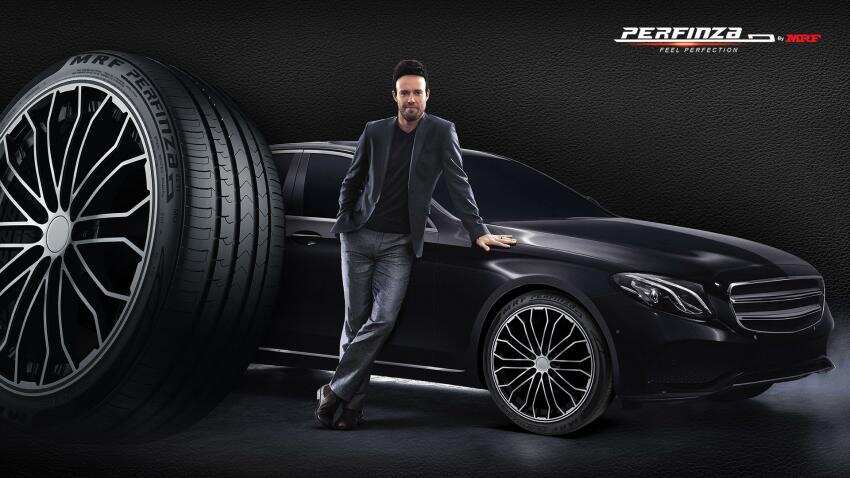 The image of MRF's Perfinza brand. Photo: Official Website
Key Highlights: 

MRF has risen by over 148 times in 17 years
MRF has touched a high of Rs 74,100-per piece
Analysts has increase MRF target price further
Philanthropists' Warren Buffet once rightly said, "The stock market is a device for transferring money from the impatient to the patient." This quote would definitely be a success story for those equity investors who have invested in MRF shares for long term purposes.
Madras Rubber Factory (MRF) Limited commonly known as MRF embarked its journey on stock exchanges on September 18, 1996, and since then its has touched milestone and became the most expensive stock on the indexes.
The company has turned out to largest manufacturer of tyres in India and has also increased it footholds in businesses like rubber products including tyres, treads, tubes and conveyor belts, paints and toys.
Here's why MRF's share price has turned out to be a wealth creation story.
A viewer of Zee Business called during market hours to get experts' opinion on what he should do with the stock. 
Meet the Richie Rich viewer of @ZeeBusiness . A small investment with the long view turned the fortunes of Ravi. @mihirzee @VivekLaw pic.twitter.com/aaSLV8LGTr

— Zee Business (@ZeeBusiness) September 11, 2017
The viewer, Ravi, said that his grandfather had bought 20,000 shares of MRF in the year 1990 and has relevant physical certificate as proof.
Simply put, his grandfather's investment in MRF is now worth Rs 130 crore! 
Even as the deadline for demat account has passed away, the viewer still has the option to sell out the physical MRF shares after dematerialisating them.
The amount of returns this stock has given is breath-taking. 
MRF, which was trading below Rs 500 per share on August 24, 2001, has now touched over Rs 74,000-mark this year on stock exchanges – a return of over 14,700% or 148 times till date.
At present, the company is trading at twelve-months price-to-equity ratio (P/E) 21.35 times and earnings per share (EPS) is Rs 251.19 which is way higher than its peers like Apollo Tyre – whose EPS is at mere Rs 1.32, CEAT Ltd at Rs 4.73 and JK Tyre at negative Rs 2.90 per share.
Not only this, the start of the year 2017 has been also good for MRF's stock price. Between January - till date, it has surged over 50%. 
Also on this day of the previous year - MRF was trading at Rs 39,044 per piece - which means on year-on-year basis the stock has jumped by nearly 90%.
Such performance is not the end for MRF, analysts are still optimistic on the share price considering the company's strong business portfolio. 
Vijay Sarthy TS and Shubhranshu Mishra analysts at Anand Rathi said, "Given the decline in rubber costs and its continued higher revenue growth, MRF's margin is expected to be better in coming quarters.  For the next two years, we expect competition in two-wheeler tyres to be keener. Nevertheless, the company will be able to maintain its market share, we believe."
On the strong volume growth, the duo expects MRF's revenue over FY17-19 to clock a 14% CAGR. While  FY18 margin to be lower (at 17.9%) and FY19's to come at 21.2%, resulting in a 19% EBITDA CAGR. 
Accordingly, Anand Rathi believe MRF's earnings to register a 21% CAGR (compounded annual growth rate) to Rs 2,140 crore, leading to an EPS of Rs 5,044.4. We recommend a Buy on the stock, at a price target of Rs 81,710 (16x FY19e EPS).'
Apart from MRF - other expensive stocks on indexes  are Eicher Motors (Rs 33,483.95 per share), Bosch (Rs 25,245.20 per share), Shree Cement (Rs 20,560 per share), Page Industries (Rs 18,915 per share) and 3M India (14,912.20 per share).
Converting physical shares into Demat
One can convert it's physical shares to demat form by opening a recipient account with a depository participant, in case if they do not have any demat account. Depository participant (DP) is usually a broker or agent that interfaces with the bank.
To open the beneficiary account, you need to fill up the account opening form properly and signing a deal with the depository participant - which involves information like your bank account, name, address, branch of the bank, etc.
Next step would be to dematerialize the physical shares. Fill up the DRF or Dematerialization Request Form given by the depository participant and submit your share certificates along with the form.
Later the DP submits the certificates to the registrar of the issuer company. In most of the cases, applicant will get the electronic request and physical shares and DRF within two weeks after verification done by the company. 
On completion of the process, your DP will  provide you periodic statements of your holdings. Apart from this, DP will also update the account of the clients on a regular basis especially after any transaction.
Updated: Wed, Oct 04, 2017
02:55 pm
Mumbai, ZeeBiz WebDesk