TCS will hire 35,000 trainees in H2FY22: Milind Lakkad, EVP & CHRO
Samir Seksaria, Chief Financial Officer (CFO) and Milind Lakkad, EVP & CHRO, Tata Consultancy Services (TCS), talks about revenue growth, operating margins, hiring trends, growth in different verticals, expected growth among others during an exclusive interview with Swati Khandelwal, Zee Business.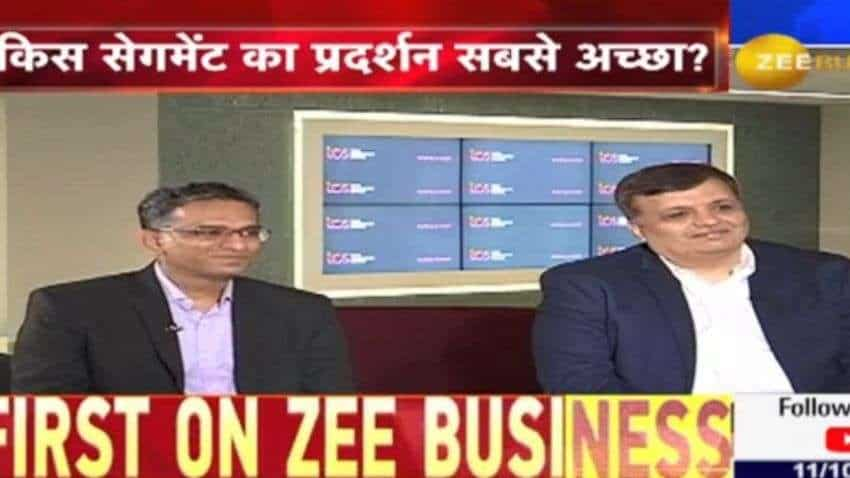 TCS will hire 35,000 trainees in H2FY22: Milind Lakkad, EVP & CHRO
Samir Seksaria, Chief Financial Officer (CFO) and Milind Lakkad, EVP & CHRO, Tata Consultancy Services (TCS), talks about $Revenue growth, operating margins, Attrition rate, hiring trends, growth in different verticals, the current order book of $7.6 billion and expected growth, growth in different verticals, and skilling among others during an exclusive interview with Swati Khandelwal, Zee Business. Edited Excerpts:
Q: Talking about the $Revenue and constant currency (CC), basically, there was an expectation that it will be slightly better but it has been slightly on the lower side. What were the main reasons for it? Moving ahead, what kind of trends are visible? 
Samir Seksaria: If you look at the revenue growth, it has been strong broad-based growth across all the verticals. If you look on a year-on-year basis, we had a 15.5% increase and even on the sequential basis, it is a strong CC growth of 4%. Verticals specifically are our major verticals of BFSI and Retail. Our biggest geography is North America, which had been the strongest performer. They have practically outperformed our overall average. So, growth has been good across and that is coming on the back of substantial demand trends over the last four to five quarters itself. We also have our strong order book pipeline, you mentioned about $7.6 billion but we have had consistently $7 to 9 billion of the order of TCV bookings for the last many-many quarters. So, I think, given all that and the trends we will be able to continue.
See Zee Business Live TV Streaming Below:
Q: If seen market-wise, North America has strong signs and India is doing a wonderful play. How are you looking at it and will this continue and how the other markets will pick up as we go alone?
Samir Seksaria: Long-term demand trends definitely will continue. There could be short-term pressures, there is seasonality, which comes into the H2 period. Given normal seasonality may continue but given the demand trends being there, I think some part should offset on an overall basis.
Q: This time, the attrition rate stood at 11.9% Vs 8.6% in the last quarter. What were the main reasons for it? Going forward, what will be the guidance, i.e., what could be the range to be comfortable at?
Milind Lakkad: The job market is overall hot, so, it was expected that attrition will increase and it is increasing. Similar trends will happen for next two to three quarters. I expect that attrition will continue till Q1FY23 and possibly the range could be higher, even.
Q: By when the levels will normalise?
Milind Lakkad: It seems that it should normalize after Q2FY23. Basically, I am saying that these levels of attrition will be there for the next two to three quarters and then it will normalise.
Q: How will be your hiring trends and how do you beat because you have better numbers in terms of hiring, what is the rationale and how is it looking? Where more manpower is needed? 
Milind Lakkad: Demand is increasing and you are also seeing turbulence in the job market also. So, both of these will contribute to higher hiring more for the demand and a little less or marginal addition for the attrition. The numbers I have talked about a number of trainees in which 43,000 have already been hired in the first half. We are going to hire another 35,000 in the second half. I expect similar numbers going in the next financial year as well.
Q: Any specific vertical where you feel that demand is more and there is a need to feel in? Even in the attrition are you seeing any particular domain from where maximum attrition is happening?
Milind Lakkad: No, it is a broad-based. There is a broad-based demand and broad-based attrition. It is across different verticals and geographies. It is consistent.
Q: Is there some crunch of the kind of talent you need? 
Milind Lakkad: Have a look at our employee brand or the talent acquisition model or talent development model that we have, it is quite robust for many years. Due to that model, our supply-side challenges are greatly reduced. It is such that we expect some skills in the market and also takes them in every quarter. But a significant part of that demand is fulfilled from campus, which we develop internally. We invest a lot, for instance, we have already taken a lot of people that we needed in H2 and are training them for H2. Skilling is an extremely important element of our business.
Q: Order book of $7.6 billion was seen in the quarter went by. Name the verticals where maximum growth is visible? Going forward, what are the trends and where do you think that demand is going to come? Also, what is the size that we could expect this order book to continue?
Samir Seksaria: When we have seen this order book, this is completely broad-based. We have deals coming from Banking, financial services and insurance (BFSI), life sciences and healthcare verticals. even from CMI, retail, manufacturing. Again broad-based in all geographies, emerging markets as well as from major markets. So, we would expect and that would be our goal and that would be our goal. Even you look from the size perspective, we have a good balance of heterogeneous deals coming in large deals as well as mid-size and small deals focusing on total transformation initiatives.
Q: You have talked about BFSI and manufacturing, where an impressive growth of 17% YoY and 21.7% YoY respectively. Will this trend continue in the future as well? Also, tell us about the segments where there is scope for further growth, like on the retail side among other verticals?
Samir Seksaria: If you look at the manufacturing, definitely, it has seen strong growth and the momentum should continue. BFSI has been strong through the period, even during the pandemic year, it had positive growth and is showing good momentum. Verticals like parts of retail were significantly impacted, in that specific verticals, like discretionary retail as well as travel & transportation were considerably impacted and are still impacted. So, customers are now looking towards participating back in the investment spend and that should be the next phase. But those have been some parts of retail, like retail CPG and TTS, as we call it, have now seen pick of the investment just recently.
Q: Last time, when we talked you talked about the emergence of a hybrid model when we talk about work from home Vs coming to the office and work. Now, as we are settled and can see its advantage and disadvantages. You as a company what kind of model will you adopt and is there a percentage of the number of people who can work from home and those who should come to the office? Also, tell us the kind of cost savings that you do on account of that?
Milind Lakkad: As I have said earlier that we are strongly committed to our 25/25 model but we don't believe in 100% remote work. We will come back to normal first and then we will go to new normal. This means, first we will bring people to the office. I have talked about the 25/25 model, this means 25% by 2025. So, assume 80% in 2022, 60% in 2023, 40% in 2024 and 25% in 2025. This is the way in conjunction with our customers and our associates, we will build up like that. But that vision that we strongly believe in.
Q: From what did you saw in terms of productivity and cost savings?
Milind Lakkad: It is so that even after 18 months also, we definitely saw an increase in productivity and quality of life. If you look at it, forget the pandemic part but otherwise, the aspect of basically being able to spend quality time and not being able to spend three hours in commute is a big benefit for our associates. So, we need to make sure to bring in both these aspects together in a way they feel productive, they come to the office for things like collaboration, building the social capital and connectivity and what can be alone should become at the home.
Q: Is there any substantial cost savings?
Milind Lakkad: We are not looking at it from cost saving point of view. We are purely looking at it from customer satisfaction, associate satisfaction and quality of life. Yes, productivity improvement is a part of it.
Q: Competition has increased a lot now and the new-age tech companies are all around and there is constant pressure in many ways on big and heavyweights like you to deal with that. What kind of trend are visible on the front because it has to grow in the future and you have to prepare for it? How will you deal with the upcoming competition in which huge investments are not made but they are bagging some big orders and what is the thought process on the front?
Samir Seksaria: You have talked about the new-age companies but if you look at TCS our focus has always been to invest in organic competency building. We have built up the grounds for new services, products, platforms and new markets in themselves. That is how we have been able to sustain and grow through the last decades. There have been new products, which have been launched over the decades and there are many new products in the pipeline, as well.
Q: TCS has posted a margin of 25.6% in Q2FY22. As Mr Milind was saying that hiring is massive and if wave inflation is added to it, what kind of pressure it will put on the margins? Going forward, what margin trajectory is visible and do you think that there can be an improvement in margin from here or this level will be maintained?
Samir Seksaria: If you look at this quarters margin then we have been able to sustain the margins, in spite of all the challenges, we had. And our focus will be able to sustain the margin over a period. So, as I called out before that any short-term volatility, which comes in can cause short to medium term disruptions and that is something on which we will keep a close eye on and watch for but our goal would be to sustain the margin.
Q: Investments in skilling is a major part of what do as a company. Digital play and contracts are increasing. How the company is tackling it?
Milind Lakkad: Our investment in talent development is increasing every year, in fact, it is increasing significantly. We see talent development in 2 ways:
(i) Strategic Talent Development: We look at it from the long-term perspective.
(ii) Short-term talent development: We look at it from the next quarter growth.
Under it all aspects of technology, all the next-generation technologies, not just from the standpoint of technology for the sake of technology point of view but in the context of that domain. All of that, the stream of the art of learning which happens, which goes through, that specific investment that has to happen and continues to happen, is creating a lot of significant results for us and we will continue to do that.
Q: On the domestic deals side you have recently made a collaboration with SBI and the government is now gearing up to create digital infrastructure, which will call for a huge investment in the space and this is an opportunity for you to come in. What will be your focus on the government side of the business and what is your contribution at present and to what level it can increase in the recent future?
Samir Seksaria: We have been working in the Indian market with the government as well as the private sector for many-many periods. As we call out our revenues from India, it has been amongst the highest and we continue to stay engaged with both the government as well as the private sector.
Q: Do you have any number that you can share with us in terms of the business that you have and by what percentage it can grow?
Samir Seksaria: We have a substantially large portion of our revenues compared to most of the industry coming from India. So, India is one of our focus markets and we have been focusing on it. I will not be able to call out a number but the investment in the Indian market continues.
Q: You have spoken about the hiring trends of the company and given the numbers. But geography-wise are you seeing any play and is there anything that you have noticed in this period - the last 18 months - geography where you need more people?
Milind Lakkad: It is not about the last couple of years, when we talk about talent development, hiring, it is always global. If I talk about these many campus hiring then in it around 3000-3,500 campus hires are coming from the US, 500 coming from the UK, about 1,500 coming from LATAM and APEC, each. So, across the board campuses hirers and across the board lateral hiring is happening continuously and we are very excited about this thing.
Get Latest Business News, Stock Market Updates and Videos; Check your tax outgo through Income Tax Calculator and save money through our Personal Finance coverage. Check Business Breaking News Live on Zee Business Twitter and Facebook. Subscribe on YouTube.
Written By:
Jitesh Kumar Jha
Updated: Tue, Oct 12, 2021
02:31 pm
New Delhi, ZeeBiz WebDesk