TCS emphasizes on providing technological solutions to its customers: V Ramakrishnan, CFO
V Ramakrishnan (Ramki), Chief Financial Officer (CFO) and Milind Lakkad, Chief Human Resources Officer (CHRO) at Tata Consultancy Services (TCS) talk about Q4FY21 numbers, hiring, attrition rate, deal wins and final dividend for FY21 among others during an exclusive interview with Swati Khandelwal, Zee Business.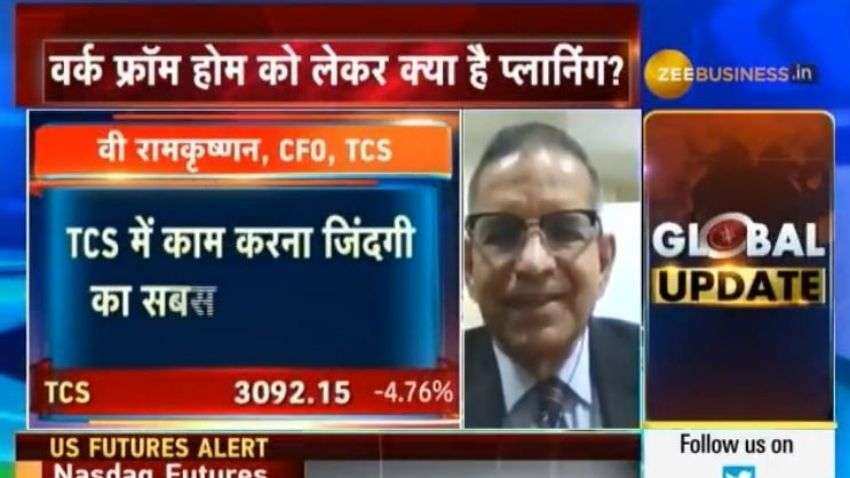 V Ramakrishnan (Ramki), Chief Financial Officer (CFO) and Milind Lakkad, Chief Human Resources Officer (CHRO) at Tata Consultancy Services (TCS) talk about Q4FY21 numbers.
Written By:
Jitesh Kumar Jha
Edited By:
Jitesh Kumar Jha
Updated: Wed, Apr 14, 2021
05:15 pm
New Delhi, ZeeBiz WebDesk
V Ramakrishnan (Ramki), Chief Financial Officer (CFO) and Milind Lakkad, Chief Human Resources Officer (CHRO) at Tata Consultancy Services (TCS) talk about Q4FY21 numbers, hiring, attrition rate, deal wins and final dividend for FY21 among others during an exclusive interview with Swati Khandelwal, Zee Business. Edited Excerpts:
WATCH | Click on Zee Business Live TV Streaming Below:
Q: How will you summarize the performance of Q4FY21? Constant Currency (CC) revenue growth came in at 4.2%, which was expected but what were the key reasons for this, and do you expect to exceed this run rate in the coming quarters?
Ramakrishnan: If we look at it, the currency growth is the continuation of what we had last year. From the macro perspective, technology has had an impact on the industries, and we have also been benefitted from it. But a lot of things have to be done to take advantage. The services that are being provided to the customers also include development and change through the technological solutions that we offer. Going forward, the benefits of technology give us the confidence that the business growth will remain good in the future as well. 
Q: The operating margin came in at 26.8% this time, which would be called a stable margin on a quarter-on-quarter basis. Where do you see the margin trajectory for the next 3-4 quarters?
Ramakrishnan: We are announcing the salary hikes from April. From the first quarter, we have some impact from salary increases, which is in line with last year as well as past period. But in the next few quarters, we will cover that. So, to some extent we will have the impact in the first quarter otherwise I think that the growth on the steady increase and we will definitely have the margin resilience. We continue to exercise a lot of discretion on the ware wheels spend and to some extent some of the expenses are not happening now, but it is expected that they will return because the way things are happening will not continue to be the same. Thus, there will be a change. So, some of those expenses will come back but they will take some time. We believe that margin resilience is a part of our strategy, and we will work on them and maintain them. 
Q: Record number of employees – 19,388 - has been added in this quarter. Can you tell us the rationale behind such levels of hiring and will the trend continue in the future as well?
Milind: The first thing is that 19,388 is a good number, which is also the highest to date. It is so that we have an annual plan for it; it is not so that it has been done just for this quarter. The way we had plans for trainees this year, we have planned the same way for the next year, hopefully, it will be a little bit more than that. Internally, we believe in talent development, and it is a very important aspect of our business. Taking trainees from the campus, internal talent development is cultural to us. Thirdly, the extra that we have to hire from the market is also done. So, if these three dimensions are covered then this trajectory will continue. 
Q: The company had the lowest attrition rate ever at 7.2%. Do you think that this level is sustainable, and are you bringing such policies which will help retain employee going forward from here?
Milind: We are the leading retention organization in the industry, it will continue. This time, it has also reduced due to the pandemic. I feel that the number will increase from 7.2% by the next year but still, it is not a concern. We continuously try to provide the best assignments, environment as well as the best learning environment. However, I feel the attrition will go up a bit next year, but it is not a cause of concern. 
Q: A record order book of $9.2 billion has been seen, which is the highest ever TCV in a quarter. From which verticals you have seen the maximum traction and highest amount of TCVs? What is the deal pipeline for Q1FY22 and Q2FY22?
Ramakrishnan: We are seeing a headwind across markets across industries. In the next few quarters, the TCV will go up and down depending on the value of contracts that get included. As far as the TCV of this quarter which is at $9.2 billion is concerned, a significant amount has come from the North American geography, which is I think is more than $4 billion, and also BFSI and retail have also brought the TCV. So, this is an all-around TCV. 
Q: The concerns of the pandemic are increasing once again with the second wave. What is the ratio of your employees and what is the policy that you are looking forward to on Work from Home because, in the last year, we have understood the way the culture has spread?
Milind: Currently, 3.9% of people are working from the office. Hopefully, you are aware of our 25x25 vision (FY25), in which 25% are required to come to the office for us to be 100% productive. And at any given point in time, an associate can be there for 25% of the time in the office for him to be 100% productive. This is our vision 25x25 by 2025 and we will pursue the same vision from today till 2025. If we will talk about today then yes due to the second wave, the health and well-being of our people remain paramount on all our business decisions. So, whatever we have done, the decisions have been taken including working from home, continue to be working and are productive then we are looking at the quality of their life and the way we can improve it by various means. We are also helping them and their families ensuring they are healthy and well. These things are going on. It has increased a lot in the last one month and we are paying more attention to it. 
Q: Since the demand for digital contracts is increasing. How is the situation of upskilling your employees to handle those projects? Also, what kind of digital contracts are emerging and what kind of hiring has been done in the fourth quarter?
Milind: As far as our digital services are concerned, we are getting all types of projects whether it is security, IoT, analytics or something else. And it is not so that they are coming for the same purpose, we are getting projects for different purposes and there are many projects where almost everything is involved, we are supposed to address each one of those. So, the top three strategies for TCS is proactive, organic and talent development, which is essential. We are paying a lot of attention to these things to take care of our mid-term growth as well as long-term, i.e. where the company has to go in the next three years and accordingly what we have to do. So, we are looking at them from both angles. Talent development is actually very critical for TCS and this industry.  
Q: Final dividend of Rs 15 per share has been declared. What are your plans ahead for the next quarter and is the company thinking of a buyback, as well?
Ramakrishnan: We can talk about the next quarter after the board will take any decision about it. You also asked about the buyback, it will be decided by the board, so I can't talk about it earlier. Recently, a buyback was completed in January 2021, so there should be some time gap. So, let's wait, a decision will be made on it when its time will come. But the important thing is that our cash return policy is intact in which 80-100% of the free cash flow is returned and it happens in form of dividend as well as the combination of buyback. So, the capital allocation policy remains the same. 
Q: Ramki you are retiring from your services this month as the CFO of TCS. How will you summarize your 30+ year's journey in the company?
Ramakrishnan: It has been a great journey and I have been a part of the group for about 30 years and TCS for 20 years now. So, it has been a great journey and some of best part of my professional career has been the last four years as CFO. Thanks to the board, thanks to my colleagues and also my team. It has been a great journey. 
Get Latest Business News, Stock Market Updates and Videos; Check your tax outgo through Income Tax Calculator and save money through our Personal Finance coverage. Check Business Breaking News Live on Zee Business Twitter and Facebook. Subscribe on YouTube.