Tata Power has a CapEx of Rs 7,000 for this year: Praveer Sinha, CEO & MD
Praveer Sinha, CEO & Managing Director, Tata Power Co. Ltd, talks about demand situation, InvIT, renewable and distribution business, EV Charging points, debt and CapEx among others during an interview with Zee Business Executive Editor Swati Khandelwal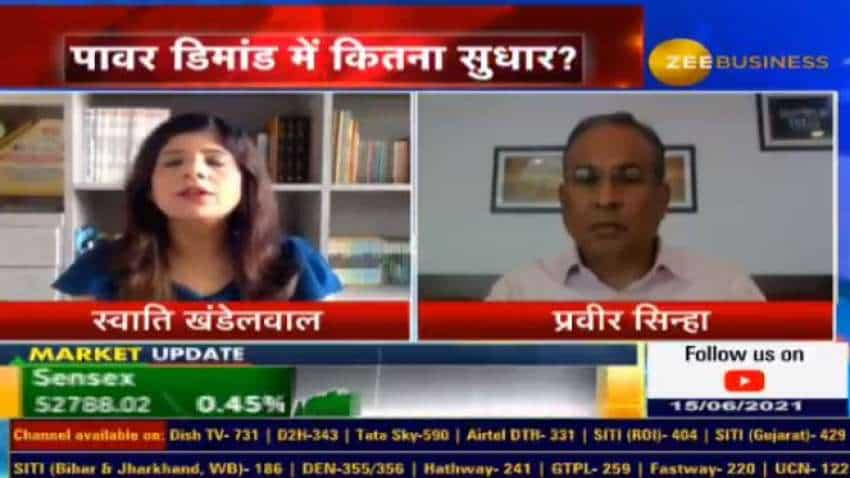 "It is expected that as the industries will return to their full capacity and the commercial and other activities if the shops open up then the demand should return to its peak in June and July,"
Written By:
Jitesh Kumar Jha
Updated: Wed, Jun 16, 2021
11:54 am
New Delhi, ZeeBiz WebDesk
Praveer Sinha, CEO & Managing Director, Tata Power Co. Ltd, talks about demand situation, InvIT, renewable and distribution business, EV Charging points, debt and CapEx among others during an interview with Swati Khandelwal, Zee Business. Edited Excerpts:
Q: After the lockdowns of April and May, we are seeing a pick up in the power demand across the country in June. What is the current load factor at your plant and by when do you expect demand to return to normal?
A: The demand in the power sector we are seeing has improved a lot in the last one month, which significantly reduced in April and May, especially in the first half of May. It is expected that as the industries will return to their full capacity and the commercial and other activities if the shops open up then the demand should return to its peak in June and July. It has been seen that this year already our peak went up to 180 Gigawatt and it was the peak of two years back, i.e. before the COVID in 2019 summer. The way the demand is increasing, it should go beyond 200 Gigawatt. So it is expected that full demand will come hopefully by August.
See Zee Business Live TV Streaming Below:
Q: A few months back you were talking about InvIT. What is its situation and now it is being talked about that you will opt for an IPO stream for the purpose? Exactly what are your plans related to the renewable business as the company has a focus on the domain and good value creation is visible in the business? Also, what is an update on the debt front as you said that the debt will increase up to Rs 25,000 crore through the InvIT?
A: Last year, we planned to examine the InviT and see what kind of solution we can bring to the market. We have deeply analysed it and found that Tata Power is in the whole range of renewables, unlike many others who are just running the utility renewables and have a play in it. As far as, Tata Power is concerned, we also manufacture, we are also the largest player in EPC in the country, and also have a utility-scale of around 4 Gigawatt in which 2,600 is already implemented and 1400 is under implementation and of which 500 should be functional in this quarter itself and a large quantity of the balance should come this year. Along with this, we have also taken a big step of rooftop solars and finding ways to penetrate in the industrial, commercial and residential activities that happens and how to empower the consumer so that they can generate electricity, use it and how they can provide it to the grid.
In addition to this, a solar pump is a big area and today about 90 lakh pump sets are running on the DG sets. The government has a very big program KUSUM (Kisan Urja Suraksha evem Utthan Mahabhiyan) under which 40 lakh of the 90 lakh pump sets will be solarised. Still, around 50,000 pump sets will be there. So, a very big market has emerged, on which we are working, microgrid. So, our portfolio of renewable products is very big and going forward in the next 40-50 years, I expect that renewables will play a major role in the power sector. So, whatever decision we have to take will be done carefully and in the right way so that it is sustainable for 40-50 years and brings value to our shareholders. A lot of discussions is happening on it and we are taking a lot of advice from many consultants and advisors as well as the market players to bring a solution that is beneficial for everyone and as the decision is reached, we will share it with you.
Q: Can we say that now that you have a focus on renewable and distribution business and you will consolidate the renewable business? Is IPO expected to come this year or it can be pushed for the next year?
A: It is so that no decision has been taken yet as to what kind of structure will be created for the renewable business. So, right now, it will be premature to say anything about it. As I have said that consolidation of the renewable is happening at our end and we are seeing that every month, every quarter, there is an improvement in our performance. That is giving us huge confidence that this business will grow a lot in the future.
And, we think, especially rooftop and solar pumps will have a growth of nearly 10 times in the next five years. At the same time, we want to grow our utility-scale by 5 times in the next five years. Since we are in a growth phase; we want to take any decision after thinking a lot. There must be an immediate reaction to meeting an immediate objective. This is why we are taking some time. Along with this, we have a lot of plans to grow in the distribution business too. We used to have three million customers but after the addition of Odisha last year, we have around 12 million customers. We are the biggest in the private sector and expect that as soon as the distribution is delicensed, as per the Government of India plan of Electricity Amendment Act then we will be able to provide the distribution service across the country to the consumer, where they through the digital technology benefits can manage their electricity consumption and check the consumption patterns and control it.
So, the solution we are bringing is quite big in itself and I would like to request you to have patience and it will have good results and whatever is the decision, it will be shared with you.
Q: The company has also been planning to set up EV charging points. Where do the plans stand right now and at what number you are working right now?. Your debt has come down significantly last year. Can we expect any more debt reduction this year and where do you expect debt to stand by the FY22 end?
A: As far as EV is concerned, today we have reached 100 cities. EV chargers have also installed in a few places on the highways. Last year was a COVID year, which was a difficult period for everyone. Even, we were in trouble too due to it, despite that, we were able to install public EV charges at around 550 places. We have also installed more than 2,500 home charges. So, whoever buys an electric vehicle, whether it is from Tata Motors or any other manufacturer, we install the EV charger at their homes.
Along with this, we are also installing the EV Chargers at the highways. And, with this around 550 charging points, we are at the first position, as others who are installing it are standing around 40-50 EV charges yet. We expect that the number will be more than 3,000 by the year-end. So, we have huge growth plans in the EV charger and we are just not into EV Charger but also provide a very good customer experience, where the consumer gets an idea about where to charge and the time that is required for the same, where the charger is occupied and where they can block it for themselves. So, it is an excellent customer experience.
As far as the debt reduction is concerned, last year we reduced it from Rs 43,000 crore to Rs 36,000 crore and now I expect that we will stay at these levels this year as well, in spite of that we have a CapEx of around Rs 7,000 crore for this year, which will be used in the renewable projects that are being installed and the captive solutions that are being provided on the OPEX model to our commercial and industrial consumers, as well as in the solar rooftop. In addition, it will also be used in the Odisha distribution for network improvement and bringing technology and automation. So, we will have a CapEx of Rs 7,000 crore this year. Despite this, we expect that our debt level will stay at the same level.
Get Latest Business News, Stock Market Updates and Videos; Check your tax outgo through Income Tax Calculator and save money through our Personal Finance coverage. Check Business Breaking News Live on Zee Business Twitter and Facebook. Subscribe on YouTube.