Paper prices may increase by 3-5% from next month: Ashok Kumar, ED, Pudumjee Paper
Ashok Kumar, Executive Director, Pudumjee Paper Products Ltd, talks about the demand situation of paper, growth outlook, expected price increases, lumber prices, hygiene product business and expansion plans.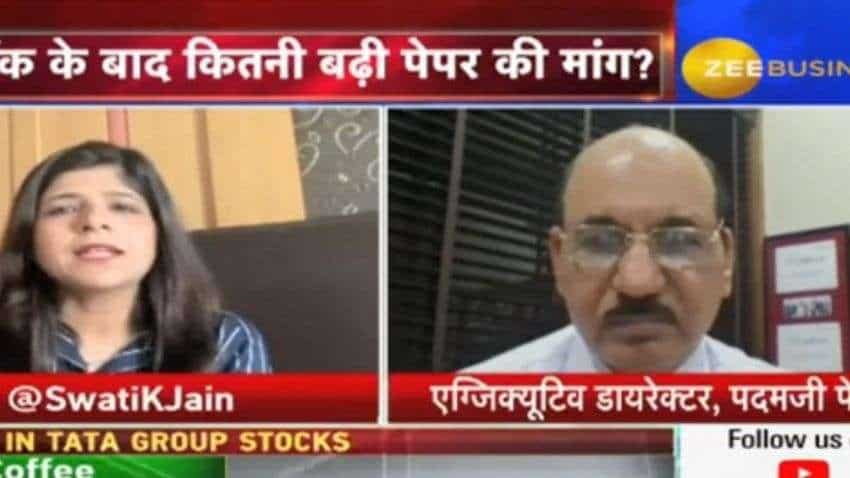 Paper prices may increase by 3-5% from next month: Ashok Kumar, ED, Pudumjee Paper
Ashok Kumar, Executive Director, Pudumjee Paper Products Ltd, talks about the demand situation of paper, growth outlook, expected price increases, lumber prices, hygiene product business and expansion plans among others during an interview with Swati Khandelwal, Zee Business. Edited Excerpts: 
See Zee Business Live TV Streaming Below:
Q: There is strong momentum in the paper sector. What kind of demand trends are visible and is it a sustainable demand?
A: As far as demand is concerned, the demand for paper except office paper has already reached the pre-COVID level in the last quarter of the financial year 2020-21 (Q4FY21). The demand was low in the office space segment but it improved in this quarter and it reached almost the pre-COVID level in September. I feel that the reduced volumes will be coming back in the coming quarters and there will be further growth. The paper industry can be segmented into many segments and writing & printing and office paper is a segment, where demand was less because offices and institutions were shut down. The economy opened up gradually and restrictions have ended and offices are opening up due to which demand is getting back. The demand will increase further in the future because its growth drivers are intact. For instance, in office papers, we have an emphasis that education should reach the last corner of the country. There is a higher outlay for literacy under the education policy. The packaging sector has grown by 10-15% and the growth will continue. I feel the demand will increase for every kind of paper. The vaccination has brought back the confidence and based on the same, demand will be normal in the third quarter including the office paper. 
Q: Demand will remain good in every segment. What does it mean for the company in terms of numbers and what is your growth outlook in terms of the top line, bottom line and margins as there has been an increase in paper prices?
A: The paper industry is seen in many segments like writing, printing and packaging. The other segment is kraft paper. We are into the speciality paper segment and if I will talk about the Pudumjee Paper, we manufacture speciality paper and have a capacity of 75,000 tonnes. Last year in 2020-21, our volume was nearly 65% of the normal and the revenue was 73% but the profitability was good. The raw material of our company is 100% imported and imported pulp prices are impacted in our company. But if we will talk about our revenue of the first two-quarters of FY21 then it is almost equal to the revenue of the fourth quarter. So, our EBITDA will remain intact, maybe there can be some improvement, which will depend on pulp prices. It is specific for Pudumjee Paper because manufacture paper in the segment, which is manufactured by just one another mill in India while it is not manufactured by the rest of the industry. As far as China is concerned, it has had a different impact as in our segment there are few speciality papers in which papers have not come from China. Atmanirbhar Bharat also had created an emotion amid people which led to an improvement. However, there is no issue related to demand in our segment. As far as paper prices are concerned the industry was not in a mood to increase prices in any segment. But certain input costs increased unexpectedly, energy prices have increased a lot and is increasing and chemical prices have gone up a lot and transportation-related issues like unavailability of shipping and containers have played a big role in it. As far as the pulp is concerned, imported pulp prices have increased a lot in just one quarter as compared to the last year, which has not have happened in the past. Meanwhile, it softened a bit but has stabilized a bit now and the prices of imported pulp may go up. As far as Pudumjee is concerned, its revenue and profitability will be maintained and it may improve in the next quarter. 
Q: Are prices expected to move up as you have said that raw material prices have impacted and energy prices are going up, if yes, what can be the quantum and by when?
A: I would say that the price increase is a compulsion due to the input prices. Have a look at the chemicals, energy prices - like imported coal prices have almost doubled. So, I feel that the prices may go up by 3-5% from next month. There would be a different price increase in different sectors but I do not think that it will be more than it and it may not happen in certain sectors. I do not expect an increase of more than 3-5%. 
Q: Lumber prices are up 24% in one month, you import lumber, also rupee has been weak. How has all this impacted your company and how will you mitigate it?
A: Imported pulps are used in our company, so the increased lumber prices have increased the prices of the imported pulp. The price of the imported pulps had almost doubled in the third and the fourth quarter last year has gone down, maybe it hasn't dropped to those levels but the 70-80% increased prices were around 40-50% compared to 2019-20. We have an inventory of around 3-4 months but the biggest problem is the uncertainty of the supply. I don't think that the prices of the imported pulps will be an issue in the recent future but supply constraints are there and there is no surety that the raw material will come or not. As a company, we have the policy to keep raw materials of around 3-4 months due to which it will not impact us a lot. As far as the Indian paper industry is concerned lumber prices do not impact the Indian industry. We have three segments and they are:
Wood-based - plantation wood is grown by the farmers and it stands around 25% of the total production. 
Agro: It is about 20-22% and the raw material used in it is Indian
Waste Paper: The biggest issue due to instability in the base paper and our more than 60% production in the country is waste paper-based in which 30% is Indian domestic waste and 70% is imported. Most of those mills have been impacted in which raw material is imported waste paper. Their profitability mainly depends on the prices of the raw materials as the prices of waste papers have almost doubled and there is no surety of containers due to which there is an issue on availability of the raw material. So, it will be stuck the most. However, the profitability of the wood-based plants and agro-based plants will be good. 
Q: Your company is also into Hygiene products, which includes Large Bedrolls (used in hospitals), Hand Wash System, Kitchen rolls, Handwash. Can you throw some light on this business as well and what is happening over here?
A: The highest growth has been in tissue although the base is quite low and it happened during the pandemic. By the way, due to FMCG, food & beverages, pharmaceuticals and textile sectors, a lot of growth was seen in the packaging sector. There has been a huge growth in the tissue business but the ratio of domestic and export markets keeps changing depending on the prices. For instance, there are two to three companies that were exporting more than 50% of tissue paper and based on the prices till the last two months. But the demand has improved in the domestic market. We export that with the opening of the institutions and food chains as well as restaurants, the demand for tissue will remain strong. At the same time, a mindset has been created among people to move towards hygiene products and wellness. Therefore, hopefully, there will be good growth in the tissue segment, which will continue. 
Q: The company last time said that it is planning to launch new coating paper and also other products. What is the update and what is the other product launch pipeline?
A: Yes, I said it last time. As our company is in the speciality segments and something that can be a big growth driver is the replacement of the single-use plastics. Paper can have many applications and a certain type of properties are required to replace the plastics and they are 
Oil and grease resistance: We manufacture such products. 
The oxygen barrier and moisture barrier: Paper does not have any natural barrier due to which it needs coating with different chemicals that are environmentally friendly. We have a special cooker where we have developed several papers and have provided them to the medical and pharma sector as well as the food sector. It takes time in getting the required certifications among others for those sectors but we are quite hopeful that a big part of our production will move to these segments and will replace the plastic but in few applications, it can't happen in everything as it will take time. 
Q: What kind of expansions has been lined up. Last time company has said that it will expand in Mahad. What is the update and what kind of investment will be required and where the capacity will go and what is the current capacity utilisation? 
A: Currently, our capacity utilisation stands at around 75%, which could go up to 85% in the next quarter. Due to the pandemic, the issue of Mahad is on the back burner and the investment there is substantial because we have to transfer some machinery from here and we have already brought some machinery there and they will be installed. It is an expansion of around Rs 1,000 crore. So, we are working on the blueprint for the same. However, the decision will be delayed a bit due to the talks of the third wave but we have plans to move towards Mahad as we will get certain advantages there, which we can't get here. So, it is on the backburner at present but we are working on it. 
Q: What kind of investment has been lined up for the next couple of years?
A: Currently, I cannot share the CapEx numbers with you but can talk about the paper sector a bit. But, we will firm up a bit in the next quarter and allow this uncertainty to end because we will have pulp there as well and we will use only imported pulp and you do not get the permission to install a pulp mill and there is an issue in it. Therefore, we are waiting a bit because around 20% of our production is also based on waste paper. I would like to update you about an angle of the waste paper that has turned different vis-a-vis China. In Kraft paper, it started before the pandemic because China shut the import of several grades of waste paper. So, the waste paper comes to India, becomes Kraft paper and moves to China as recycled paper. So, a huge percentage of that paper doesn't come back to India in form of waste paper. There is a big issue of the supply chain and it will take its own time to settle down. So, we will take some time to make a decision.
Get Latest Business News, Stock Market Updates and Videos; Check your tax outgo through Income Tax Calculator and save money through our Personal Finance coverage. Check Business Breaking News Live on Zee Business Twitter and Facebook. Subscribe on YouTube.
Updated: Thu, Oct 07, 2021
02:43 pm
New Delhi , ZeeBiz WebDesk