No sector is riskier than Agriculture: Godrej Agrovet
"Doubling farmers income in real terms is a difficult task but we may achieve it in nominal terms", says Balram Singh Yadav, Managing Director, Godrej Agrovet Limited (GAVL), in an interview with Zee Business.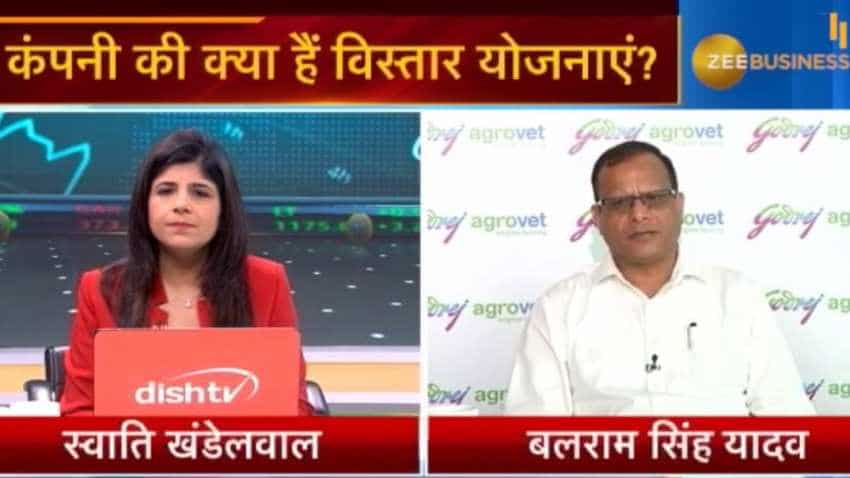 Balram Singh Yadav said, "farmers income can be doubled only if Agri-GDP grows at 10.4% per annum." Image source: Zee Business
Updated: Fri, Sep 13, 2019
02:55 pm
Mumbai, ZeeBiz WebDesk
"Doubling farmers income in real terms is a difficult task but we may achieve it in nominal terms", says Balram Singh Yadav, Managing Director, Godrej Agrovet Limited (GAVL). In an interview with Swati Khandelwal, Zee Business, Yadav said, "farmers income can be doubled only if Agri-GDP grows at 10.4% per annum, however, it grew by just 2% in the first quarter of this fiscal". Edited Excerpts:
Q: Do you think that the government's plan of doubling the farmers' income is achievable at a time when the Agri-GDP numbers are going down?
A: It is a difficult task. We may achieve it in nominal terms but will not be able to achieve it in the real terms. If we have a look at the agricultural performance in the last 25-30 years, then the agricultural income has doubled twice in nominal terms, i.e. from 1987-88 to 1992-93 and 2004-05 to 2010-11. But, to double it in real terms - a resolution of the NITI Aayog – we will have to grow the Agri-GDP at 10.4% per annum but we have grown by just 2% in the first quarter. Thus, it is an uphill task and I am not saying that it can't be achieved but it should be supported by a revolutionary work. However, I feel, it can be achieved in the nominal terms.
Q: Had the government succeeded, may be partially, in bringing stability in farm incomes and relief to farmers?
A: The government has taken several steps to the de-risk agriculture sector. I have been working in this sector for the last 30 years and I don't think that any other sector is riskier than this. The sector is monsoon dependant and its cost of production is not linked with its output price. Just analyse the factor that the farmers who cultivate and grows the crop get money twice in a year. Thus, a lot of work is needed in almost every segment of the sector. Both, the productivity and prices are too low, but the government has launched several schemes to help the sector. However, we have seen that implementation of things at ground level, in our sector, takes several years. Government efforts give me a hope that things will be achieved it may vary by a year or two.
Q: Can government initiative bring a change to the problem of surplus or will take its own time?
A: Agricultural surplus will turn up to be a reality and certain reasons like ongoing improvement in the package of practices, farmers, adoption of new technologies and irrigation practices, which is much better then what it used to be 10years ago may lead to this situation. Other reasons that will add on to the problem include the work on micro-irrigation, the launch of several irrigation projects in last 5years and a part of MNREGA budget, 38%, is spent on improving the irrigation infrastructure of the country. This is going to be a big problem for farmers as they will not get the right price for their produce and it will give rise to rural distress. 
Diversification of the crops is a solution to it, as in, we have milk, sugar, wheat, paddy and other cereals in access, but we are quite behind in production of the edible oil. Special focus on edible oil production could reduce our import dependency. Almost, 70% of the edible oil consumed in India is imported, thus, edible oil of around Rs70,000-80,000 crore is imported annually. So, if we start focusing on it and use our lands for the production of edible oil instead of cereals and sugarcane then it will benefit a bit. Apart from this, there is a need for business diversification. 
Q: Do you think that the Agri-tech solution is relevant for a country like India, which is a cost-efficiency country?
A: Technology has been introduced in the agriculture and livestock segment at a regular interval from the past 10-15 years. There is a tremendous shift towards hybrid seeds. And, the soil is being tested to reduce our dependence on urea and increase fertilizer use in the soil to improve productivity. Similarly, there is an increase in drip irrigation. Thus, all these are part of the technology. There is a need for technology in two areas and they are:
Post-harvest technology: An area that leads to the highest value loss, not a volume loss. The world says that there is a 20% horticulture waste and 15% vegetable waste, but it is not so, but the farmers get low prices due for their impaired product. Thus, post-harvest technology should come and increased cold chain investments will help the farmers to get good prices for their produce, which remains in good quality. 
Export development: Export development is needed to get rid of the surplus situation. We have to focus on it because we are surrounded by countries who are importing food and we are facing the food surplus situation. Government policy on the issue can help us in exporting several food items like milk, animal protein and cereals among others can be exported. Processing and value addition to the products will help farmers in getting better prices for their produce. 
Q: How do you defend against market disruptions in your frozen food business amid increasing competition from platforms like Swiggy and Uber Eats?
A: Food delivery systems will require suppliers and you would have heard about cloud kitchens and others. Our country is not a place where you can distribute your products in the entire city just by centralizing your work because of poor infrastructure, more population and traffic. Thus, there is a need for hub & spoke arrangement distribution and under such an arrangement you will have to process – to make your products available in a semi-cooked and fully-cooked situation – so that it can be sold at the cloud-kitchen after heating it or last-mile processing for value-addition. Thus, I feel, these mobile platforms for food delivery will give a major boost to food processing and will shift our focus towards to semi-cooked and frozen foods, which need to be cooked and delivered at an ease at the end. This is a good thing that is happening in the country and I feel it will benefit processing and lead to the development of cold-chains. 
Q: Let's talk about the animal feed business and it has been observed that the second half of the year remains better than the first half. So, how are we going to see the profitability in the coming quarters, or the segment is facing some challenges in taking price hikes?
A: Certain things lead to an increase in animal protein and animal agriculture businesses in the second half, i.e. between October to March, and they are (i) low-temperature conditions lead to higher consumption of animal protein; (ii) it is a festival season and (iii) cost, as animal protein is available at low prices because feed prices go down in the second half. The prices of three-four essential items of feed - like DOL rice-bran, maize and soya extracts – goes down in the second half of the year as they come in the market between September-October. Its availability at low rates has an impact on feed price. And, I have seen in the last 25-30 years that 55-60% of animal agriculture business happens in the second half while the remaining 40-45% happens in the first half. I think, like every year, our second half margins will be better than the first half margins. Besides, abrasion comes once at an interval of 3-4 years due to weather conditions, but I think good monsoon of the year will lead to bumper production. Most of the crops are in better condition and if the rain stops in the next 3-4 days will lead to early harvesting, which may lead to good productivity. 
Q: How do you see the raw material price trend under the current scenario, do you think that you will be able to pass on the higher cost?
A: As far as animal feed is concerned then we reduce our prices in accordance with the decline in the raw material prices. It happens due to expansion in production. For that reason, the farmers make the instant placement of flocks and increase his dairy capital, when he gets raw materials at lesser prices. Thus, feed cost must be down to expand. Every year there is a jump in our feed sales, and this is supported by increased consumption and expansion that takes place at the farmers level. 
Q: What is milk prices trend at present and provide your outlook on milk prices?
A: Milk prices are at good levels. Slight shortage of milk led to price rise, which is stabilizing now. Besides, several state governments are offering subsidies to the farmers and that's why I feel that milk prices will be at good levels in the near future as well. Every dairy in the past few weeks has increased their prices at the consumer level and I think that the upcoming 6-7 months will be good for milk. 
Q: Do you think that your margins will improve a bit in the second half, if yes, provide the number that is expected on that front? 
A: Margins of the animal protein business has always remained good in the second half and it will happen this year too. Two of our businesses, crop protection and oil pump plantation, are seasonal businesses. The two-third business of these two businesses happens in the first half of the year while the remaining one-third happens in the second half. In fact, the two-third business of the animal protein happens in the second half and it will remain dominant at our end and will help us in improving the margins, which in turn will have an impact on the company's performance. 
Watch Zee Business Live TV
Q: Update us about Godrej Agrovet roadmap for next 5-10years?
A: If you look at our past records of 8-10 years, then you will find an improvement of 15-17% in the bottom-line and top-line. However, I have said that organic growth of around 9-10% can be achieved in this business and that is why inorganic growth is an important strategy for us. Increasing sophistication and technology in the country will lead to consolidation of several assets and that's why I feel, we will be able to maintain the top-line and bottom-line growth at 15-17% levels. I would also like to add that things also depend upon the macro-environment and we will not face any difficulties in positing this growth rate for the next 5-6 years if everything remains above the average. 
Get Latest Business News, Stock Market Updates and Videos; Check your tax outgo through Income Tax Calculator and save money through our Personal Finance coverage. Check Business Breaking News Live on Zee Business Twitter and Facebook. Subscribe on YouTube.