Mukesh Ambani vs Jeff Bezos vs Jack Ma - The Bulls of Indian e-commerce! Reliance Industries' massive leap of faith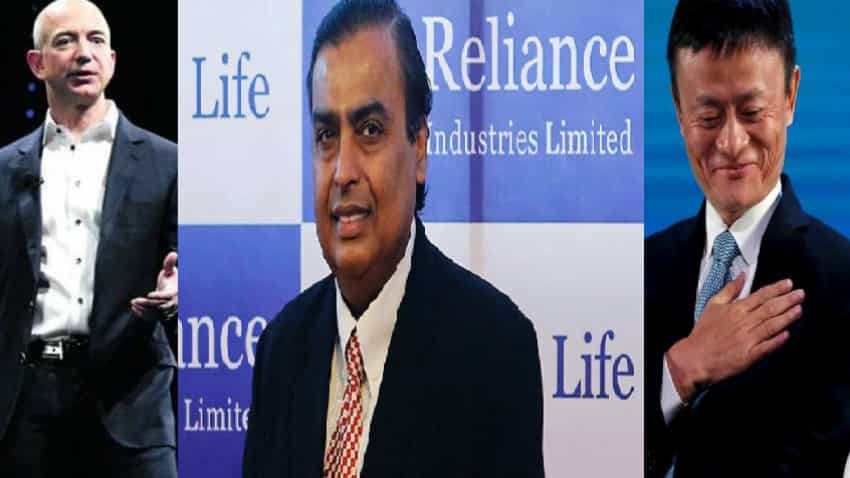 Representational Image: Photo: Reuters
Sustainability, experience, generation, growth, strong, money making, old, large - these are first few words that are best described for Reliance Industries. The Mukesh Ambani-led company which was a dream project turned reality by his father Dhirubhai Ambani has set a stage for itself ahead. The experience that Mukesh holds has made him and his RIL the man of success! RIL which is among the most oldest company on Indian soil, has left no corners in touching milestone for its country. Some few notable records would be largest company in market share, largest private company in revenue terms, largest exporter, largest tax payer and many more. If you go to count the glories of RIL, you will still be short of words - that's how large it is. While it would be a matter of wonder to what else can be next the big thing for RIL and his chief Ambani, some past trends are already paving the way under in between the lines. 
This next big thing is e-commerce market. Ambani is seen to be taking over in this pace from hands of Jeff Bezos' Amazon and Jack Ma's Alibaba.
Harendra Kumar, Managing Director at Elara Capital calls Reliance as India's FAANG stock. He says, "Reliance today is India's largest consumer company with no comparable peers and a contemporary to FAANG (Facebook, Alibaba — replaced for Apple, Amazon, Netflix and Google). The vision and gumption of Mukesh Ambani is under appreciated & underpriced and investors who ignore this will do so at their own peril."
This makes RIL one of its kind in India! 
Kumar revealed that when you search for Reliance Industries on google, the tag line will show retail markets, telecom and petrochemicals. Such transformation has taken place in just past 10 years. 
Amazingly, foot prints of Reliance is huge with Reliance Retail having 35 million  footfalls, Jio with ~250 million  customers and Media & Entertainment with 700 million subscribers. If we look closely, this is almost equal to the India's largest FMCG player Hindustan Unilever's customers which is some 700 million Indians. 
Retail, Media and telecom - between these three business RIL has some of the most promising brands a finger in the wallet of one out of two Indians.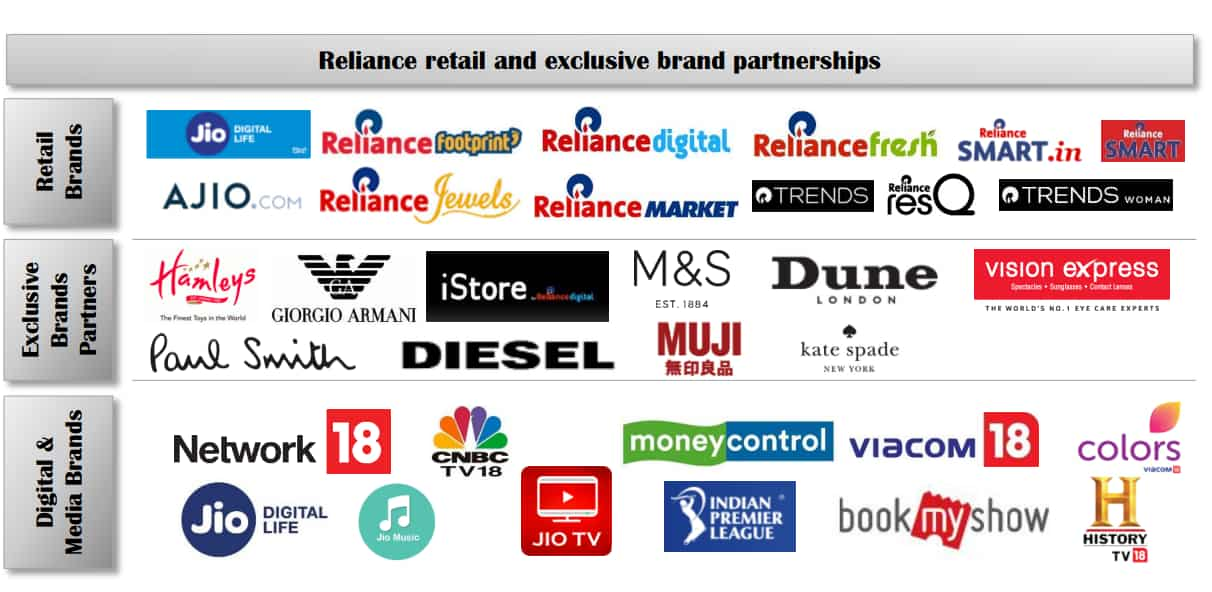 Kumar says, "As the 4C (connectivity, carriage, content and commerce) converge, a hitherto unseen force multiplier will kick in into the business — the form and shape only left to imagination."
Now coming back to real question, how can Ambani be a competitor for Jeff Bezos and Jack Ma in their own field. 
The tale of three sisters! 
It was late 1990s where technology market saw birth of Amazon and Alibaba -- both having over 2 decades of strong presence and experience. On other hand, Reliance's new businesses fall short of a decade compared to these two behemoths. However, there is already similarities to the way these three operates. 
In core commerce, if Amazon's impression is in Amazon Prime, Amazon Device, Amazon marketplace and Amazon online shopping portal itself. Then Alibaba has its mark in Alibaba.com, AliExpress, TMALL.com, etc. While Reliance takes control in this segment with its Reliance Digital, Reliance Fresh, Reliance Market and many more. 
If we look into digital and media section, then Amazon's knight-horses would be Amazon Pay, Prime Video and Alexa. Even Alibaba is not far away as it stirs competition with its Alibaba Cloud, UC News, Damai.cn and many more. To take on these two giants, RIL's trump card is Jio followed by Network 18, Indian Premier League, Money Control, CNBC TV18, viacom18, etc.
In Kumar's view, while both Amazon and Alibaba are moving more towards the "brick and mortar" linkages, Reliance is moving convergence towards an omni-channel. Its ambitions in linking 30mn small businesses are similar to that of Amazon and Alibaba's B2B marketplace. However, RIL's foray into education and healthcare will be unique. 
In terms of market cap, Amazon is undoubtedly the king as it claims 40-50% of all online sales in the US takes place on its platform. But, the opportunity pie is bigger for Alibaba as it claims 80% of online sales happens on its platforms. 
Since past 5 years, there has been tremendous shift in market capitalization of Reliance, Amazon and Alibaba. All three have seen uptick in their valuation. In fact, if you look closely, Reliance is just few billions away in surpassing the market cap Netflix hold, which in its own proofs the potential of Ambani's company in e-commerce segment. As on January 24, RIL's market cap is near $123 billions whereas Netflix holds $140 billion.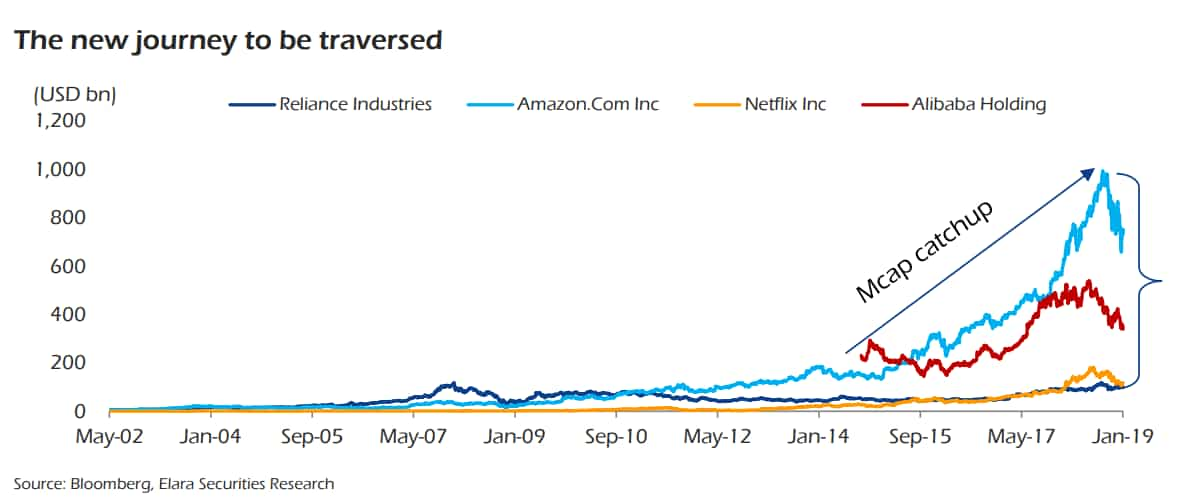 "Of course, the difference is in the average revenue per user (ARPU), which reflects monetization capability. Asia will account for 60% of global eCommerce sales, with China accounting for 58%. India cannot be left behind with its population and consumption dynamic," Kumar added. 
Notably, Alibaba is seen as a proxy to China's middle class growth, which Kumar believes is a benefit that cannot be denied to Reliance, given the network it has built. Alibaba uses the phrase "Gateway to China" to describe itself; if so, Reliance is a "Gateway to India" as its biggest eCommerce play. 
A leap of faith for the next Decade! 
Kumar says, "Today, RIL is valued for its traditional businesses and an iota of recognition for its retail and telecom businesses. Ambani has articulated an ambition of crossing INR 1,000bn (USD 294bn) in EBITDA from the new consumer-facing businesses in the next decade by 2027 and closer to where Alibaba stands today."
At the rate and a multiple that Alibaba and Amazon trade at would imply USD 300bn market cap. Kumar adds, "This means the stock will post a CAGR of 24% over the next five years. This is difficult to imagine and will require a leap of faith for investors."
Explaining the next decade, Kumar sees Ambani as a leapfrog to global league of Jeff Bezos and Jack Ma as the market starts to discount the convergence and a new term eCommerce gets tagged to its already present retail, telecom and media. 
Ambani once said, "If you focus only on returns, chances are that you won't really become great." He believes an entrepreneur is an optimist and must spread positive energy. Simply put, trust yourself! Surely Ambani does and his next decade seems to be taking the throne of e-commerce segment. It would be quite interesting to see Ambani become one of the bulls of e-commerce like Jeff Bezos and Jack Ma!  
Get Latest Business News, Stock Market Updates and Videos; Check your tax outgo through Income Tax Calculator and save money through our Personal Finance coverage. Check Business Breaking News Live on Zee Business Twitter and Facebook. Subscribe on YouTube.
Updated: Fri, Jan 25, 2019
10:35 am
Mumbai, ZeeBiz WebDesk