M&M would list 8 to 10 companies in the next five years: Anish Shah, MD & CEO
Dr Anish Shah, MD & CEO, Mahindra & Mahindra, talk about his plans for the group and targets, Target to achieve ROE of 18%, plans related to the listing of unlisted companies, plans related to automotive space and electric vehicles, acquisition plans and international businesses, capital allocation outlay and segmental breakup among others during an exclusive chat with Swati Khandelwal, Zee Business.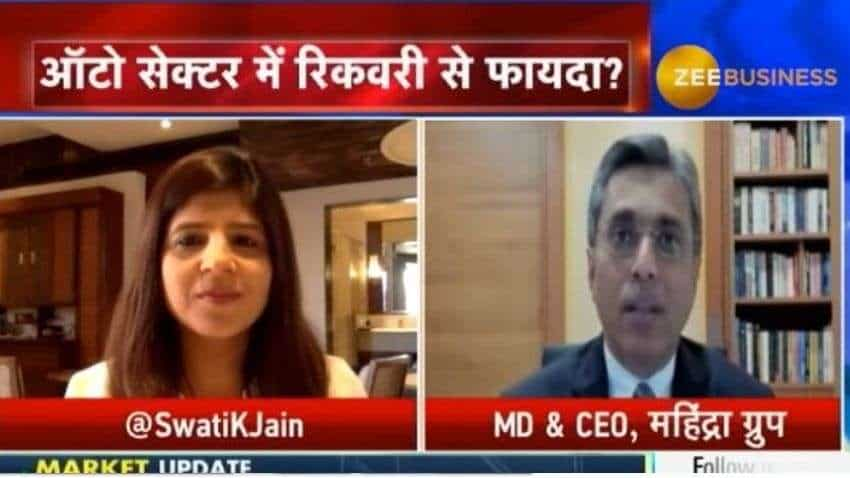 Dr Anish Shah, MD & CEO, Mahindra & Mahindra, talk about his plans for the group and targets.
Written By:
Jitesh Kumar Jha
Edited By:
Jitesh Kumar Jha
Updated: Wed, Apr 07, 2021
04:37 pm
New Delhi, ZeeBiz WebDesk
Dr Anish Shah, MD & CEO, Mahindra & Mahindra, talk about his plans for the group and targets, Target to achieve ROE of 18%, plans related to the listing of unlisted companies, plans related to automotive space and electric vehicles, acquisition plans and international businesses, capital allocation outlay and segmental breakup among others during an exclusive chat with Swati Khandelwal, Zee Business. Edited Excerpts: 
WATCH | Click on Zee Business Live TV Streaming Below:
Q: Congratulations on taking on the new role. What are your plans for the group and how excited you are to take on this responsibility and what are the targets?
A: I am very excited. We have a fantastic group, and we are starting on a very positive note. The group has been one of the best performers on the Nifty for 17 years. For the last two years or so, we had some problems with the international subsidiaries. We have shorted out all those problems now and we are looking at good growth going forward. Our core group is doing very well. The Thar has been a fantastic success. The tractor business has turned amazingly well in the last year. Tech Mahindra continues to perform outstandingly. Mahindra Finance has been the biggest and best business in rural India for financing and will be well-positioned. Some challenges in NPAs this year but that something that we have seen in the past when there was stress on the economy and that has always corrected and moved well going forward. So, we are quite optimistic about that as well. Besides, we have 10 group GEMS that we have talked about and these are 10 businesses that have the ability to scale quite significantly. Therefore, we are well-positioned today. 
Q: You have earlier said that the company has an intent of 18% ROE and all the group companies will have to contribute to this for future sustainability. How far have you reached in this endeavour and by what time you will be able to achieve it? Are you on track or do you see any challenges to achieve this goal? Also, tell us about the companies from where you will get the major growth deliverables?
A: On returns, we are well back on track now because our international subsidiaries had over Rs 3,000 crore of losses, which we are now taken care of. So, from that perspective, we will be in a very good position with regard to returns. With regard to growth, all the companies are going to contribute. The core pillars that we have, the growth gems, are creating some growth platforms as well, which is around the used car business. So, all of this will contribute towards growth and which is why we feel very confident about where we are today. 
Q: We talked about the IPOs last time and you mentioned that one after another you will bring quite a few and you will be listing at least three unlisted companies. Have they reached the size that you were hoping it will get listed, if yes, can you please share some timelines with us and the companies, to begin with? 
A: The timeline will be of three to five years. We want to build strong companies that are of good scale before they go to the IPO. Rural Housing Finance will likely be the first among the first. We have a company named 'Accelo', which is into auto recycling as well as speciality steel and a number of areas. That is well positioned also. But we will look to a three to five-year timeframe. And besides these two, there are five to seven, which in a sense will compete with each other and many more may make in it, as well. 
Q: What is the overall plan in the automotive space and now with the electric vehicles taking the centre stage? What will be the strategy that you will adopt in SUV and electric vehicle segment because primarily you have been the SUV starters and electric vehicle starter?
A: We have confidence in being very strong in premium SUVs, which have good capabilities for off-roading and have elegant features as well. And all our models in that space have done well. We have not played very well in mass-market SUVs. So, what we will focus on are premium SUVs. In addition to that in electric vehicles, globally we have launched the Battista, which are arguably the best electric cars in the world, 1,900 horsepower - double the horsepower from formulae 1 car – and it is being sold at a price tag of 2 million Euros. And, that technology is something that will come into the electric car in the future. We also have a formula E-Z, which is positioned among the best in the world in electric vehicle racing and those technologies will also come to India. So with the combination of all of that, we feel that we can have a strong electric vehicle program in India. We are working on a Born Electric platform and we are going to put about Rs 3,000 crore in the next two to three years. And then we will look at more investments as required. 
Q: Mahindra, as a group has never sided away in acquiring new businesses and your M&A, has been very strong but not necessarily you have got received on every front. And recently, we saw that you called off the JV with Ford and no fresh investment will go in Ssangyong. What is going to be your strategy when it comes to new businesses and acquisition in inorganic growth opportunities? Will you conserve capital and be prudent in capital allocation? Or it is the right time to go and pick up some good businesses and add on to the existing businesses or consolidate?
A: On that, we have to grow and have to be prudent, both, because we have to invest where we can believe returns. We have made certain investments that have given great fruits as well, if you look at Mitsubishi in Japan, Erkunt in Turkey and Sampo in Finland. These are businesses that are very good for our farm business and they will contribute a lot, not just to tractors but to farm implements and machinery in India, as well. So, we continue to be global and we want to be much bigger in terms of our aspirations both in terms of overall growth with market access and technology. But, we will get into an acquisition in alliances and partnerships that we can deliver on. So, it's a combination of both, we can't pick one or the other. 
Q: Any more cleaning up that is required to be done as it doesn't make any sense to be there and some businesses you actually think can deliver because Mahindra Group has a basket of different verticals? So, do you think that you will spread yourself too thin or you want to look at making it smaller, consolidating? 
A: We have taken a lot of actions in the last year to exit businesses. From a capital allocation standpoint and I would say that exits are behind us, now. The businesses we have today are cash-generating, there will be a couple that may be not generating cash yet, but they are on a good trajectory and we feel that we can scale them. So, we are looking at scaling our businesses. We may not get into many new areas and the couple we were looking at but that is not a very long list. But the biggest focus for us is to scale up the current businesses and we have to drive both growth and returns for that. 
Q: Do you have a number that you can share with us for segmental breakup at the group level and the kind of capital allocation that will be made for the next three years for each of the businesses that you are looking at? Are you geared up and for it and are the funds in place or it can be through internal accruals or you will raise it from the market?
A: We have always had a very strong cash flow internally. Over the last, two years we have to spend more on the international subsidiaries which we have stopped spending on. So from that perspective, the cash generation is going to be very high. What we have decided is that cash flow from auto and farm will stay within auto and farm or will be given back to investors. And our investment in other group companies will be self-funding and as they generate more cash, we will make more investments. So, overall, we feel that we are in a very strong position from a cash point. 
Q: Scrappage policy has been announced and Mahindra is one of the companies that have a JV with MSTC for scrapping and recycling facility Noida. What kind of opportunity on that front and can it be a big area of growth? And will you open some more scrapping centres in the next two to three years?
A: This is a big area of growth and this is a part of our Accelo business, which we have talked about as part of the IPO. We currently have three plants and nine centres for collection. We have plans to get to 25 centres in the next couple of years and we feel that the new scrappage policy is a good step in the right direction. We do feel the least was required as a consistent policy across the states and in some ways making it compulsory because there are a lot of vehicles on the road today that does not meet these norms. And as that happens, we see a lot of potential for scrappage business. 
Get Latest Business News, Stock Market Updates and Videos; Check your tax outgo through Income Tax Calculator and save money through our Personal Finance coverage. Check Business Breaking News Live on Zee Business Twitter and Facebook. Subscribe on YouTube.