Kamat Hotels will focus on increasing the income: V Kamat, CMD
Dr Vithal V. Kamat, Chairman and Managing Director, Kamat Hotels (India) Ltd, talks about booking and expected growth, business outlook, occupancy levels, support from the government, expansion plans, debt reduction plans, GST on food delivery companies and growth expectations.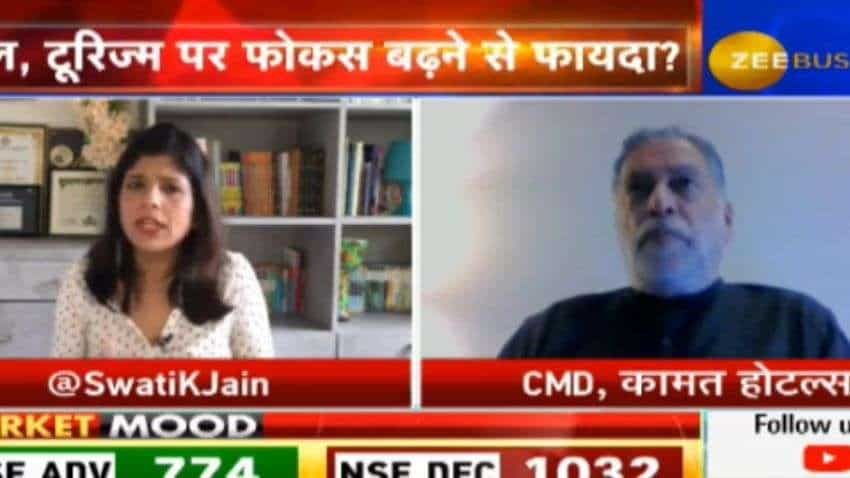 Kamat Hotels will focus on increasing the income: V Kamat, CMD
Updated: Mon, Sep 27, 2021
11:19 am
New Delhi , ZeeBiz WebDesk
Dr Vithal V. Kamat, Chairman and Managing Director, Kamat Hotels (India) Ltd, talks about booking and expected growth, business outlook, occupancy levels, support from the government, expansion plans, debt reduction plans, GST on food delivery companies and growth expectations by end of FY22 among others during an interview with Swati Khandelwal, Zee Business. Edited Excerpts:
See Zee Business Live TV Streaming Below:
Q: It seems that things are back to normal by seeing the way bookings are being made and the way the culture of staycation has started in hotels. Do you think that this is sustainable growth?
A: You have asked a very good question because you cannot hold anything for a long time. First of all, people have learnt to fight this pandemic. There have been three advantages, every loss has some benefits:
(i) people have paid attention to hygiene and the hospitality industry has also paid attention to it because of this, people confidence has increased. 
(ii) By staying at the homes, now, people are a bit upset. A lot of people are gathering at the city hotels and resorts. People take their own 3-4 people including their friends over whom they have confidence in terms of health and those who are clean.
(iii) Small companies are also holding their seminars at these places due to which growth has returned even to the hospitality industry and it will continue to grow in the same manner and people will learn to live with this pandemic. 
Q: Positive cues are visible but the growth is led by retail and consumer-led but the conferences you are talking about has not returned completely as people have adopted the digital model in a good manner, which led to cost savings as well. What is your outlook on it and do you think that it will be back to the previous levels or some pressures will be seen on the front even in the future?
A: It is such that the digital thing will remain digital. Where there will be an exchange of ideas, there will be a reality, with which sense you are talking and if you have to explain to the doctor then you can't make them understand on the TV, if you have to explain to your customer then you can't explain them on the TV, so the difference of this 10-20% will be maintained. Therefore, I hope, not that soon but by the end of the year, it will turn regular. It will turn regular because things should be harmonized between people who are working in the industry and they should meet each other. People to people meet is essential in the service industry and this gives me hope and I am seeing that things are changing a bit. When fear will get out of the people then things will return to normal. 
Q: What are the occupancy levels at present and how the pre-bookings are visible? 
A: The occupancy which used to stand at around 25-20% has reached 55-60% by now. The average Room Rate (ARR) is slightly low but we are getting bookings for marriages and other occasions. People get married only once in India, although the case is different in foreign countries, so they think that may I invite few people but my marriage should be at a good place. Those who are coming to take precautions, accordingly, I feel we will get the bookings and it is being done. We are getting a lot of enquiries almost everywhere from Jadhavgadh to Shimla. 
Q: Can you please quantify at what levels occupancy percentage-wise and the level it will reach by the end of the financial year?
A: Current occupancy is 52% at Orchid and other places it is between 48-55%. But if you will ask me to quantify it then predicting the future after the pandemic is quite difficult but this occupancy will stay because people are knowing that the pandemic has not left yet but are getting out even with their children, they are taking precautions. Even airlines are taking precautions. In airlines, I have seen while returning from Shimla that their routines have increased, i.e., from one to two flights in a day in the past has increased to three to four now. 
Q: Last year the industry was asking for Government support for Revival. What kind of support do you need now because the trend is suggesting that industry is coming back to normal, so, there is no need for support from the government?
A: It is not so. The help we need is that the tenure of the loan we have taken should be increased. Secondly, we will be able to handle only when we get time otherwise it will be very difficult to handle because if the third wave is there then no one has the power to handle it and be back to its normal. This time, the staff have cooperated with us a lot, guests have cooperated with us, but their limit has reached the top level. I would like to pray to the God that third wave does not hit. If it is not there then everything will gradually come back to normalcy. 
Q: You have plans of expansion that have slowed down due to a demand reduction. Now, what are your expansion plans and how many new properties will be added, what will be geographies for it and what is the timeline for the same?
A: First of all, we have decided to reduce the capital investment as much as possible. We have expertise in managing unmanageable hotels, we can run the hotels which can't be run. So, we intend to take hotels by paying some deposits for managing the hotels for 15-30 years, and the profit we will get in that will be fine as we have the capacity and ability to manage. I have been in this business for the last 54 years. So, we are coming in this way and people will do it. But we will abstain from capital investment for a few days. We do not want to make any capital investment and have to increase the income, make shareholders and others happy as well as want to be happy myself. 
Q: The company has reduced its long-term debt from Rs 206 crore in 2020 to Rs 64 crore (March 2021) now. What is the debt reduction plans? Also, around 56.28% of the company's Holding is pledged, when do you intend to release them?
A: Planning for it is on and as soon as it will be possible to reduce the holding, we will definitely do that. Its plans will be discussed at our AGM, which will be held soon and will definitely inform you about it. 
Q: Government has announced GST on food orders from food delivery companies. What impact it will have on your industry and what is your take on it?
A: It is so that GST on food is concerned then normally small restaurants do not get a chance to earn. When these people do it with us then they take less percentage from us due to the volumes which can increase the business. Secondly, slowly, the habit of people of eating at the homes will reduce and they will start moving to restaurants. Three things are available at the restaurants and they are atmosphere, service and togetherness, eating alone in a room and eating with everyone gives a pleasure – I feel pleasure in it – and Indians also get pleasure in it, i.e., when they go to the restaurants and see a family sitting next to them where they see a kid eating there which provides happiness to them. So, I feel, people will start visiting restaurants. Some of our restaurants located at Nariman Point and Church Gate, like Samrat, have almost attained normalcy. 
Q: What are your expectations in terms of the top line, bottom line and margins by the end of FY22?
A: After the COVID, I have forgotten to do the numbering and will not do it as at times it has happened that we had functions for an entire month and have to cancel it in entirety. Earlier it was said, Before Christ (BC) but now BC stands for before CORONA/COVID and AC has turned into After CORONA. In our industry, today, no one has the guts to provide predictions or pictures. I think that the way things are going on things will be good but have stopped predictions because am not aware of the COVID behaviour. Apart from this, the information that we get or it is informed on the TV panics us a bit but I think things will be good.
Get Latest Business News, Stock Market Updates and Videos; Check your tax outgo through Income Tax Calculator and save money through our Personal Finance coverage. Check Business Breaking News Live on Zee Business Twitter and Facebook. Subscribe on YouTube.