Who will save Jet Airways? Airline set to do a SpiceJet as others circle this stricken bird?
Jet Airways has a total debt of Rs 73.6 billion, with a staff strength of 16,000 people.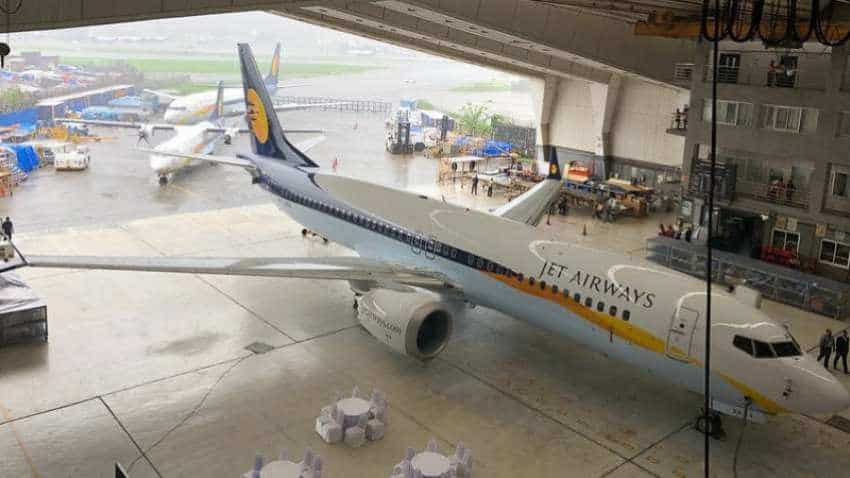 Representational Image: Photo: Pixabay
Updated: Tue, Oct 30, 2018
04:09 pm
Mumbai, ZeeBiz WebDesk
Cash crunch! Yes, the money is tight at the Naresh Goyal led airline! This is the situation at Jet Airways, which is notably the second largest airline in terms of market share in India after Indigo. Each day Jet Airways is facing new problems which has made it difficult for the airline to even survive. Almost everything in Jet Airways right from the bottom-rung employees to the pilots and more are all sending 'may day' signals. So is the case even with Jet Airways share price, which has tumbled by 51% from August till date. The situation is definitely on of emergency and the airline has tried various ways to find solutions, even bizarre ones. A background check: The airline first asked its own employees to agree to a salary cut, then it delayed salaries, grounded a few jets, but all in vain and now the airline finds that its debt obligations are maturing to the tune of Rs 22 billion this year. The airline has a total debt of Rs 73.6 billion, with a strong staff of 16,000 people.
The Jet Airways situation suggests that its cash flow is very weak at the moment. This is something to be blamed on rising aviation turbine fuel cost, lease rentals expense, depreciating rupee, fare war among domestic carriers and many other high expenses.
Many media reports have started mentioning that, Jet Airways founder Naresh Goyal has even knocked on the doors of some of Asia's richest people namely Reliance Industries Mukesh Ambani and Tata Group veteran Ratan Tata. Goyal, who owns about 51% stake in Jet Airways, asked for Tata's help a few days ago to survive.
Not only this, Jet Airways has even appointed Goldman Sachs Group and Boston Consulting Group (BCG) as advisers for revival plan, as per reports.
Then there are reports, which have mentioned that many are interested in buying a stake in Jet Airways. In the list, the first in line are the Tatas, which already manages Vistara airline.
Now, another contender has been added to the list. In latest development, today it was revealed that the UAE-based Delta Air Lines has also shown interest in the company.
According to a Financial Express newspaper report, Delta may purchase 24% stake which is currently held by Abu Dhabi's national carrier Eithad Airways. While it is believed that Tatas may pick some of the stake of Goyal in Jet.
Interestingly, many have started comparing Jet Airways fate to that of Kingfisher Airlines or national carrier Air India.
Talking about, Kingfisher Airlines this one is the most controversial of all in the aviation history of India. It ran up massive amounts of debt and the airline is still haunting many state-owned banks as its founder Vijay Mallya has fled to London - he defaulted on over Rs 9,000 crore in debt that he owed to a consortium of 17 lenders.
Coming to Air India, this one has always been a cause of concern for government, as its fate has led to stake sale talk by the authorities. The government is searching to sell Air India in parts to potential buyers to recover losses and debts the airline is sitting on. No one wants to buy it though.
But there is one airline that no one is talking about, which has in fact survived even worse conditions stemming from a cash crunch. Yes, we are talking about SpiceJet, which once faced heavy turbulence in 2015, but was rescued within a span of 24 hours by current chief Ajay Singh.
Can the Jet Airways do a SpiceJet?
It all began in August 2014, where many oil companies refused to refuel SpiceJet's airplanes due to payment issues. The matter got even worse, when later Civil Aviation banned SpiceJet for making advance selling of tickets.
To even add to woes, SpiceJet had not recorded profit since 2010, when it was acquired by Sun Group, and the ban was just an indication that SpiceJet is in urgent need of funds. But with everything becoming bleak, SpiceJet had to ground its whole fleet, this was catastrophic for Indian aviation as it was still trying to recover from shocks of Kingfisher grounding its entire fleet in October 2012. Investors definitely did not want to invest in another Kingfisher-related disruptive scenario.
Thereby, SpiceJet was on the verge of bankruptcy when Ajay Singh acquired the airline in 2015. It was more than an interesting situation, because many reports mentioned that Singh acquired the cash-strapped airline for just Rs 2!
SpiceJet was needed to make an immediate cash payment of Rs 1,000 crore within a weeks time in 2015 to begin operations.
Singh managed the seemingly impossible task and got Rs 1,000 crore within less than 24 hours and SpiceJet was back in the skies.
The moment airline was back in air, Singh focused on bringing the costs to industry benchmarks. To everyone's surprise, under Singh's leadership, SpiceJet managed  to record Rs.407 crore as profits in 2016, compared to losses of 687 crore in 2015.
Hence, can a Jet Airways do a dramatic turnaround like SpiceJet.
In ICICI Securities views, SpiceJet recovery from almost insolvency was started by a decline in crude prices. However, the recovery was made possible due to its low cost model where it could gain market share from Jet/Air India.
Analysts at ICICI added, "Boeing had also helped SpiceJet at that point of time, much akin to Jet at present. In an airline industry, macro lift can swing the fortunes of the company significantly and can help Jet also."
However, unlike SpiceJet, ICICI also explained that, Jet has little hope of gaining market share from any other airline. Instead, it has significant levers of margin improvement available through cost reduction and much of that has already been started by the company.
Other possible measures!
Talking about short-term measures, in Ambit's view, TPG and Blackstone have submitted bids between $350 million and $400 million for Jet Airways 49% stake in Jet Privilege, however, Jet is expecting at least $100 million more.
Secondly, refinancing of loans will take place regularly to meet short-term requirements. And finally, Jet could consider sale of 16 owned aircraft mostly the 777s and 330s. These aircraft are estimated to fetch about $750 million to $800 million.
In medium and longer term rival plan, Jet has also submitted a Rs 20 billion cost cutting programme for the span of next two years. For this, Ambit says, "It would cover maintenance costs, selling and distribution costs, fuel rate and optimization, debt and interest cost reduction and enhancement of crew and manpower productivity. Hence, this would definitely be a one stop solution for Jet.
Going ahead, Jet sits on a order book of 225 aircraft, for which Ambit believes would earn cash profits of $3-5 million per aircraft. Such would improve cash flow by Rs 44 billion to Rs 75 billion over the duration of deliveries if implemented.
Moreover, Jet has a large ground handling force, and as per Ambit can sell about 49% stake in the business. Finally, another alternative could be equity raising in order to meet some of its debt obligations.
So, who will emerge as the white knight and save Jet Airways? Or, will Jet be sold off, lock, stock and barrel? Or worse, end up like Kingfisher? The aviation space will be keenly watched, as the airline is definitely in need of urgent funds in order to meet its debt obligations and manage its operational expenses.