Infosys investors blast board over 'infighting' with founders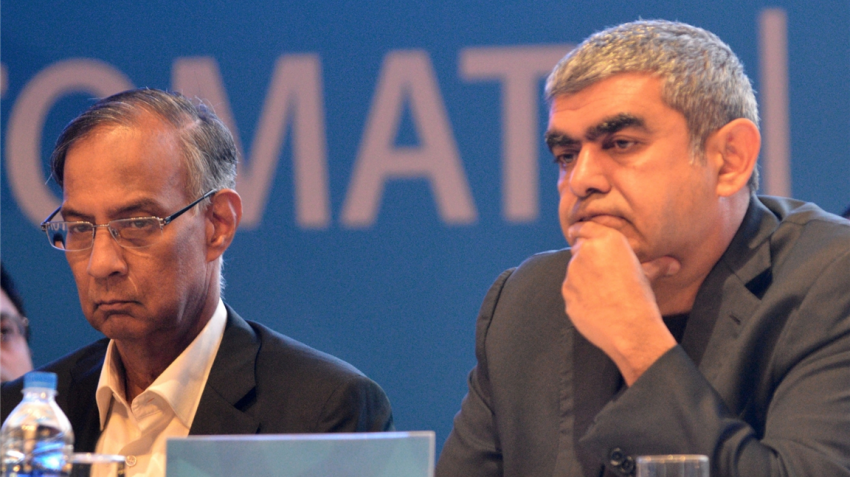 Infosys' CEO and Managing Director Vishal Sikka and Board Chairman S Seshasayee during Infosys' Annual General Meeting. Image Source: IANS
Updated: Sun, Jun 25, 2017
10:03 am
IANS
Infosys` boardroom battles and the "open war" played out in the media between the board members and its founders since February came to the fore at the firm`s 36th Annual General Meeting (AGM) on Saturday.
Several retail investors blasted the board for the "infighting" that damaged the company`s reputation and its brand equity the world over, especially in the stock market, where its shares are trading at a three-year low.
"Your infighting with the founders has caused a lot of damage to the company and its image has taken a beating. It (infighting) became the talk of the town," city-based investor Sadanadna Shastry told the board members present on the dais.
With the main five founders keeping away from the meeting for the first time in many years, Board Chairman R. Seshasayee and Chief Executive Vishal Sikka came under attack from the investors, with one of them terming the AGM`s fiscal 2016-17 as a "year of episodes".
"The infighting has disturbed us (shareholders). Whatever differences you (board) had with them (founders) should have been sorted out amicably across the table as in a family than trying to settle it out (in media)," said another investor Sushil Akshar.
Without mincing words, Vinay, a charted accountant and a shareholder, told the board that the company`s communications and public relations department was a "disaster" as it had totally failed to contain the damage caused to the company in the media.
"The PR department has miserably failed to do its job and mishandled the issue (infighting) in the media," he said.
Accusing the board of ignoring minority shareholders at the cost of large and institutional investors, shareholder Ponnu Hosur said the absence of founders, especially N.R. Narayana Murthy was conspicuously felt and has caused a void.
"The founders had built the company from scratch. They were humble and simple. They did not have VIP culture. I was shocked to see some of the board members coming to the AGM in a convoy, with scores of security men around," he said.
Responding to the concerns expressed by the agitated investors, Seshasayee said it was a matter of pain that the image of the company had taken a beating in the recent past due to "bad press".
"We have a bad press, which exaggerate things and blow them out of proportion," the Chairman said.
Allaying fears of layoffs and reduction in hiring, Sikka told investors that the company was not laying off any employee.
"No layoffs in our company. On the contrary we are hiring this year (2017-18) too," he asserted.
Clarifying that hiring about 10,000 people in the US over the next three years would not be at the cost of recruitment in India, Sikka said for every job created in the US, an additional job will be available here.