In shock move, Warren Buffett ends 20-year love affair with Walmart; Flipkart or Amazon to blame?
Berkshire's investment in Walmart goes way back to 1998, and Buffett held some 20 million shares in the retailer until he doubled that by the end of 2009. In the year 2003, Buffett had even purchased Walmart's McLane food-distribution business.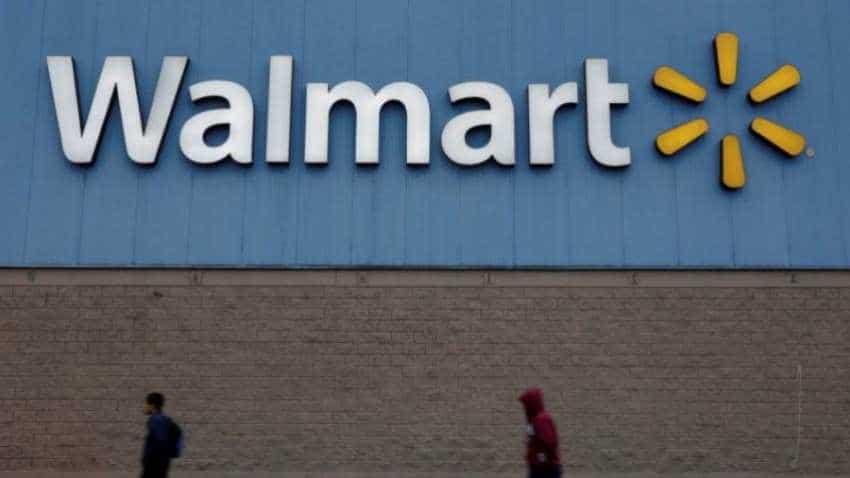 Representational Image: Photo: Reuters
While Walmart is busy saying goodbyes to top management of its latest acquisition Flipkart, which is India's largest e-commerce retailer, the US-based offline retailer is losing the most famous of its own shareholders, Warren Buffett. Guess what! The Oracle of Omaha has decided to end his ties with Walmart by selling the last of shares through his company Berkshire Hathaway. This news comes as a shock to Walmart, because Buffett has finally ended its two decade long love affair with the offline retailer. What is interesting to note is that, Buffett has left Walmart at a time when the company has finally taken a big step by entering the online shopping market for the first time ever by acquiring Flipkart, India's biggest e-retailer. Why surprising? Because Buffett has been reducing his stake in Walmart since last year, and the ace investor even mentioned the reason for doing so - Jeff Bezos led Amazon's presences in the e-commerce channel. 
Berkshire's investment in Walmart goes way back to 1998, and Buffett held some 20 million shares in the retailer until he doubled that by the end of 2009. In the year 2003, Buffett had even purchased Walmart's McLane food-distribution business. 
By end of June 2015, Berkshire held about 67.7 million. Not only this, Walmart was Buffett's top five holdings in 2014 valuing it up to $5 billion. In middle of 2016, Buffett's shares in Walmart were just worth $3 billion, 
Today, according to filing, Buffett's Berkshire has sold its last bit of shares in Walmart, which definitely was taken not well, as the share price ended at $99.54 down by 1.96% on Thursday. 
The real question that comes here is why did Buffett leave Walmart when it has spent billions to enhance its online presence now? Has the investor lost faith in Walmart due to Amazon? Is the world's richest man Bezos' online channel to be blamed? What can we now expect from Walmart and Flipkart's deal ahead? Did Buffett make a mistake in selling the stake? The questions for sure are piling up! 
Buffett first broke silence on why he decided to start reducing his stake in Walmart. Earlier, in an interview with CNBC, the big bull revealed that  Walmart's business model is hard for him to understand. He has tried retailing personally and faced insurmountable challenges that would see him abandon the business. Warren Buffett believes the online thing that is going on is hard to understand too.
To everyone's surprise, Buffett in one of his Berkshire Hathaway Annual Meeting, had also acknowledged Amazon's strong presence in online channel, and for taking over the retail business in a huge way that other businesses have not determined on how to counter the impact. 
This is a true fact that, Amazon actually made a difference in retail businesses. The current result is this that, Amazon has become the second company in US to touch $1 trillion mark after Apple Inc. Jeff Bezos riding on the glory of Amazon now sits on the throne of being the richest man on earth with wealth of $134 billion. Right from home appliances, to  clothes, to smartphones to many little products, almost everything can be purchased on Amazon and that too at discounted rate. 
Coming to share price performance, Walmart has traded very volatile compared to Amazon which has only seen upticks. 
Walmart's share price which stood at $84.52 on November 16, 2017, and if we compared that $99.10 witnessed on November 15, 2018, then in a year's time the company has only gained by 17.25%. In one year, Walmart has only touched a high of $99.46 by end of January 2018, which means there is barely any growth seen in Walmart's share price this year.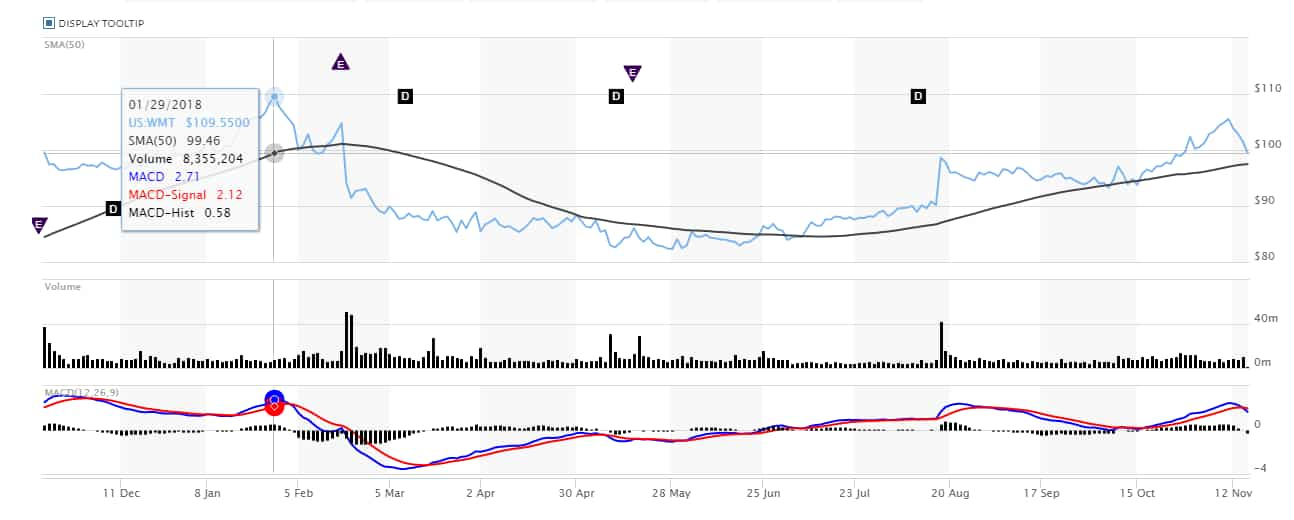 (Image Source: MarketWatch.com)
On the other hand, Amazon share price which stood at $1,019.51 on November 16, 2017, has surged by a whopping 77.85% if taken the November 15, 2018 numbers where share price stood at $1,813.22. Not only this, last month, Amazon touched an all-time high of $1,913.74, which makes it rise by 87.71% in less than a year. 
At current share price, Amazon's market valuation stands nearly at $792 billion, whereas Walmart's market cap comes at $292 billion.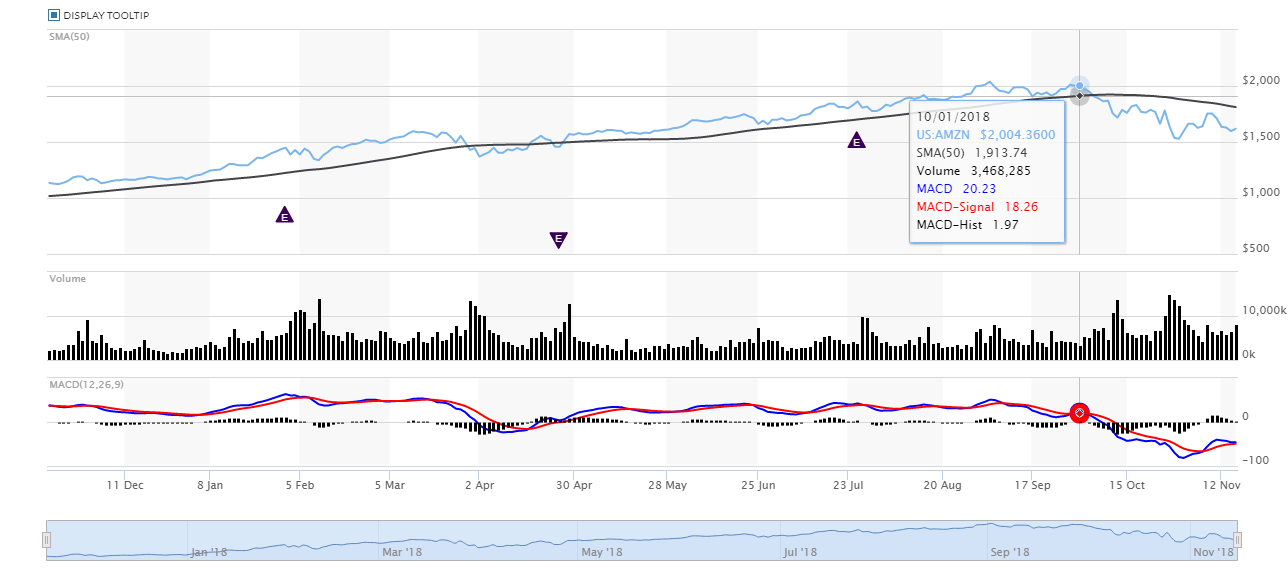 (Image Source: MarketWatch.com)
Interestingly, the question is why would Buffett decide to exit now, when Walmart has found the key to compete with Amazon? It will not be wrong to say that the Indian e-commerce sector is at booming stage and to Amazon's tragedy the company is not the ruler here. Amazon faces very stiff competition from Flipkart and could not manage to dominate the sector in the country. 
In May 2018, Walmart signed an agreement to acquire 77% of Flipkart at $16 billion for a valuation of $20 billion which is now said to be the biggest deal in e-commerce world and also the largest FDI deal in India. Walmart, which failed to make an entry in India in offline retail space, can now sell its products online to 1.3 billion population of the country.
Walmart bagged Flipkart with neck-to-neck competition, as both these company had one common villain which is Amazon. In fact, Bezos had lured Flipkart with similar deal and value, however, the domestic online retailer choose Walmart over Amazon. In fact, Walmart's takeover of Flipkart can be linked to taking the rivalry with Amazon in the US to India. This is quite clear, that in the US, Walmart has suffered hugely from Amazon's hands. 
Talking about Flipkart -Walmart deal, John Brick Research analysts at Morning Star earlier said, "We think the addition of Flipkart will enable Walmart to tap another 1.3 billion customers in an attractive market that presently represents less than 1% of sales for Walmart today but can become 10% of sales by fiscal 2026."
In Brick's view, "We surmise that this addition should enable Walmart to level the playing field with one of its biggest foes, Amazon, in an attractive geographic region with a rising middle class of consumers." 
Considering above factor, Brick added, "With total debt/EBITDAR of just around 2 times at the end of fiscal 2017, we don't believe the deal suggests financial or liquidity risk is on the horizon for Walmart."
In Q3FY19, Walmart posted total revenue of s $124.9 billion, an increase of $1.7 billion, or 1.4%. Excluding currency, total revenue was $126.1 billion, an increase of $2.9 billion, or 2.4%. Whereas operating income came in at $5 billion up by 4.7%, and as per constant currency the income grew by 5.9% at $5 billion. 
From the above, it believed that Flipkart will turn into a boon for Walmart and a stiff competition to Amazon. However, the result of the acquisition is yet to be known in Walmart's financial performance, which will be very interesting to watch in coming years. In India, Amazon vs Flipkart vs Walmart will be one great battle to watch. As for Buffett, while he makes his exit no one can complaint after all the investor has mastered the key of patiences and earning big from equities. How Walmart's share price performs after its foray into the online-shopping business will really be the proof about whether Buffett goes on to regret leaving 20-year old relationship. Or, and this has significance for India, was he right all along? if so, then this step by Warren Buffett is a thumbs-down to the Walmart-Flipkart deal.   
Get Latest Business News, Stock Market Updates and Videos; Check your tax outgo through Income Tax Calculator and save money through our Personal Finance coverage. Check Business Breaking News Live on Zee Business Twitter and Facebook. Subscribe on YouTube.
Updated: Fri, Nov 16, 2018
03:38 pm
Mumbai, ZeeBiz WebDesk