IHCL will launch a new brand, SeleQtions, in April: Puneet Chhatwal
Puneet Chhatwal, MD & CEO, Indian Hotels Company Limited (IHCL), spoke about the financial performance of the company, strategy behind the positioning of the brands, Ginger hotels, expansion and competition among others during an interview with Swati Khandelwal, Zee Business.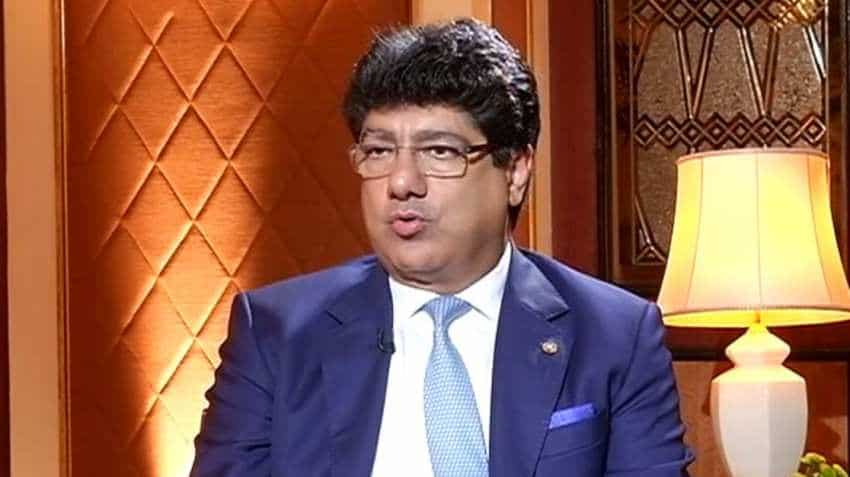 There is a growth in demand in the upper-upscale and luxury segment and there is a growth in occupancy as well as the rates: Puneet Chhatwal. image source: Zee Business
Puneet Chhatwal, MD & CEO, Indian Hotels Company Limited (IHCL), spoke about the financial performance of the company, strategy behind the positioning of the brands, Ginger hotels, expansion and competition among others during an interview with Swati Khandelwal, Zee Business. Excerpts: 
Q: The healthy financial performance is speaking about the efforts. Let us know about the important changes that were implemented since you take over the charge at Indian Hotels?
A: A person can't bring such an improvement in performance. So, our management team has worked very well for the purpose. It has been almost a year and a half when we, the team and industry experts, had a three-day long strategy meeting in Goa. It was the place, where the Aspiration 2022 was prepared. The file defines the ways to work. Later, the document was presented in front of the board and was approved in February 2018 after which we haven't shifted our focus from it. There are certain criteria for success and they are:
1.    Operational performance: Our operational performance has helped us in gaining market share. In addition, waste reduction and cost optimization helped us in increasing our profitability. 
2.    Portfolio Enlargement: It was said that we will grow our portfolio by singing new hotels and we have signed about 20 hotels in the process. 
3.    Corporate Overhead Cost: It was strictly controlled. In the process, we worked a lot, created new brands and spent a lot but closed extra expenses that were spent on silos. 
4.    Last but not the least and that is that one year is not enough for Aspiration 2022. It is just 20% of the journey that we had in the last five years. That's why the upcoming one or two years are going to be very important for us. We have confidence in the abilities of our team, brands, and existing fundamentals of the industry and they are suggesting that we will continue to grow in this journey. 
Q: You talked about the brands and I would like to know about the way you strategized positioning of your brands? 
A: It is simple, and this is a place where I had some involvement and there is a reason behind it. I had the luck to spend 30years of my life in Europe and see how the management works over there. Interestingly, 15years of these 30years were spent while working with an American company. And, American companies are very strong in terms of brand. 
On the other side, our country which became independent in 1947 never had such brands that turned up to be a global brand. That is why people in India have a theoretical and superficial knowledge of brands. I don't want to say that no one has the knowledge, but the numbers are low. There is a trend in emerging markets where they follow the best brand. This is something that I saw here on my arrival, i.e. either they are Taj or little-bit Taj, for example, Vivanta by Taj, Taj Gateway Hotel and Taj Khazana among others. Thus, Taj was everywhere. What we did is that we allowed Taj to be Taj and removed its name from other things. So, it helped in ending the confusion. 
Besides, we openly said that we want to take part in every segment as it is available with other companies of the country like Tata Motor and Titan. They are in all segments from the lowest to the highest luxury segment. Thus, we want the same with Indian Hotels because India is a country of 1.2 billion people of different section, which means you can get business from all these sections and we need that share too. 
Q: Don't you that this will dilute your strategy of having a focus on the big ones? You also announced the Ginger brand to cater to the segment. So, do you think that the strategy has worked?
A:  Deepak Chopra has said that Past is the History, Future is a Mystery and This Moment is a Gift and that's why it is called present. So, we can talk about what is happening right now what has happened has ended. There are times when the time, as well as the economy, is not standing by your side and it is easy to talk about the past and suggest the ways that would have benefitted. But it was a great idea. 
800 million people are your captive clientele and Ginger is needed to serve them. That is the captive clientele of Ginger brand, but they are not a captive clientele for the Taj brand. That is why I feel that Ginger idea was a brilliant idea and, now, we have given a fancy touch to it by changing its logo and design. You can visit its site to have a look at the changes.
Q: Then, how the strategy has changed, just logo and design?
A:  There is a change in the logo and design. We recruited German designer for the purpose, Joy Design, who just refurbished its design. Later, we did a pilot project on it and the project was inaugurated on December 10, 2018, in Goa and people have loved it. Now, Ginger will be introduced in 14 more hotels. 
Q: Tell us about that something that didn't work in the brand, if you are saying that it was a great idea and I don't think that just the logo and website can't be a reason?
A: Maybe its simplicity is a reason. It was not quite aspirational and that's why that we have changed its position and have started defined it as lean luxe instead of budget and economy. This means these are a luxury hotel which is lean and mean in nature, i.e. cost-effective, where one can get almost everything like the atmosphere in the lobby music, guitar, play stations, opportunity to play soccer as well as rooms for your child. 
Q: As you have said that you want to cater to each segment and it has potential. Then what is Taj? And, is Indian Hotels is planning to create more brands?
A: Taj is an absolute luxury and is at the top. It surpasses that bracket of being top when you will get into Umaid Bhawan Palaces like Lake Palace, Umaid Bhawan Place, Rambagh Palace and Jai Mahal Palace. These palaces are not a five-star hotel, but it is 7-star, 8-star, 9-star and 10-star hotels. It provides a different experience from arrival experience to old-world charm and the style of eating at Baradari along with local dances and music goes beyond five stars. So, I think that we have Taj palaces and Safaris which are at the top and it is followed by Taj Business and Resorts, which stands at the five-star level and Vivanta comes at the upscale level and then comes Ginger. Besides, we have also created a new brand, SeleQtions, which will be launched in April 2019. It is not a brand but is a collection of brand names. So, we have signed a contract for Cidade de Goa and it will stand by its original name. Similarly, Ambassador Hotel Delhi will remain Ambassador and Connaught, we have bagged the contract to operate it, will remain the same. Savoy in Ooty will remain the same. It has been named as SeleQtions because it is a Selections of names or collection of the names. 
Q: There is a rise in the occupancy rates in the luxury segment, 67% last year. Let us know about the future trends of the occupancy level for FY20? 
A: There is a growth in demand in the upper-upscale and luxury segment and there is a growth in occupancy as well as the rates. And, this is something that we have seen till date. Presence of strong hotels in our portfolio has helped it in being ahead of the market. 
Q: The trend will continue?
A: It is so, to date. It may change if something unfortunate happens in the world, which is beyond our control. 
Q: Let us know us about the performance of the international business? Do you have any plan to add more properties to the list, if yes, then talk about the strategy that will be adopted, in terms of expansion and growth?
A: The natural expansion comes from the Middle East and South East Asia. We have a single hotel in South East Asia in Langkawi, Malaysia. Our focus for initial 18months of the Aspiration 2022 was limited to the Indian subcontinent. Thus, we have six months in our hand. However, we have signed one hotel in Dubai, which is the fourth property at the place. Apart from this, we have signed one hotel in London Heathrow and Mecca each and Vivanta in Kathmandu, which is operational today. 
Thus, it will continue but the main force can be seen only when we are very sure that our Aspiration 2022 is on track and is not crawling but running as Rajdhani Express. 
Q: What is your strategy to face the competitors? 
A: Competition is an essential thing if you want to grow and is a healthy sign. You will not grow when you are single in the race and that is why everybody is welcome. May they be from America or some other country, but they should reach India with something in mind and that it is not easy to compete with Indian Hotels. As we have good people and they have proved it during the 26/11 terrorist attack. Interestingly, several studies have been written on the subject, for example, our staffs were facing the bullets which were shot on the guests. We have brilliant people, who are passionate and loyal towards the brand, property and the company itself. We are quite confident about our staffs/people as we have a history of 115 years and that is a reason that we have the best properties with us. That is why I was talking about the places that we have in our portfolio and they are a differentiator. 
Apart from this, the new brands, that are being created will face competition. So, everything that we have done in Ginger was learnt from the competition. So, you must embrace good things and leave that is not good. 
Q: What is your market share in the luxury segment and do you have expansion plans in the segment?
A: We are the market leader in luxury, safaris, palaces as well as resorts. We have created new resort destinations like 40years ago, Goa was created as a destination by the Indian Hotels. It was a time when I was starting my career in this business. Kerala was started by Indian Hotels and now, we have started with Andaman and Nicobar by creating a new property in Havelock. So, we quite ahead in several segments and are happy to be ahead and want to be there. 
Resort business has a USP that people usually go on holidays even if their business is down or GDP has not grown in the right way. And Resort helps you in hedging the business and balancing the portfolio. 
Q: Talk about the strategy on acquisitions?
A: Earlier, we had a strategy of being profitable and we have turned up to be profitable on March 31, 2018. We are hoping that we will be able to increase that profit by March 31, 2019, and the results of the last nine months are speaking about it. Such events will help us in increasing the free cash flow in our accounts and this will lead to acquisition. 
Q: I want to know the segment in which acquisitions will be done?
A: In every segment but the question is where it is sensible. When it comes to India than the land price for good properties are as good as 50% of the total cost and sometimes cash on cash doesn't make any sense and this is a hindrance. This is a reason that we will have to look towards the opportunities. 
Q: This means nothing is on the table at present?
A: Yes, we don't have anything for the next two months, but we are working on a fund structure with someone. It will ease the process of acquisition for us. 
Q: What is your view on debt?
A: Debt ratio has gone down from 6.43 to 2.33. It turns up to be a healthy one, for any organisation, when it stays somewhere near 2 because the cost of debt always remains lower than your equity. And, if you don't overleverage yourself than a healthy level of debt will increase the value of your company.  
Get Latest Business News, Stock Market Updates and Videos; Check your tax outgo through Income Tax Calculator and save money through our Personal Finance coverage. Check Business Breaking News Live on Zee Business Twitter and Facebook. Subscribe on YouTube.
Updated: Mon, Feb 25, 2019
04:05 pm
ZeeBiz WebDesk