Dixon Technologies revenue is likely to grow by 85-90% in FY22: Saurabh Gupta, CFO
Saurabh Gupta, Chief Financial Officer, Dixon Technologies, talks about PLI schemes and how beneficial they can be for the company, orderbook, chip shortages and impact.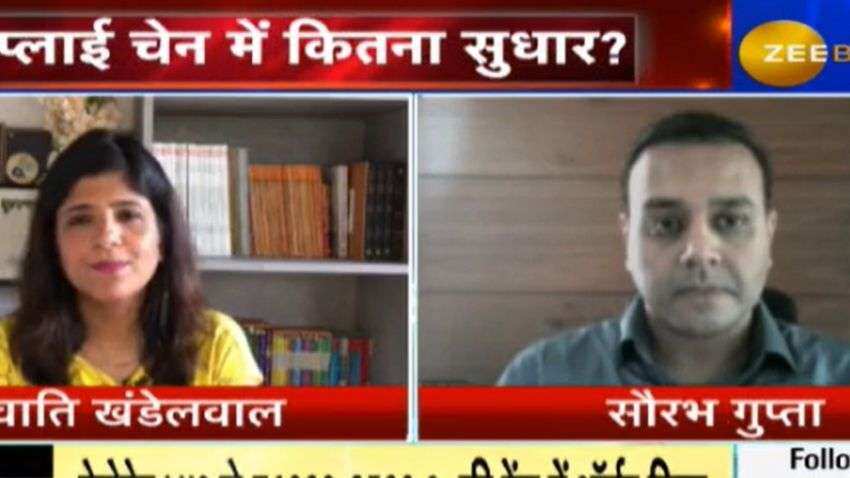 Saurabh Gupta, Chief Financial Officer, Dixon Technologies, talks about PLI schemes and how beneficial they can be for the company, orderbook, chip shortages and impact
Updated: Tue, Sep 21, 2021
10:48 am
New Delhi , ZeeBiz WebDesk
Saurabh Gupta, Chief Financial Officer, Dixon Technologies, talks about PLI schemes and how beneficial they can be for the company, orderbook, chip shortages and impact, medical devices manufacturing and expansion plans among others during a candid chat with Swati Khandelwal, Zee Business. Edited Excerpts: 
See Zee Business Live TV Streaming Below:
Q: Tell us about the PLI schemes you have applied for and what impact that can have on the company? 
A: Basically, we are already a beneficiary of the mobile PLI scheme as well as IT hardware products where we have closed an MoU with one of the largest brands and our manufacturing will start in Q4 of this financial year. Our factories have already been qualified and audited by that brand. Apart from this, we have filed two separate PLIs and they are LED lighting components and AC component boards. These were filed last week itself and of course, the government will take one to two months in approving the same. The third PLI whose approval is awaited is for telecom networking products, where we will manufacture telecom network products and we are creating a JV with Bharti Group. This JV will manufacture various telecom networking products, like modems, routers, set-up boxes and its approval are awaited from the government. As per our sources, the approval can be granted anytime in the next 7-10 days and we are waiting for the same. Our orderbook is overall good across all the verticals and at the start of the festive season, so, we are liking the orderbook. Of course, there are certain challenges related to the supply chain but there is no issue with the orderbook, as it is looking good in almost every vertical. 
Q: What is the overall orderbook of the company at present and what increase is expected in it by the end of the year?
A: If you will have a look at our last year's revenue then it stood at Rs 6,500 crore and it seems that this year, there will be 85-90% growth in revenue, of course, the first quarter was impacted by the second wave but we believe that we will grow by 80-90%. We will end the year, with revenue anywhere between Rs 11,000-12,000 crore. 
Q: You have spoken about the supply side issues and we are seeing that the auto sector is suffering from chip shortages. As your business is connected to it, how problematic it looks and how long it is likely to be present? Do you have any plans related to chip manufacturing?
A: Rightly said, there is a shortage of critical components including semiconductors. In addition to it, there are supply chain challenges are there like a shortage of vessels, containers, vessels are being delayed because certain ports were shut down due to COVID. So, overall, these are supply chain challenges due to which the consumer durable industry, electronic industry and auto industry are impacted. We did a good thing that in our consumer electronic goods business and lighting business, we accumulated a lot of inventory of critical components including semiconductors. So, we are covered and we have covered our supplies due to which we are in a significantly better position compared to some of our competitors. But yes, there are challenges. I feel the demand side is very strong ahead of the festive season but due to the supply challenges, I think, that we will be 5-10% lower than the demand that would have been there and we could have been able to meet those. 
Q: Do you have any plans to enter the chip manufacturing segment because it will be high on demand, not just in India but globally?
A: Chip manufacturing plant is a high CapEx investment plant, generally, it requires an investment anywhere between $4-5 million and Dixon in its present avatar will not be able to make such a huge investment. But the government is quite committed because bringing a chip manufacturing plant or open cell is quite important for TV to take the electronic manufacturing industry to the next level. So, the government is engaging with global players as well as big business houses. I believe, someone will set up a large capacity, which will prove to be very good for the overall industry as well as Dixon over the next two years. 
Q: What kind of traction is visible in medical devices manufacturing and what are your plans for scaling this up? You have said that all of your verticals are performing well. Can you please provide the performance of every vertical and what are their projections individually? 
A: The consumer electronic vertical, which is our LED TV vertical, we did 2.7 million quantity last year. We believe that we will grow by 20-30% in the vertical, despite the first quarter was impacted by the second wave of COVID. The vertical is looking good. Secondly, the lighting vertical business has also returned to normal after the first quarter. We are doing a good run rate in the domain and have expanded the capacities in battens and downlighters. We are already the largest player in LED bulbs in India. So, a growth of around 15-20% will be seen in the segment as well. Apart from this, we were into the semi-automatic washing machines and now we have entered into the fully automatic washing machines. There can be an overall growth between 20-25% in this business too. The biggest segment is the mobile business, where we are the beneficiary of the Mobile PLI, which used to contribute 10% of our revenue till last year will have a contribution of around 25-30% this year. The revenue potential which stood at Rs 800 crore last year in mobile and EMS businesses will grow to around Rs 3,500 crore this year. So, we are seeing the biggest growth in this domain. So, we are seeing growth across every vertical. Besides, we are entering into new verticals like IT hardware products as I informed earlier that we will make laptops, desktops, telecom networking products. We are engaging at a deepened strategic level with a big company Boat and will start manufacturing for them. So, there is visibility that we can achieve the numbers that I have spoken about now. Next year, we will be entering into new verticals and have already started to work on the plan to enter into the refrigerator segment. So, the order visibility is looking good and we believe that we are sitting on a very high growth path and the opportunity is huge. 
Q: Do you have any acquisition on your radar and can we see something in the short to medium term? Also, how will you utilize the cash that is being generated and provide a break-up on your expansion plans in each vertical? 
A: Our CapEx intensity has increased a lot. As we are expanding our existing verticals and also coming up with new verticals, so our CapEx plan is quite big. So, the majority of our free cash flows that will be generated will be used in meeting the CapEx. Currently, our debt-equity ratio on the books is quite low. We believe that to a great extent we can fund our expansion plans through the free cash flows and a little bit of debt and we do not see any challenge in it. The free cash flows will be majorly used in the CapEx. 
Get Latest Business News, Stock Market Updates and Videos; Check your tax outgo through Income Tax Calculator and save money through our Personal Finance coverage. Check Business Breaking News Live on Zee Business Twitter and Facebook. Subscribe on YouTube.