Current tariffs are defeating economics; it should go up: Balesh Sharma, Vodafone Idea
Vodafone Idea's CEO Balesh Sharma and CFO Akshaya Moondra talk about the merger and its impact, the ongoing Rs25,000 crore rights issue and tariff plans among others during an exclusive chat with Zee Business.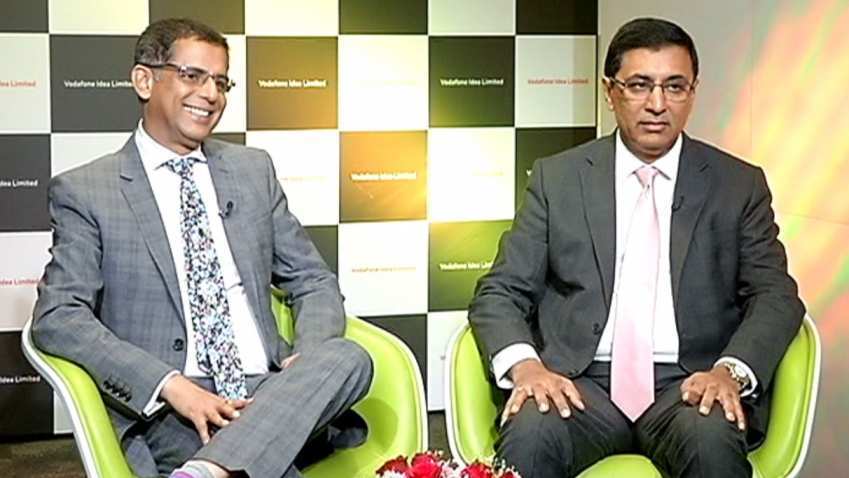 Balesh Sharma said, "our company is very confident because it is a merger of number 2 and number 3, which means we have strong assets." Image source: Zee Business
Vodafone Idea's CEO Balesh Sharma and CFO Akshaya Moondra talk about the merger and its impact, the ongoing Rs25,000 crore rights issue and tariff plans among others during an exclusive chat with Swati Khandelwal, Zee Business. Edited Excerpts: 
Q: It has been a long time since when the merger was announced. Update us on its status and has the first phase of the merger has been completed?
Balesh Sharma: The merger was announced in March 2017 and then for next 17-months, we were engaged in completing the formalities that are essential to get approval. The merger was approved on August 31, 2018. It was day zero for us and the two companies were merged on the day. Today, we are seven months old company, and in this period, we have designed a strategy and long-range plan for it and the strategy has been approved by the board. Now, we are arranging funds for implementation of the strategy, under which we will be going for the rights issue. On the other hand, we are also engaged in the integration and we are happy with whatsoever progress has been attended till date. 
Q: I would like to talk about the Rs25,000 crore rights issue, which is a big thing in front of the company. In fact, the promoters have made a commitment for Rs20,000 crore rights issue but how confident you are that these rights issue will be a successful one?
Balesh Sharma: Very confident for some reasons. First of all, our company is very confident because it is a merger of number 2 and number 3, which means we have strong assets, since day one, and we are supposed to create synergies by integrating the two companies and we are very confident about it. Secondly, we are very confident about the market, which is a country of 130 crore citizens and has the potential to grow at least with the presence of three private and one public player. Thirdly, when we talked about the new strategy with our existing investors and potential investors of future, in December and March by travelling across the world, then they responded in a positive way and are supporting it. 
Watch Zee Business Live here
Q: Analysts say that Rs25,000 crore, which will be collected through rights issue is not enough and you can't achieve anything from it?
Akshaya Moondra: It is not a right to say that the capital - Rs25,000 crore - that we will be raised through rights issue is not enough. I think that those who say this have not seen the complete data or haven't understood it before making the statement. So, I will try to explain why it is adequate. So, we decided to raise equity of Rs25,000 somewhere in October-November immediately after the merger was approved. At that time, we had cash of around Rs13,600 crore and Rs25,000 crore will be raised through equity issue and we also have 11 per cent stake in Indus Towers and it will help us in getting around Rs5,500 crore. Summing up these three turns up to be Rs44,000 crore.  
In addition, we have fibre assets worth Rs1 lakh and 58,000 crores and we can monetize it, it is not necessary, but it is an option for further capital. So, we have started our process by transferring it into a wholly-owned subsidiary and will also go to prospective investors to see what their interest in this asset. So, Rs44,000 crore is a certain amount, and this is a possibility. 
Besides, when it comes to operations then we had some EBITDA before the merger and now we have figured three things to improve our EBITDA, which means cash generation from the business. The steps are: 
1.    Cost reduction. We have provided guidance for it. Actually, when they were standing alone as separate entities they had several things which were same or duplicate of each other and now, there will be deduplication of things when the two big companies will come together. We have given guidance of around Rs8,400 crore on an annualised basis but it will take some time and in the last quarter we have already achieved Rs3,000 crore on an annual basis. This will help us in improving EBITDA. 
2.    The second thing is that today we have a CapEx guidance of around Rs27,000 crore. In addition, the merger has created a situation under which spectrum of both, Vodafone and Idea, were lying on the same towers in about 70,000 sites. This means we had duplicate equipment on in these sites. Now, this equipment will be deployed in remaining 1 lakh and 30,000 sites and create a capacity for us. The equipment values around Rs6,200 crore but we will have to invest a bit in creating this capacity.
3.    The remaining 1 lakh 30,000 sites were either using the spectrum of Vodafone or of Idea on the date of the merger but now, the spectrum of the two will be combined to generate an additional capacity. Thus, the investment being made by us will help in growing our capacity, which will provide an opportunity to bring our non-unlimited or nor-broadband plan subscribers to migrate into the broadband plan and it is also a way to increase the revenue and profit. Currently, we have around 100 million broadband or unlimited plan subscribers while more than 250 million subscribers are those who are not using the unlimited plan. It will help the company in increasing its profit even though there is no increase in market price as the migration may bring additional profit to us. 
So, base EBITDA, cost reduction and revenue from cost migration are three things but the fourth thing is related to price, which is creating losses for everyone. 
Q: You are dependent on tariff and feel that it should go up, but it can happen only if every player thinks in the same way. What is your view on tariff and do you think that it will go up, if yes, then by when, as I haven't seen any change in last 16 months?
Balesh Sharma: This is a good thing that you haven't seen any change in the last 16 months and this means that the prices are not going down. It can be explained by the words of Mr Churchill, "it is the end of the beginning". Thus, the prices have stabilized in this period. It is an industry where you can expand yourself in accordance with the spectrum, but we are expanding to meet the demand, which is unlimited, and the customers are consuming data. This is creating a situation where demand is high while supply is limited. But, the current prices are defeating economics because the costs are not going up as per the demand. For sure one must not sell below the cost but we all are selling it below the cost and it is visible in the quarter results of all four operators. Each one of them is in a cash-burn situation and are going negative just because the selling price is below the cost price and that should be corrected. 
Q: But by when things will return to its normal?
Balesh Sharma: See, we never wished to face such a situation, but it has happened, and we will have to wait and see the time till when this will exist. Secondly, whosoever is doing it will have to look into that why it is being done and till when the process will continue, at least, when the market has reduced to be a market of only three players and each of them are funding themselves for a long-term and this means that the market will stabilise in itself and each of these three will create their own capacities and are fighting in the market place. And thus, you don't assume that there will be any more change in the market landscape from here onwards.
Q: But, you are losing your subscribers in this process too. What is your take on it?
Akshaya Moondra: See, the subscribers are going down due to two different reasons and they are: 
There is a reduction/fall in the number of subscribers due to two different reasons and the first one is associated to our latest move where we have asked subscribers to go for a compulsory recharge of at least Rs35/month. The move doesn't lead to a fall of the subscribers, but it led to a reduction in the number of the SIM cards which was being carried by the subscribers. In fact, there were several subscribers who just had the SIM for incoming calls but were not recharging them monthly, which means they were not giving any money to us. The compulsory recharge was put in line with a motto to earn about Rs1 daily or Rs35 in a month from the subscribers who were using our network. And, the compulsory recharge has propelled the subscribers to think that do they need two-three SIMs that they were carrying or not. But the second number was important for several customers because they needed because they have given the same number to the banks for OTPs or they had repeat customers who usually used to contact them on the same number. This means that if they want to have that number in their ambit then they will have to pay Rs1 per day or Rs35 in a month. Incidentally, our market share is quite good and equally distributed. This market share is a boon for us as probabilities are there that the customer who is switching the number can land in either of the two networks that are owned by us, i.e. Vodafone or Idea. And, it doesn't happen then that customer was not contributing anything in our revenues through this SIM card and their reduction will help in stabilizing the things. This is one chunk where we lost our subscribers. 
The second aspect is related to the non-availability of the 4G network in certain areas. If you have a look on us, then you will find that there is a marginal reduction Visitor Location Register (VLR) and few those who have left us because we didn't have 4G network or capacity for the same. So, if you are residing in a city or village where we don't have the 4G network and you want to have it with you then either you will drop us and opt for someone who is providing the service or will carry our SIM just as an extra option and parallelly have someone's else's SIM. And this was happening. 
Interestingly, when we started our company in September 2018 than we just had a coverage, in terms of 4G coverage, of just 40 per cent of Indian population through Vodafone and 49 per cent through Idea. We have, already, announced results of our first quarter and informed that the coverage has gone up from 40 per cent to 62 per cent in just a quarter. In addition, reaping the benefits of the merger, we are expanding the network of both the brands and this is a reason that we have been able to take our coverage to 62 per cent in just four months. The network will be expanded more by integrating our network and deduplication of the equipment that we had.  The deduplicated equipment will be taken to the areas where we didn't have coverage. 
Watch this Zee Business Video
Secondly, we are also increasing our capacity by investing in it. The increased capacity will improve the customer experience. Thus, chances are there that we will be able to retain our market share, which is already very big. 
Get Latest Business News, Stock Market Updates and Videos; Check your tax outgo through Income Tax Calculator and save money through our Personal Finance coverage. Check Business Breaking News Live on Zee Business Twitter and Facebook. Subscribe on YouTube.
Updated: Tue, Apr 23, 2019
11:56 am
Mumbai, ZeeBiz WebDesk