Cosmo Films will launch a product that can kill virus & bacteria on cloths in the next 8-10 days: Pankaj Poddar, CEO
Pankaj Poddar, CEO, Cosmo Films Ltd., talks about the March quarter performance, impact of COVID on business, expansion plans, order book and new product launch plan among others during a candid chat with Swati Khandelwal, Zee Business.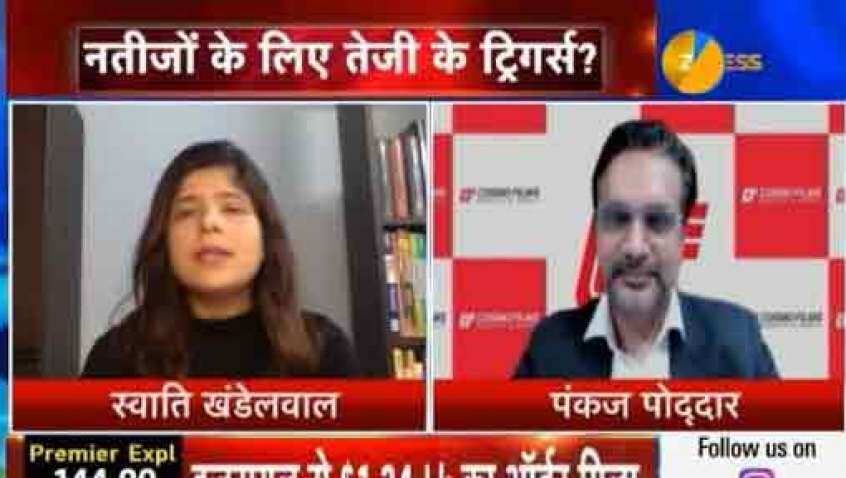 "Our order book is running accordingly, and our order is booked for the next 20-25 days so that we can make proper line planning in terms of what should be made and when delivery has to made to which customer. "
Reported By:
Jitesh Kumar Jha
Written By:
Jitesh Kumar Jha
Updated: Fri, May 28, 2021
08:15 pm
Patna, ZeeBiz WebDesk
Pankaj Poddar, CEO, Cosmo Films Ltd., talks about the March quarter performance, impact of COVID on business, expansion plans, order book and new product launch plan among others during a candid chat with Swati Khandelwal, Zee Business. Edited Excerpts: 
See Zee Business Live TV Streaming Below:
Q: Congratulations on the March quarter performance. Do you think that this momentum will continue and what were the highlights of the last quarter?
A: The biggest highlight of our performance was the 20% plus growth was recorded in our specialty sales. Going forward, we are projecting good growth in the specialty sales. We have told our investors in the past that by March 2023, we will convert 70% of our volume to the specialty. But the current progress suggests that we will be able to meet the target in advance, in fact, it seems that we will meet the target in the next 12 months. So, the performance will remain strong in the future as well. The second factor was the demand-supply equilibrium. In demand-supply, demand is comparatively better than supply and due to this the domestic prices and global prices were going well. The commodity pricing is obviously not under the control of one player and is in global control. But in the coming time, it looks at a reasonable level as demand growth is very good and there will be some increase in the supply but even then, it seems to be balanced globally. So, Cosmo's results will continue to improve from the specialty. Secondly, we have also started new verticals on Cosmo specialty chemicals and have started Masterbatch vertical, which has reached just 30% in the last five to six months. In the coming time, it will also come at 100% utilisation. The second business is of textile chemical, whose initial trials have been quite good, and we are expecting some orders in the segment in this quarter. So, all these factors will also improve our growth and make our margins stable and will keep Cosmo strong even in these bad times.
Q: COVID has had an impact on businesses in the last two months. What impact did it have on your business and what should be expected in the first quarter of FY22 and what is your outlook for the complete FY22? How bullish you are about the margins?
A: COVID has had some impact on some segments of the BOPP films, especially; the textile segment is heavily impacted. I feel that just one-third of the textile production is remaining. But Cosmo has a negligible presence in the textile sector and hence, it has very less impact on us. However, our other segments, like packaging and labelling are growing very well. Secondly, we also have another segment of lamination and synthetic paper and COVID has some impact on it. The segment is largely India centric but as things are improving in many countries globally and due to global reasons, the lamination and synthetic paper are growing well. Overall, I will say that our demand is quite strong, and our margins are reasonable and in the coming days, we expect that we will not face any issues related to demand. 
Q: What is your order book at present and what is the order book visibility for FY22?
A: Normally, we have an order book for 20-25 days, so that we can make proper line planning for every line. Our order book is running accordingly, and our order is booked for the next 20-25 days so that we can make proper line planning in terms of what should be made and when delivery has to made to which customer. It is well planned, and we do not book more orders because we are not able to make on-time deliveries to our customers. So, we are going well as per our plans. 
Q: If we will talk about your expansion plans as you have hinted that there is a need to increase your capacity. The company has plans to increase its specialty BOPP film volume in 3 to 4 years. What is your exact plan? Why is the company shifting from the commodity to specialty side? Also, tell us about the company's plans related to BOPET?
A: In the coming times, we have 4-5 main focus areas. First of all, the commodity sales which used to be historical is being reduced year on year. The good thing is the base is increasing every year, yet our growth rate is improving. Last year, we did our historical growth rate of more than 20%, although, we have never reached above 12-13% in any past year. So, every year our growth rate is improving on a bigger base, and it is going to be our focus in the coming time in which we will continue to increase the specialty sales and reduce the commodity sales and in future bring at least 80-85% of total sales from specialty. The second focus area is that we should also grow our subsidiaries well and improve margins there. I would like to remind our investors that a few years back we had a loss of $5 million, whereas, last year, we made a profit of $3 million. So, in the last 3-4 years, we have greatly improved our US operations. In the coming time, we are seeing that our subsidiaries in the US, Japan, Korea and the Netherlands our specialty source will grow. These all are developed markets and Cosmo has a good presence in these markets and they will help you in growth further. So, we are seeing margin improvement in our subsidiaries in the coming time. 
We started two new verticals in the Cosmo Specialty chemical are progressing well and the Masterbatch that we make is being manufactured by just 3-4 companies in the world. And Cosmo in a very small time has progressed well where products of Cosmo products are doing well. We have set up a new line with a decent capacity and expect that the line will be utilized 100% this year itself. 
Similarly, the textile chemical is in slight problem due to the COVID initially, but the product that has been manufactured is providing new innovative solutions to the customers and is reducing their power cost, water cost. At the same time, we are providing new functionalities to them to improve their textile. So, we are getting good enquiries from big textile mills and textile processors. 
We also started a new business of pet care, and we are seeing its pilot launch by the end of next quarter. There we will also be available in the retail model as well as the online model. Under it, we will provide a better product and better service to the customers at home, the experience centre as well as online. All of our businesses are progressing well due to which in the coming time we will get sales growth as well as an improvement in our margin. 
Q: Tell us about how the new product launches will be? The company has launched some B2C products. How will you move ahead with branding? You have also entered into the textile chemicals segment. What is the scope of growth in the same?
A: In specialty, we have a target every year to make two to three big launches that are globally the first time and five to six such launches that have been already manufactured by one or two players in the world and we can replicate it from India. So, in the last few days back, we have created a heat resistant film, which was a big move in sustainable packaging or recyclable packing worldwide. We are receiving a lot of enquiries about it, and we are continuously improving the product so that our customers can make recyclable packaging. Secondly, we are making a direct thermal printable film and we will be the first film making company who will be able to make it through the coating. We have received the initial orders for this product from this month itself. Third, we are making developments in synthetic paper, and we are making new launches in synthetic paper. We have great expectations from synthetic papers in the future because the product will become a big product as it replaces the paper and has durability. It will be a good vertical in the future. Fourth, we are going to launch an important product under our Cosmo specialty chemical, named Fabrictizer, and I am talking about it for the first time in media. Basically, the product will kill 99.99% of virus, bacteria, germ on the clothes. It is available in different versions. Under some version, they will not be killed just once on the clothes, but it will make a layer on the cloths for seven days so that any virus can't work on them. In fact, it is good in killing even the COVID virus. There are some versions in which the layer will be available for up to 50 days on the cloths. The product will be launched soon in the next 8-10 days. Initially, it will be launched online but in the coming time, we will also sell it through channel sales as well as modern trade. 
Get Latest Business News, Stock Market Updates and Videos; Check your tax outgo through Income Tax Calculator and save money through our Personal Finance coverage. Check Business Breaking News Live on Zee Business Twitter and Facebook. Subscribe on YouTube.