Chanda Kochhar exits ICICI Bank! From shedding sweat to establishing a top brand to being trapped in controversies
Establishing ICICI Bank as a big brand is the biggest achievement of Chanda Kochhar. Although, she has been the MD & CEO since 2009, her relationship with ICICI Bank goes as far back as the 1990s.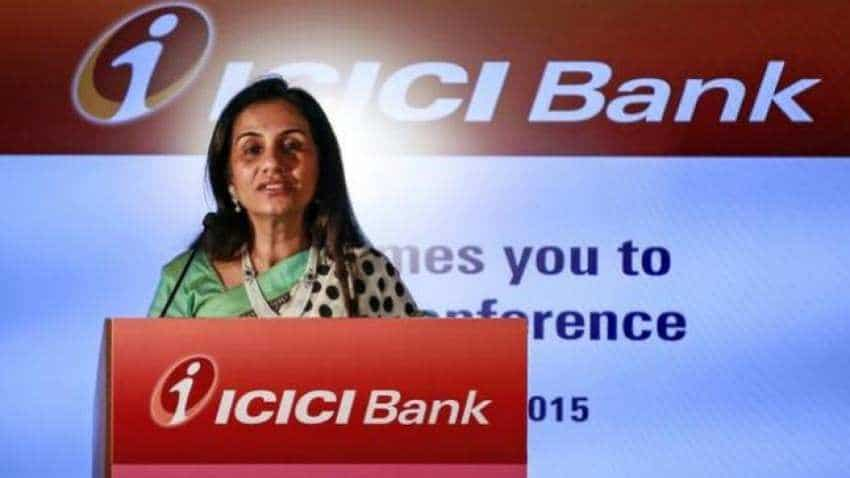 Representational Image: Photo: Reuters
Updated: Thu, Oct 04, 2018
07:45 pm
Mumbai, ZeeBiz WebDesk
ICICI Bank is defined as a 'Too Big To Fail' lender. However, big as it is, even this private bank has had its own disappointing moments, even controversies. One such had a kind of bittersweet ending today when its CEO & MD Chanda Kochhar finally resigned from her post. Kochhar who took charge of ICICI Bank a decade ago, became famous for the all the wrong reasons in recent months - when her predecessor KV Kamath retired, she was seen as the best person to lead the bank into a new banking era. However, it all came crashing down. Kochhar who did take ICICI Bank to new heights, took early retirement after being trapped in controversies. Establishing ICICI Bank as a big brand is the biggest achievement of Chanda Kochhar. Although, she has been the MD & CEO since 2009, her relationship with ICICI Bank goes as far back as the 1990s. Let's look at the journey of Kochhar. 
ICICI 
The first step Kochhar took in her working life was in Industrial Credit and Investment Corporation of India (ICICI) in 1984, where she was appointed as management trainee. 
There Kochhar would handle project appraisals and monitoring and evaluated projects in industries such as textile, paper and cement.
Establishment of ICICI Bank 
Kochhar has always been part of ICICI Bank since its birth, in fact, she played a big role in establishing the bank. 
In the year 1993, Kochhar was among the core team members who were assigned the responsibility of setting up ICICI Bank. Kochhar was someone to idolize, because the way she climbed and her success was commendable. 
Just one year after inception, Kochhar was promoted to  assistant general manager in 1994, and later after two years, she became deputy general manager in 1996. 
On her role as deputy general manager, Kochhar in 1996, headed the newly formed Infrastructure Industry Group of ICICI Bank, which aimed to create dedicated industry expertise in the areas of power, telecom and transportation. 
Later in 1998, Kochhar was once again promoted and this time she was made General Manager. She headed ICICI Bank's major client groups which handled relationship with ICICI's top 200 clients. However, Kochhar's excellence never sticked to one sector or one category, she was bound to be out of box. 
Hence, in 1999, Kochhar also started handling  the strategy and e-commerce divisions of ICICI Bank. 
ICICI Bank under Kochhar's leadership, started to build the nascent retail business in 2000. These were focusing largely on technology, innovation, process engineering and expansion of distribution and scale.
Within span of 8 years in ICICI Bank, Kochhar took charge as Executive Director on April 01, 2001. 
Right after five years, Kochhar was promoted to Deputy Managing Director of ICICI Bank - where then she handled  the international and corporate businesses of the bank. 
From 2007 to 2009, Kochhar's position changed to Chief Financial Officer (CFO)  and then later to Joint Managing Director. 
MD & CEO of ICICI Bank 
Kochhar was appointed as managing director and chief executive officer of the bank in 2009. She was also responsible for the bank's diverse operations in India and overseas. 
Not only ICICI Bank, Kochhar has also chaired the boards of most of the bank's subsidiaries, which include India's leading private sector life and general insurance companies.
During her leadership in ICICI Bank, Kochhar bagged many awards and recognitions. 
In addition to her responsibilities at the ICICI Group, Kochhar is a member of the India – Japan Business Leaders Forum, the US-India CEO Forum and the Board of Trade. She is also the Deputy Chairman of the Indian Banks Association.
Kochhar is the chairperson of the board of governors at IIIT Vadodara. She is also on the boards of the National Institute of Securities Markets and Institute of International Finance.
She was the President of the International Monetary Conference, an organization that annually brings together the chief executives of approximately 70 of the world's largest financial institutions from 30 countries, along with officials from government institutions in 2015-16.
Kochhar has been a member of the Prime Minister's Council on Trade & Industry, the Board of Trade and High-Level Committee on Financing Infrastructure. She was also the co-chair of the World Economic Forum's Annual Meeting in 2011.
Kochhar received an honorary Doctor of Laws from Carleton University, Canada in 2014. The university conferred this award on Ms. Kochhar in recognition of her pioneering work in the financial sector, effective leadership in times of economic crisis and support for engaged business practices.
She was conferred with the Padma Bhushan, one of India's highest civilian honours, in 2011.
Not only this,  Kochhar has been also recognised time and again in many of the prestigious power lists. 
She has been featured in 'The World's 100 Most Powerful Women' list by Forbes International for seven consecutive years and the 'Most Powerful Women in Business' list by Fortune India for five consecutive years. She was also named among TIME magazine's '100 Most Influential People in the world' in 2015. 
The Controversy 
Controversy that erupted is over Chanda Kochhar, the CEO & MD of the largest private-lender, having allegedly made personal gains in regards to a loan given to Videocon in which her husband Deepak Kochhar's name has cropped up.
Deepak Kochhar is the main person linked in the battle between ICICI Bank and its loan of Rs 3,250 crore to Videocon Group.  
However, the allegations against Kochhar were made in two complaints. The first one in 2016, where Arvind Gupta an ICICI Bank and Videocon shareholder stated that Kochhar favored loan to Videocon because of her husband's involvement. Gupta had made the letter public. RBI took action the moment the letter went public, but did not find any material against Kochhar. 
Then came a second whistleblower, which made things very intense for Kochhar and ICICI Bank. 
ICICI Bank released the list of whistleblower complaint. 
Irregularities in the conduct of some borrower accounts, resulting in incorrect asset classification. The complaint cited 31 loan accounts in respect of which the above was alleged.
Incorrect accounting of interest income and NPA recoveries as fees. No specific examples were cited in the complaint.
Overvaluation of security for corporate loans. No specific examples were cited in the complaint. 
Hence, and enquiry panel was set up by ICICI Bank, RBI and even CBI to bring all the controversies under one umbrella investigation. 
Kochhar was asked to stay on leave by ICICI Bank from June, 2018. In her place, Sandeep Bakhshi acted as interim CEO. 
The resignation 
The amount of controversies, Kochhar was trapped in, it was just a matter of time as everybody had already started speculating that a resignation was very much on the cards. 
ICICI Bank today said it has accepted the request of Chanda Kochhar to seek early retirement from the bank. Kochhar will also relinquish office from the Board of Directors of the bank's subsidiaries.
The Board accepted this request with immediate effect. 
Notably, the the enquiry instituted by the Board will remain unaffected by this and certain benefits will be subject to the outcome of the enquiry. 
On the place of Kochhar, ICICI Bank has appointed Sandeep Bakhshi as Managing Director & Chief Executive Officer. His appointment will be for a period of five years until October 3, 2023, subject to regulatory and other approvals. 
What's surprising is that Kochhar's exit did not elicit any negative reactions. It was seemingly welcomed! This is in stark contrast when compared to major CEOs who have left due to some unforeseen circumstances. Latest ones are - Shikha Sharma of Axis Bank, Rana Kapoor's exit from Yes Bank, Vishal Sikka from Infosys and Cyrus Mistry from Tata Sons. 
From the above, it can be said Kochhar did have a very special bond and relationship with ICICI Bank, however, destiny and fate have destroyed her legacy. Now Kochhar will have to answer all the charges levied by the whistleblower as investigations continue, but this time without ICICI Bank's support. It's a tragic goodbye for sure! 
Get Latest Business News, Stock Market Updates and Videos; Check your tax outgo through Income Tax Calculator and save money through our Personal Finance coverage. Check Business Breaking News Live on Zee Business Twitter and Facebook. Subscribe on YouTube.