Brexit is an opportunity, Infosys says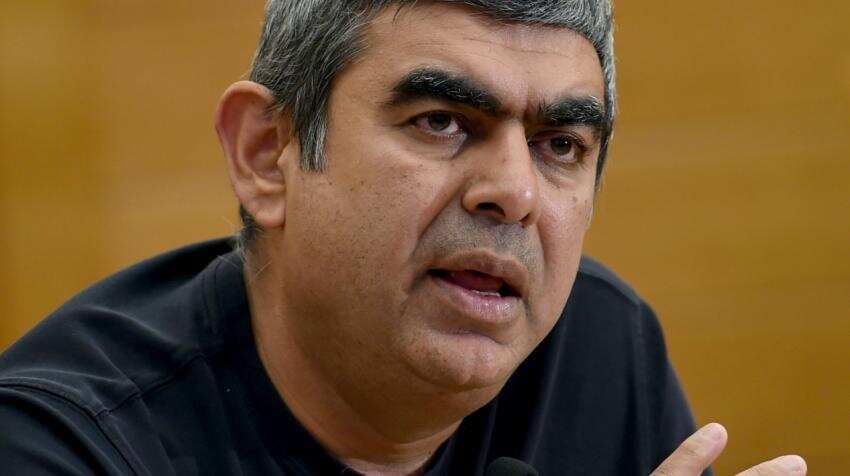 The company reported consolidated net profit of Rs. 6,318 crore for the June quarter. Image Source: IANS
Updated: Sat, Jul 16, 2016
10:34 am
Mumbai, ZeeBiz WebDesk
IT major Infosys on Friday registered consolidated net profit of Rs 3436 ccrore, a decline of 4.5% for the quarter ended on June 30, 2016.
Looking at the disappointing numbers, the company said that it will not be possible for them to achieve the previous set target and hence, cutting its revenue outlook. Now, the company expects revenue growth between 10.5%-12% as against previous estimate of 11.5%-13.5% for the current fiscal year.
"We had unanticipated headwinds in discretionary spending in consulting services and package implementations as well as slower project ramp-ups in large deals that we had won in earlier quarters, resulting in a lower than expected growth in Q1," said Vishal Sikka, CEO, Infosys.
Giving the reason, Britain's exit from European Union left the company with fading outlook. During a conference call, Sikka, said that, for the near-future, the company will remain cautious looking at the Brexit impact on the company.
"As we look ahead to the future clearly (Brexit) is something that many banks are worried about and so forth. In the near term we don't know how this will play out and so forth. So, given the visibility we lowered our guidance", Sikka said.
Earlier, soon after Britain announced its exit from EU, the company was pretty sure that it will not affect the company's revenues by this margin.
Infact, the brokerage firms also predicted that Infosys will be the least affected as compare to other IT companies like Tata Consultancy Services, Wipro and Tech Mahindra. According to a Reuters report, the company gets about 23% of its revenues from clients based in Europe, the lowest among peers including TCS.
Japanese firm Nomura, too in its outlook report after Brexit, said that Infosys did not indicated any caution and was at positive from the company.
Today, Sikka called Brexit as an "opportunity" for Infosys. He said  "Banks are trying to figure out what changes need to be made and what it means for near-term spending... Unfortunate as it is that some of these walls are being created due to Brexit, it does create more need for services, integration, more need for ways to interact across boundaries. So, it means opportunity for revenue growth".
Interestingly, TCS announced its result on Thursday. Despite being the highest expose to Brexit, the company reported consolidated net profit of Rs. 6,318 crore for the June quarter, registering marginal decline of 0.45%.