B2C business is the biggest contributor in our revenues and we want to increase it: Ameera Shah, Metropolis Healthcare
Ameera Shah, Promoter and Managing Director, Metropolis Healthcare, speaks about the IPO that will be launched this week, geographies of presence, business model and scope of Pathology market in India during an interview with Zee Business.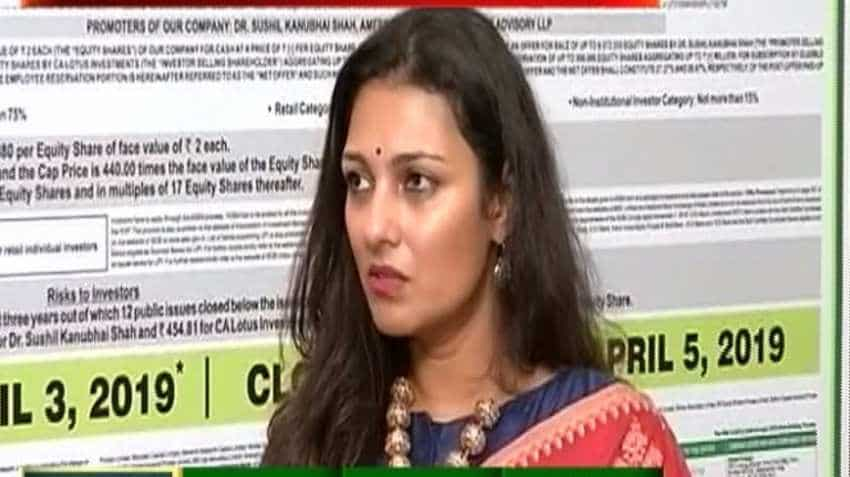 We have a focus on the organic model, and it will be used for expansion purposes, said Ameera Shah. Image source: Zee Business
Updated: Tue, Apr 02, 2019
03:33 pm
Mumbai, ZeeBiz WebDesk
Ameera Shah, Promoter and Managing Director, Metropolis Healthcare, spoke about the IPO that will be launched this week, geographies of presence, business model and scope of Pathology market in India during an interview with Anurag Shah, Zee Business. Excerpts: 
Q: Will the company get some money from the proceedings of the initial public offering (IPO) or it is just linked to existing of some shareholders, if yes, then name them?
A: Only one private-equity firm, Carlyle, has invested in the company and it has more than 30 per cent stakes in the company, at present. And, it wants a partial exit but will hold the remaining part, as they believe that the company will grow. Apart from this, my father is also selling a small piece. 
However, we are the promoter group and will have close to 60 per cent shareholdings of the company after the IPO is released out and will run it. As it is an offer for sale (OFS), Metropolis will not receive any proceeds from the offer. The company do not require cash as we have grown through internal accrual. 
Q: Your company is into business-to-customer (B2C) and business-to-business (B2B) models of business. Let us know about the revenue breakup and the margins at which you are functional at present?
A: B2C is the biggest contributor to our revenue growth. It has a contribution of 43 per cent and we want to take it to 60 per cent, as it can improve our margins. Today our EBITDA and PAT stands at 27.8 and 17 per cent respectively. We have earned 18 per cent revenue growth in the first nine months, this means that our growth is better than the industry as well as competitors and we are comfortable with it. 
Q: Let us know the geographies where the company has its lab at present as well as expansion plans in other geographies?
A: Five of the top thirteen cities of India has a contribution of 64 per cent in our revenues. These are the major markets like Mumbai, Chennai, Bangalore, Surat and Pune and we are leaders here. We haven't penetrated a lot into these cities but can increase our market share in these cities. So, these five cities have been titled as focused cities and we will go deep into them and bring centres to patients. We want to increase our volume in these cities. 
Let us talk about the remaining eight cities, which are tier-2 cities, like Nagpur, Delhi and Kolkata, where we are standing at the second or third position. I think that we can grow in these cities by expanding our network and increasing the infrastructure. So, these cities can be our focused cities in future. We are investing a lot in these cities as we want to gain the number one position in these markets too. 
Q: How many branches do you have at present and what is your target of expansion? 
A: We have a focus on the organic model, i.e. on business-to-customer (B2C), and it will be used for expansion purposes. It doesn't mean that we will not pay any attention to the business-to-business (B2B) model but B2C is the primary focus area, going forward. If you have a look at the DRHP then you will find that we have given about 1130 front and branded exclusive retail centres and I think we have increased this number by now. Apart from this, we have also talked about the B2B touch-points, labs and hospitals, from where samples are collected daily. In fact, almost every famous hospital of India is a customer for us because we have 4000 varieties of tests and profiles, however, they, the hospitals, can perform 400-500 tests and they send remaining samples to us for test purposes as they have trust on us. 
Q: So, you have plans to expand yourself in an organic manner. But, will you look forward to acquisition too?
A: Of course yes and on looking on us you will find that Metropolis has made a lot of acquisitions in the last 18 years and industry thinks that we are far ahead in this process. In fact, we know the process of acquisition, comforting the partner, how to integrate the company and how to grow as we are supposed to get value from the acquisition. Usually, we acquire one or two companies every year and will continue it. This is going to be organic growth. 
Q: What is the scope of Pathology market in India because it is not an organised sector, or its size is very small? Do you think that there is a need for regularisation of this market or this regularisation will create a hurdle for players like you? 
A: No, it will not create any hurdle for us. It will benefit us because its absence is allowing anybody to open a pathology lab as they are not supposed to abide by any set standards. In fact, at times they provide wrong reports to the patients. They don't have any cost as in they are not providing minimum wage, they don't have a qualified technician or pathologists. So, the comparison between the two is like a comparison between an apple and an orange where one is providing global quality while the other is offering no quality. Thus, the regulation will help the branded players who are already following the best quality standards. It will also assure the patient as well as the doctors about the quality of the tests, but it is not available today. 
Watch this Zee Business Video
Q: Talk about things that would be added to these offerings to your customers?
A: Today, we are trusted by millions of customers, who have a relationship with us. So, we want to provide them with additional services after a gap of some three-four years. Because, they usually ask us for adding certain services to our list, but it is a futuristic thing as we want to concentrate on pathology. We are a pathology specialist and an expert in the field. We want to offer a quality diagnosis to more Indians including in the rural market. 
Get Latest Business News, Stock Market Updates and Videos; Check your tax outgo through Income Tax Calculator and save money through our Personal Finance coverage. Check Business Breaking News Live on Zee Business Twitter and Facebook. Subscribe on YouTube.