Almost every division of TCS is posting double-digit growth: Ajoyendra Mukherjee
Ajoyendra Mukherjee (Ajoy), EVP and Head, Global Human Resources, Tata Consultancy Services, speaks about fourth-quarter results, takeaways from TCS and provided outlook for FY20 during an interview with Zee Business.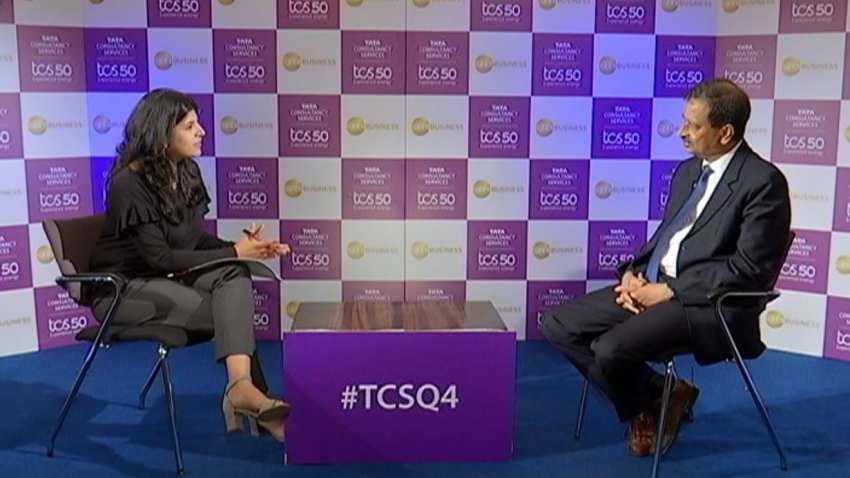 Ajoyendra Mukherjee said "TCS is a dynamic organisation, which keeps on hiring and provides an environment that provides fun as well as learning and time flies." Image source: Zee Business
Updated: Mon, Apr 15, 2019
03:59 pm
Mumbai, ZeeBiz WebDesk
Ajoyendra Mukherjee (Ajoy), EVP and Head, Global Human Resources, Tata Consultancy Services, speaks about fourth-quarter results, takeaways from TCS and provided outlook for FY20 during an interview with Swati Khandelwal, Zee Business. Excerpts: 
Q: Congratulations on investing 39 years of your career with TCS and will be retiring from your office by end of this month, April 2019.
A: Thank you very much. As far as my career is concerned, it started in 1980 when I joined TCS as a trainee. Since then, I have been into different projects and have played different roles from project leader to country head to practice head to central management. It was 2008 when I was appointed as the head of the HR and since then have been handling the same position. So, it has been a very interesting and fascinating journey. TCS is a dynamic organisation, which keeps on hiring and provides an environment that provides fun as well as learning and time flies. 
Q: Talk about the takeaways from the company as you move forward? Also, let us know about certain things that should be changed over here?
A: I would like to take the core values of the Tata Group and the way TCS has grown up and its core values, which is very important and critical. I will also take everything that is good at TCS like they are very good with people. It has a core belief on its employees and their contribution, teamwork and collaborative effort, which has helped TCS to be what it is today. It is a large organisation and that's why it can't be handled single-handed. It is a mammoth task. We have a core belief that everyone in this organisation is important. As technology changes, then our people can learn it very fast, even I have personally witnessed technology shift from mainframes to PC to the network to the internet almost everything has happened. Besides, intrinsic or contextual knowledge is required to understand the customers and domain and that is something very good for TCS and is also our core strength. 
Q:  Summarize the fourth quarter and the year (FY19) for us and let us know about the key drivers of the growth?
A: Our CEO, Rajesh Gopinathan, has said that it was a picture-perfect year for us. We had a couple of large deals when we started the financial year. When it comes to growth than there was a huge disparity in different areas, i.e., at places we were growing very well and at some places the growth was just in single digit as well as at the lower end of the single digit. But at present, the performance has been even and almost all business units that we have has, on a year-on-year basis, been posting close to double-digit growth or to near the average growth of TCS. As far as a large market like the US is concerned, then it is close to coming to where we would like it to be. And, of course, there are a lot of opportunities for it to grow further. So, as a result, I think this year has been very good and we had said that we will be able to do a double-digit growth and that has been a focus as far as we are concerned, and our team are concerned, and we have achieved it. And, when it comes to our Business 4.0 framework is helping our customers in their journey towards transformation and growth. So, that is what is playing out. Basically, everything has come together and is giving us very good growth. 
Q: Will this picture-perfect year will translate in FY20 or will it be better then what we saw in FY19? Provide an outlook on it?
A: As far as the outlook is concerned then we don't provide future guidance in advance as we have been saying that look at what we have today. Some of the indications like hiring this year are concerned that it has been very string hiring and we have added net 29,000 people in this year. And, if we have a look at the deal wins of the year than in the fourth quarter, our deal wins were the highest in the last three quarters. So, overall, that also gives us good confidence as far as it is related to the next year. From the capability point of view from the number of customers we have, the kind of customers for whom we are doing our engagement and how we are regarded by our customers also in the capability to do growth and transformation journey. So, there are many things that give us a lot of confidence, but it will be very difficult to provide an overall outlook. 
Q: Banking, Financial Services, and Insurance (BFSI) are a strong and important vertical of your business and we have seen an improvement in it. So, is it going to sustain, or it may face some challenges?
 A:  As far as BSFI is concerned, then it was not growing in the way when we closed last year, and we said that there were certain challenges. But, going forward is seeing that there will be a growth and as far as year-on-year is concerned that we are doing and achieved double-digit growth for BFSI in our constant currency terms. So, as a result, even retail, where there were issues, is also very close to double-digit growth. Interestingly, double-digit growth can be seen in large verticals and going forward to the pipeline that we have remains robust.
Q: This means BFSI has crossed the problematic phase and will provide a positive outcome in time to come.
A: Yes, there will always some kind of challenge but at this point in time, we are very confident with the kind of deals that we have with us at present. 
Q: You have grown strongly in the digital space and had a confident approach in this space. What is driving this optimism and tell us about the thing that makes you feel that you, TCS, will remain ahead of the curve in digital space?
A: The technology pillars used in our business 4.0 framework is nothing but is digital. Now, all the organisations are going for digital technology and if they don't use digital technology then they will face problems in providing the experience to their customer and manage their own supply chain. So, they will have to have digital technology and they will have to go towards automation and IoT devices. In short, they must have a whole framework. Because of this, our digital business has expanded a lot because it is about 31 per cent of our total revenue. So, it is a significantly large business at this point in time. So, going forward we are also thinking that should say digital or not because they are independent service lines within digital. Everyone will go digital in future because then everything will go digital. The industry is moving in the same direction and because of it we will grow in the digital side and the only way it could have been done is by having the core belief in our own people and train them in the digital technology and agile methodology. In this quarter and at the end of the year we have 348 thousand people who are agile trained and that is the largest pool that any organisation on agile. In a similar way, if we look forward to digital technology, then we have more than 11,000 people to whom we have trained in digital technology and multiple technologies. So, that is something that is helping us in having that kind of core strength that can support us in large engagement. 
Watch this Zee Business Video
Q: Had the improved geopolitical tension and risks have brought any change in outlook? Also, talk about the performance from each of the market? 
A: We have grown in almost every market like it, we grew 22 per cent in the UK, 17-18 per cent in Europe and single-digit growth, which was quite close to our average in the US. So, we have posted significant growth in each of the markets and we are seeing opportunities in these markets. So, as a result, deals are in pipeline as I said earlier, and the visible opportunities have created an opinion that yes things are looking good. But, at the same time, there could always be challenges and we will have to deal with them. That is the way in which I would like to keep it.