#ShiftingGearsWithSwatiK: Volkswagen will start deliveries of T-Roc in a couple of weeks in India, says Steffen Knapp
Volkswagen T-Roc deliveries will start in a week or two, said Steffen Knapp, Volkswagen Passenger Cars India's Director, during a candid chat with Swati Khandelwal, Zee Business, on Facebook Live.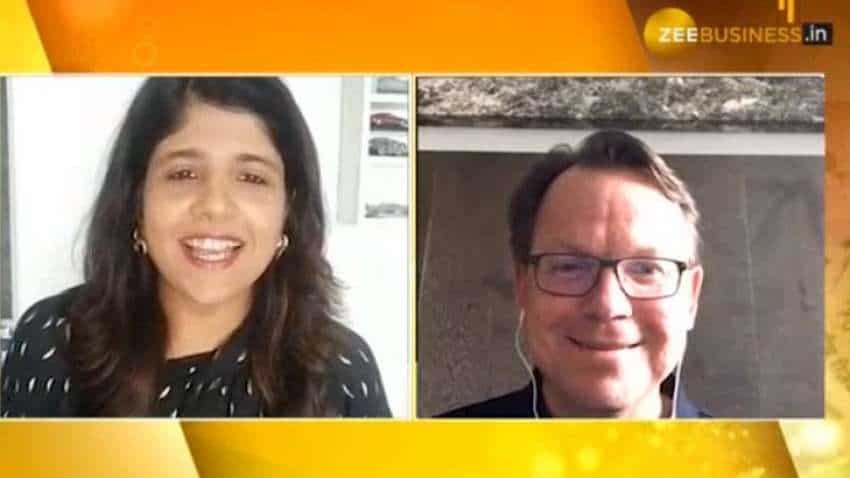 Volkswagen T-Roc is going to be the first vehicle that is part of India 2.0 Strategy. The chat was live on Zee Business Facebook page today.
Written By:
Jitesh Kumar Jha
Updated: Sat, Jun 27, 2020
06:08 pm
New Delhi, ZeeBiz WebDesk
Volkswagen T-Roc deliveries will start in a week or two, said Steffen Knapp, Volkswagen Passenger Cars India's Director, during a candid chat with Swati Khandelwal, Zee Business, on Facebook Live. Steffen also revealed that T-Roc is the next car that Volkswagen will launch in India. Volkswagen T-Roc is going to be the first vehicle that is part of India 2.0 Strategy. The chat was live on Zee Business Facebook page today.
Talking about his experiences during the lockdown, Steffen said, "It has been a tough time for all of us and we have worked relentlessly to settle the situation, empowering the customers and employees. The next step is starting again and then to get into the phase of getting back into the waters of normality." He added, "I am proud to say that we have done this pretty successfully. Our plant is working in two shifts right now and we are getting the cars we need. In the sales area, we are tracking ahead of last year, which is good. We have some momentum out there, which is very important for our network especially in the service area. We are at 85% of the pre-COVID levels, thus we have been able to ramp up our business very fast in an incredibly complex environment."
See Zee Business Live TV streaming below:
When asked about the impact of Covid-19 on demand, Steffen said that March went down by 51%, in April there were no sales at all in the industry and May was down 85%. He said, "So, it was not very nice and these were tough months. But in the concerned months, I have to say that I am not sure whether this is a pent-up demand or it is a fundamental base. We have seen a lot of traction and interest and I am very happy with the sales momentum that we are seeing. The question at the end of the day is that is it sustainable? That we don't know as it is very volatile since the time of the lockdown all around the country. But I am living now in the moment, day-by-day. Every day I am looking at the numbers and am happy that we can dispatch vehicles, we are finding drivers who can transport these vehicles."
He added, "To give you a little bit of an inkling, at 6 am, I have my first meeting where we talk about every single aspect as every day there is another crisis, like supply insolvency, state closing down, some quarantine rule in Tamil Nadu. Every day there is something new. I am personally incredibly proud of the entire Volkswagen organization how we're able to cope daily with the new challenges. But at the end, for me, positivity is the only direction we have and it is a time for those of us, who are leading the organisation, to stand in front and make sure that we get out of this crisis and I am pretty convinced that it is going to be so."
Mentioning Volkswagen India Strategy 3.0 and plans related to launches, Steffen said that T-Roc has so far done better than expectations. Although the vehicle has not been launched in the dealerships, a lot of bookings have been done. He added, "People are hungry for that vehicle. We will start deliveries of T-Roc in next one or two weeks. The same is also for Allspace. It is a bigger ticket size. There you have to touch and feel the vehicle and people are waiting to take a test drive. So, these vehicles are very positive for us." 
He said that Volkswagen has to launch 4 new SUVs in the next two years. Steffen said, "The next car we are going to launch is the wonderful Taigun, which is the first vehicle of India 2.0 Strategy. So, we at the moment, as every company are doing, are looking at all costs. We have a complete agreement in the group worldwide that we are not touching India 2.0. This investment is crucial for us to build a sustainable brand, here in India. Therefore, we are coming with this vehicle, a wonderful SUV with highest and longest wheelbase but the smallest dimension that means little overhangs, very compact, very nice package, beautifully supported by our TSI technology. I am very excited about this product and the feedback that we have received in the outlets was just phenomenal. So, all our plans are intact, we are relentlessly working but in the end, we are determined."
According to Steffen there is a need to have a plan and if you have a plan then make sure that it is relentlessly implemented then check if we are on way to where we want to go. 
Talking about the product segment, Volkswagen wants to enter and set up a strong presence, Key focus, category wise is SUV. Steffen said, "We believe that it is a perfect category for India. If I speak today than we are selling in the group, the brand Volkswagen, more than 50% SUV and this is the way to go. Therefore, we are focusing on the first phase on the accessories of the sets that we are going to launch from the US series in the next three years."
On the next step for the company, Steffen said, "Then we are also going to focus on the vehicles that we already have in the market and bring fresh ones. So, it is no secret that we are going to have new Vento pretty soon. It will be replacing the existing cars." 
Watch full coverage in the video below:
Comparing the situation between Germany and India, he said, in Germany the government has announced a major incentive programme for the car industry, pushing only the electric vehicles up to 6,000 Euro support and an investment of 2.5 billion Euros into the infrastructure. Focus is on mono-electric vehicles. On India, Steffen said, "If I look here then what we are seeing is that Indians are moving into Individual mobility more than before so it is a chance and opportunity for us. But they are going to reduce the budget from what they want to invest. So, people want to invest less and save in the individual mobility solution. So, my focus at the moment is very much on the entry segment in the Polo. To have an attractive offer there is 1.0 litre TSI and the same goes in the used cars arena."
About electric vehicles, Steffen said, "We are there and the company is one of the most advanced ones in the world when it comes to electrification. But in India, we have to monitor the situation because at the moment we are seeing a trend in the combustion engine which is affordable. An electric vehicle does not offer value at this price point that a customer wants in India. So, let's see how it evolves and how we get out of the economic crisis and then we are there have the vehicles available and then we can decide very fast."
#ShiftingGearsWithSwatiK is a Zee Business exclusive series created to reveal the extent of COVID-19 impact on the world's leading auto brands, their pivot strategies in the New Normal and much beyond that.
Get Latest Business News, Stock Market Updates and Videos; Check your tax outgo through Income Tax Calculator and save money through our Personal Finance coverage. Check Business Breaking News Live on Zee Business Twitter and Facebook. Subscribe on YouTube.