From acne to ageing: How Hydra-Medi Facial transforms your skin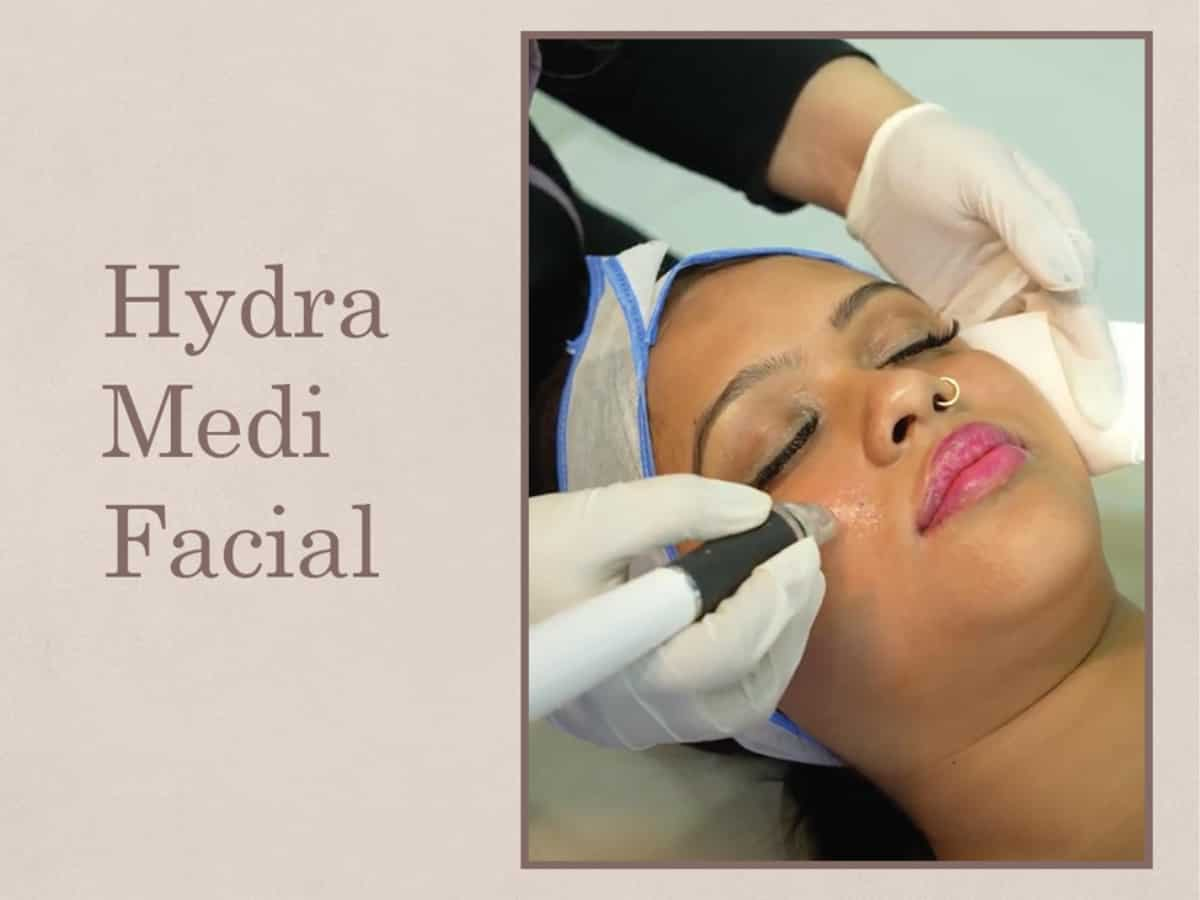 India, September 26, 2023: Are you grappling with issues like blackheads, congested pores, acne, or parched skin? There's no need to juggle multiple facials; the Hydra-Medi Facial promises an all-in-one solution! This non-invasive treatment, acclaimed as the ultimate skin rejuvenation experience, has taken the skincare world by storm. As its popularity continues to multiply, you might be wondering if it truly lives up to its reputation. So, we're here to shed light on some of the most frequently asked questions about this unique treatment:
Q1: What is a Hydra-Medi Facial?
The Hydra-Medi Facial is a revolutionary skincare treatment that harnesses the power of natural oxygenation combined with the anti-ageing effects of tripollar radio frequency and ultrasound. This three-step treatment delivers both immediate visible skin improvement and long-term rejuvenating effects, addressing a range of skin-related concerns.
The Hydra-Medi Facial treatment offers a holistic approach to skincare through exfoliation, infusion, and oxygenation. It begins by removing dead cells and preparing the skin to receive nutrient-rich active ingredients. The infusion step cleanses and brightens the skin, while the final oxygenation phase optimises the absorption of these active ingredients, promoting healing from within.
Q2: What are the benefits of Hydra-Medi Facial treatment?
The Hydra-Medi Facial treatment boasts a multitude of benefits, making it a go-to solution for various skin issues.
This treatment is a boon for individuals dealing with acne, as it aids in cleansing the skin and reducing acne bumps. Additionally, it provides hydration to dry, scaly, and dehydrated skin, resulting in a radiant glow. Through deep exfoliation, the facial removes pore-clogging cells, reduces blackheads, and offers anti-inflammatory and anti-bacterial benefits. Furthermore, it works to smoothen skin texture, minimise wrinkles and fine lines, and even out the skin tone.
Q3: What happens before the facial?
Before undergoing the Hydra-Medi Facial, a few important steps should be followed to ensure the best results.
It's crucial to ensure there is no infection, injury, bruising, or wounds around the target region. Refrain from waxing and bleaching prior to the treatment. Our skin experts will assess your suitability and guide you through the process, ensuring your comfort and safety.
Q4: What does the procedure involve?
The Hydra-Medi Facial procedure consists of multiple steps designed to enhance your skin's health and appearance.
The process begins with the application of a cleansing serum to remove dirt, dead skin cells, and excess sebum. Exfoliation is then performed using a bubble-based vacuum cleaner, effectively eliminating dead skin cells and cleaning pores. Infusion follows, utilising radio frequency (RF) and ultrasound.
Tripolar RF contributes to skin lightening and anti-ageing effects. Hyaluronic acid gel and Vitamin C serum, along with ultrasound, facilitate the penetration of antioxidants and moisturising components. Oxygenation is achieved through an OxyPod capsule, combining beneficial active ingredients with exfoliation and oxygenation elements.
Q5: What precautions should I take after the facial?
After undergoing the Hydra-Medi Facial, certain precautions should be observed to ensure optimal results and recovery.
It's recommended to avoid using a sauna or steam room for 24 hours post-treatment and refrain from using makeup during this period.
Applying broad-spectrum sunscreen is essential during the day to protect your skin. Following the skin care regimen advised by our doctor will have long-lasting effects. If the discomfort persists for 2-3 days, it is recommended to consult with a dermatologist.
Q6: How does this facial fix ageing skin?
The Hydra-Medi Facial treatment is specifically designed to address signs of ageing, and promote youthful, glowing skin.
By utilising advanced techniques like tripolar radio frequency and ultrasound, the treatment smoothens skin texture, reduces wrinkles and fine lines, and improves overall skin tone. Its multi-step approach ensures deep exfoliation and effective absorption of nourishing active ingredients, contributing to a revitalised and youthful complexion.
Q7: Can Hydra-Medi Facial improve skin texture and tone?
Absolutely! Hydra-Medi Facial is a remarkable procedure for enhancing both the texture and tone of your skin.
Through its exfoliation, infusion, and oxygenation steps, the Hydra-Medi Facial exerts a transformative effect on the skin's texture and tone. It eliminates dead skin cells, infuses nutrient-rich ingredients, and optimises absorption, resulting in softer, smoother skin with a balanced and even tone.
Q8: Can this facial address pigmentation and spots?
Yes, the Hydra-Medi Facial is effective in reducing pigmentation and brown spots on the skin.
The deep exfoliation performed during the facial treatment contributes to the removal of pore-clogging cells, blackheads, and dead skin. This process aids in reducing pigmentation and blemishes, resulting in a more even and clear complexion.
Q9: Is Hydra-Medi Facial suitable for acne and acne scars?
Certainly! The Hydra-Medi Facial is versatile and can effectively address both acne and acne scars.
Thanks to its comprehensive approach that includes exfoliation, infusion, and oxygenation, the Hydra-Medi Facial is capable of treating acne-prone skin. It cleanses the skin, reduces acne bumps, and contributes to the healing process. Additionally, the treatment's exfoliation helps improve the appearance of acne scars, promoting a smoother and more rejuvenated complexion.
Q10: Why choose Bodycraft for Hydra-Medi Facial?
Bodycraft offers unparalleled expertise in providing Hydra-Medi Facial treatments.
Our one-on-one consultations with expert doctors ensure a comprehensive understanding of your skin type and concerns. Our customised treatment approach caters to your unique needs, with pre-care and after-care guidance provided by our knowledgeable professionals. By utilising the latest techniques and cutting-edge machines, we are committed to delivering exceptional results and a transformative skincare experience.
Embark on a journey of skin rejuvenation and radiance with the transformative power of Hydra-Medi Facial at Bodycraft. Experience the benefits of a treatment that not only improves your skin's health but also enhances your overall confidence and well-being.
(This article is part of IndiaDotCom Pvt Ltd's Consumer Connect Initiative, a paid publication programme. IDPL claims no editorial involvement and assumes no responsibility, liability or claims for any errors or omissions in the content of the article.)
Updated: Tue, Sep 26, 2023
06:03 pm
ZeeBiz WebDesk