Q&A with Pralhad Joshi: India will be 'Atmanirbhar' in thermal coal by 2025–26, says Coal Minister
"We have also allowed 50 per cent sales from captive mines, and look how it has helped in ensuring coal availability in the market," said Coal Minister of India.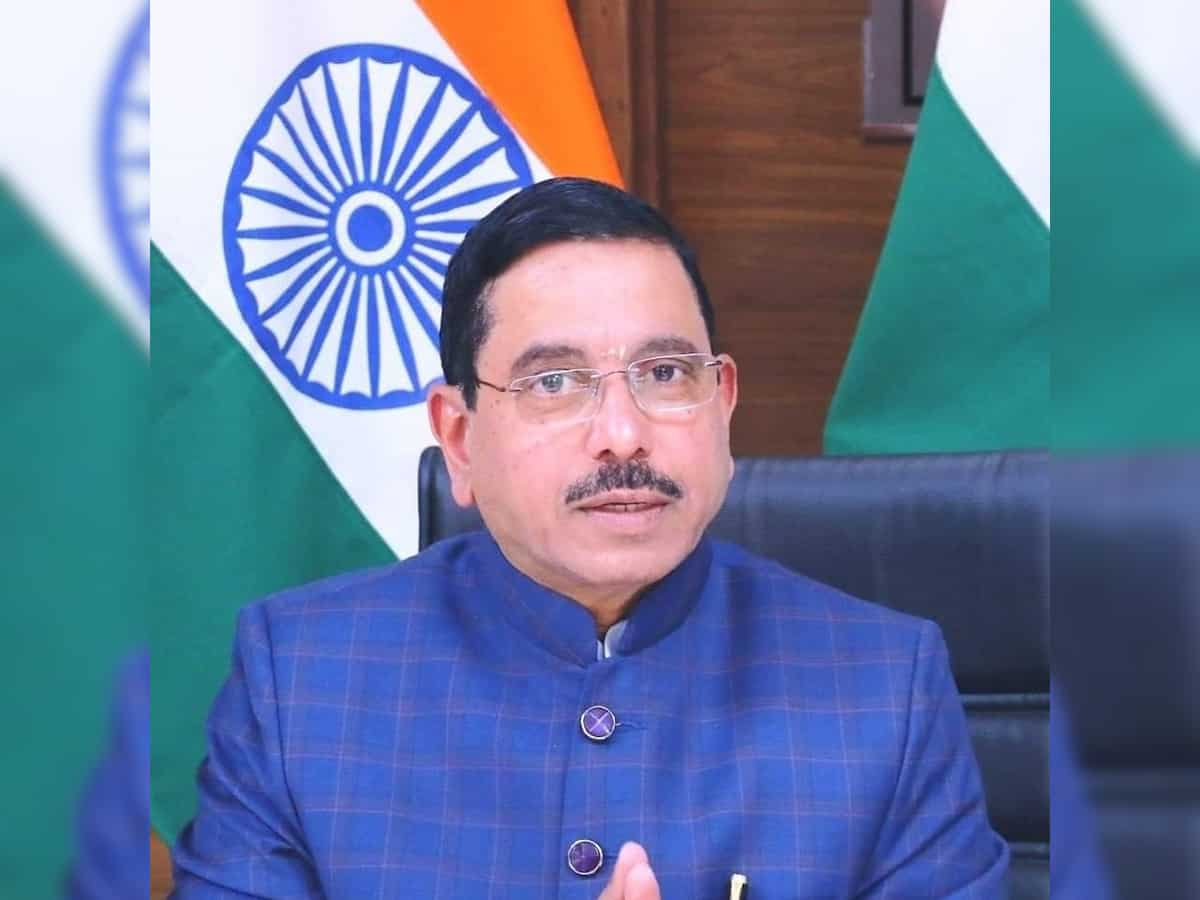 As of now, there are no plans, to divest a stake in Hindustan Copper.
Pralhad Joshi, the cabinet minister of coal, mine, and parliamentary affairs, spoke in a candid interview with Tarun Sharma of Zee Business on a range of issues, such as coal production, lithium exploration, and gold mine exploration. Edited excerpts from the interview :
In nine years, coal production has almost doubled. Looking at historic data, what is the outlook for 2030, in terms of production as well as consumption?
Joshi: When I was joining as the minister of coal and mines, the prime minister called me and asked what I knew about coal. I replied, "Not much," to which the PM told me that we can afford to import crude oil or petroleum products, but it is a sin if we import thermal coal as well, of which we have one of the largest reserves in the world. Later, we brought about innovative policy reforms to give a further boost to India's energy security, which is among the remarkable achievements of our coal sector.
We have also allowed 50 per cent sales from captive mines, and look how it has helped in ensuring coal availability in the market. Coal production from captive mines has tripled from 39.5 MT in 2013–14 to 122.7 MT in 2022–23.
A major leap in coal production over the years has been achieved, with a record coal production of 893.08 MT in FY2023, which is the highest in the history of India. In comparison to 566 MT in the year 2013–14, with a growth of about 58 per cent. In coal supply, too, there is a major leap from 572 MT in FY2013–14 to 878 MT in FY2022–2023, with a growth of about 53 per cent. India will achieve coal production of 1.5 billion tonnes by 2030. 
What is the status of coal as the monsoon is delayed by some days? Do you foresee a halt in supply to the non-power sector? 
Joshi: Last year was different as the country just came out of COVID-19 and the economy was opening up. India's energy requirement in the financial year 2022–23 increased by 9.5 per cent compared to the previous financial year, as per data released by the Central Electricity Authority. However, this year, we are fully prepared and have enough stock of coal.  
Coal stock as of May 29 at thermal power plants (TPPs) was 36.9 MT, which was sufficient for sixteen days, and coal stock as of May 30, 2023, at Coal India was 60.97 MT. Similarly, the coal production and offtake of CIL on May 30 were 2.03 MT and 2.14 MT, respectively.
The coal supplies to non-power entities are not being regulated. From CIL, the supply to non-power entities was 18.01 MT (till 19.05.23) as against 13.39 MT in the same period of the previous year, which is 34 per cent higher.
All the ministries—coal, railways, and power—are working together to ensure the growing energy needs of the country are met. We are prepared to handle the situation even as demand continues to rise.
The stock in the TPPs is around 36.33 MT as of May 21, 2023, which was around 19.43 MT on the same day last year. This is around 75 per cent higher than last year. I can assure you that there has been no shortage of coal in the last nine years.
The government has surprised everyone with the hike in FSA (fuel supply agreement) rates. Don't you think it will impact the price of electricity, which might fuel inflation? 
Joshi: It is the decision of Coal India's board. However, CIL hiked the notified prices for high-grade coal of grades G2 to G10 by 8 per cent. This marginal increase will affect less than 28 per cent of CIL dispatches, and incremental revenue will be about 3.37 per cent.   
In FY 2022–23, CIL's average FSA price was around Rs 1,450 per tonne. A 3.37 per cent increase in overall FSA pricing translates to an increase in average FSA rates of around Rs 48 per tonne.
Currently, domestic coal-based power plants import around 35 MT of thermal coal every year, mainly high-grade coal with a gross calorific value (GCV) of more than 4,500 Kcal/kg. The impact of such imported coal is around Rs 4.5 per unit (considering the landed price of Rs 10,000 per tonne). 
The marginal increase has been in high-grade coal (G2-G10), which is generally used by the non-power sector.
It is also required for CIL's survival, as employee benefit expenditures constitute around 45 per cent of the total expenditures of the company. The average annual additional expenditure due to the recent wage revision, which was due on July 1, 2021, on ECL, BCCL, and WCL comes to around Rs 1,441 crore, Rs 1,113 crore, and Rs 963 crore, respectively. The above marginal increase in coal prices will benefit these companies to partially offset the impact of the incremental wages, as in ECL, BCCL, and WCL, the percentage of high-grade coal out of their total thermal coal production is 84 per cent, 100 per cent and 40 per cent, respectively.
When will we stop importing thermal coal and start exporting it?
Joshi: As per the projection of demand and supply of coal, India will produce more coal than the total demand beginning in 2025–26. This enhanced domestic coal production will enable us to not only meet domestic coal demand but also provide surplus coal for export. At present, India exports coal worth about 2 MT to its neighbouring countries like Nepal, Bhutan, and Bangladesh.
To reduce the coal imports in the country and make India 'Aatmanirbhar', the sector was opened for commercial coal mining in the year 2020 by Prime Minister Narendra Modi. Under the commercial coal mines auction, six rounds have been completed, and a total of 87 coal mines have been successfully auctioned. These 87 mines generate annual revenue of Rs 33,230 crore calculated at peak rated capacity (PRC) for the coal-bearing states, and estimated employment opportunities are around 3 lakh from these mines.
However, some of the coal categories will continue to be imported. For instance, coking coal (used by the steel sector), low-ash coal (less than 9 per cent ash coal used by imported coal-based (ICB) power plants), and anthracite coal are essential as their domestic production is either scarce or not available.
What is the status of lithium exploration in Jammu and Rajasthan? What is the plan for the auction after exploration confirmation? Will the government's PSU sell this lithium, or will the private investment be allowed?
Joshi: A G3 stage (UNFC) project for bauxite, REE, and lithium was taken up during field season (FS) 2020–21 and 2021–22 in the Salal–Haimna areas of Reasi district, Jammu & Kashmir.
The exploration report for Salal-Haimna was handed over to the Jammu & Kashmir government in February 2023 for auction. Further, the Geological Survey of India (GSI) has undertaken a lithium exploration programme in adjoining areas of Reasi during Field Season 2023–24. However, the decision on auctions will be taken by the government of J&K, and there is no restriction on the participation of private companies in auctions. In the case of Rajasthan, GSI is carrying out exploration for tungsten, lithium, and associated rare metal mineralisation in the Degana area, Nagaur district, Rajasthan, from 2019–20. The drilling work is still in progress. The resources will be established only after the completion of the drilling work and the finalisation of the report.
We have been trying to explore gold mining in India, but we have not had enough success. What is the hurdle to exploration?
Joshi: There is no hurdle to the exploration of gold in the country. A total of 13 gold blocks have been successfully auctioned. In the last five years, GSI has handed over 7 G2/G3 blocks of gold to the state government for auction. After the amendment of the MMDR Act in 2021, GSI has handed over 44 G4 geological memoranda for auctioning as a composite licence, of which seven blocks have already been auctioned. 
In the current field season programme (2023–24), GSI has taken on 34 projects on gold and associated mineralisation. 
When can we expect a coal gasification policy?
Joshi: The government of India has already announced support for the setting up of four pilot projects for coal gasification and conversion of coal to chemicals to evolve technical and financial viability.
We have earmarked Rs 6,000 crore for coal gasification, where emissions are comparatively lower. Soon, we will issue a tender for the vibrating grizzly feeder (VGF) worth Rs 6,000 crore. We have to understand that there is no clear-cut technology for coal gasification in the world. But we have a ray of hope with Thermax, which has been using this technology.
Coal India Limited has already signed MOUs with BHEL, IOCL, and GAIL for setting up coal gasification projects, and the Coal India Board has approved the formation of joint venture companies for this purpose.
In line with the announcement, the Ministry of Coal is planning to provide capital subsidies (15 per cent max) to coal gasification projects both in the public and private sectors, amounting to Rs 6,000 crore. The financial assistance can be in the form of a 50 per cent upfront payment and a balance on successful completion of the plant.
Is there any plan to divest a stake in Hindustan Copper?
Joshi: As of now, there are no plans.
Is the Coal and Mines Ministry planning to focus more on green energy? Can you please give insights on this plan? 
Joshi: We are committed to sustainable coal mining, and that is why we are planting trees in huge numbers on mined-out land. We are also trying to store mine water to make it available for irrigation, treating the water for drinking, and other uses. 
From 2014–15 to 2022–23, we increased the green cover over about 16,262 hectares of land, planting about 37.03 million saplings.
With a net zero commitment by 2070, the future of coal depends on coal gasification due to the generation of less CO2 and the ease of capturing CO2 in the gasification process. Recently, coal gasification has emerged as a new avenue towards an eco-friendlier source of energy as compared to coal.
Coal and lignite PSUs have created huge green cover by plantations during the last nine years and created a potential carbon sink, thereby contributing to mitigating climate change. The Ministry of Coal has set a target of about 2,500 hectares for FY 2023–24. The reclaimed land is also used for agricultural purposes. The use of innovative techniques such as seed ball plantation, seed casting through drones, and Miyawaki plantation in various mines are in place.
EXCLUSIVE | Essel Group will be debt-free soon: Chairman Dr Subhash Chandra to Anil Singhvi
Also Read: Coal India slips 4% as Govt to sell 3% stake in firm through OFS route
Get Latest Business News, Stock Market Updates and Videos; Check your tax outgo through Income Tax Calculator and save money through our Personal Finance coverage. Check Business Breaking News Live on Zee Business Twitter and Facebook. Subscribe on YouTube.
Updated: Thu, Jun 01, 2023
09:18 pm
New Delhi, ZeeBiz WebDesk