Women's march takes global spin as Trump takes office; 15 best messages from across the world
Protesters take part in the Women's March in Paris, France, January 21, 2017. Image Source: Reuters
Updated: Sun, Jan 22, 2017
11:53 am
Mumbai, ZeeBiz WebDesk
Hundreds of thousands of women gathered all across USA on Saturday, one day after Donald Trump was initiated into the White House as 45th president of the country.
A report by the New York Times cited that there were 400,000 women in New York alone and at St. Paul's nearly 50,000 to 60,000.
Attendance in Boston was 175,000, while in Atlanta and Phoenix nearly 60,000 and 20,000 respectively.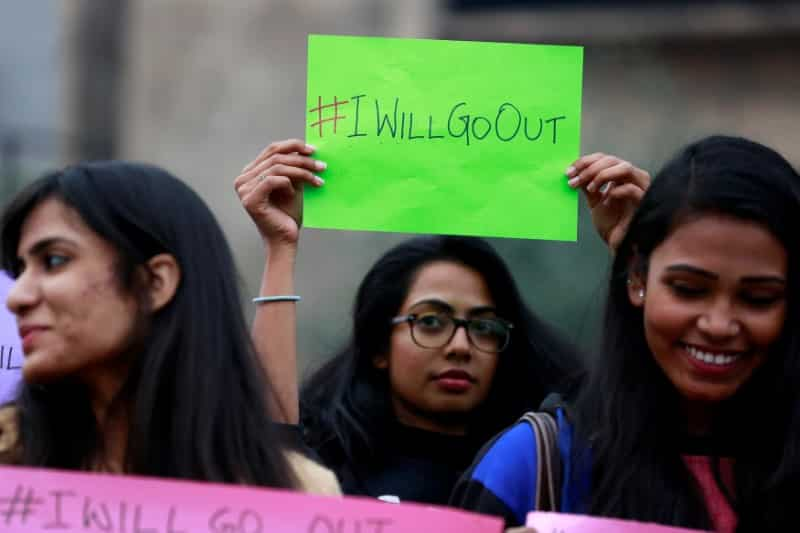 Women in protest in New Delhi, India. Image Source: Reuters
There were protesters rallying in Chicago, Washington, Manhattan, Los Angeles, Atlanta, New York, Denver and others around the world too.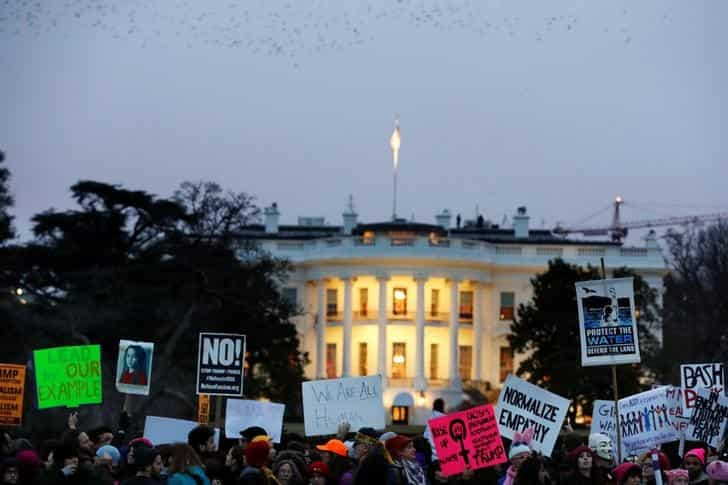 Image Source: Reuters
Protestors in the women's march gathered in India, Paris, London, Kenya, Greece, Kosovo, the Czech Republic, Georgia and Antarctica as well.
— Women's March Paris (@womensmarchpar) January 21, 2017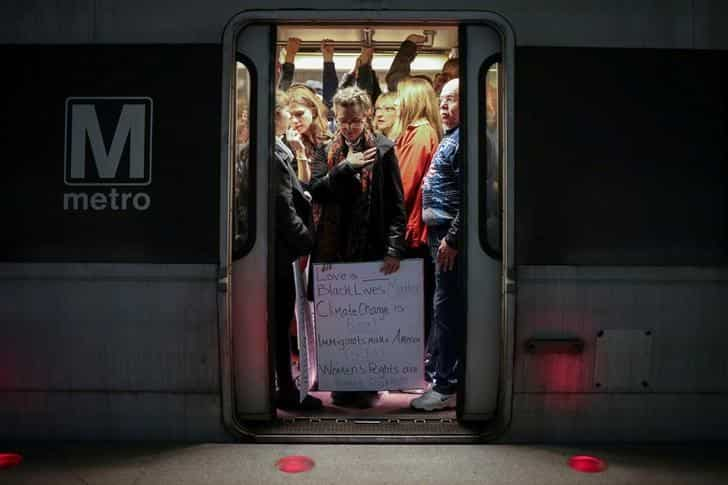 Image Source: Reuters
Famous celebrities like Madonna performed her 1989 hit song – 'Express yourself' at a place near the Capitol, where demonstrators had been gathering since the early hours.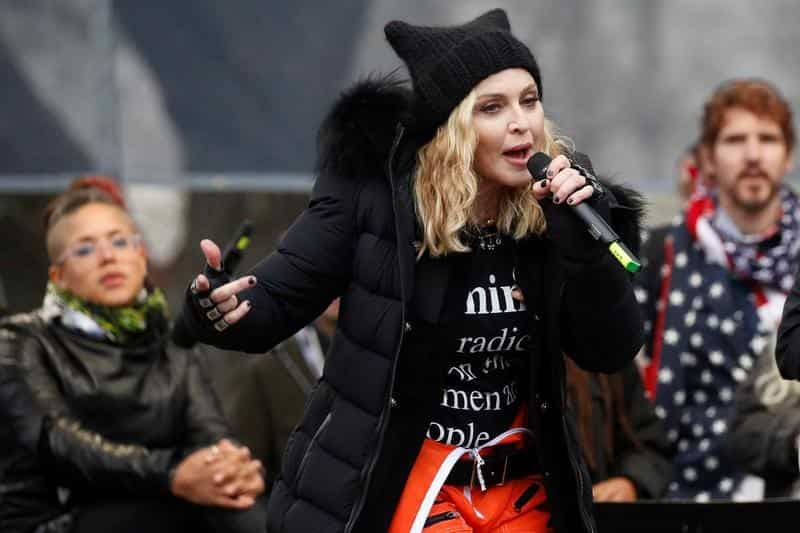 Image Source: Reuters
Other artistes who turned down the invite to perform at Trump's ceremony also participated in the protest march like singer and actress Janelle Monae, actress Ashley Judd, Scarlett Johansson and feminist - Gloria Steinem.
#WOMANPOWER
At the NYC #WomensMarch with dear @WhoopiGoldberg pic.twitter.com/DXVOrAEMYs

— Yoko Ono (@yokoono) January 21, 2017
Togetherness
in New York! @johnnymcdaid #WomensMarch pic.twitter.com/rVJsazD8Bu

— Courteney Cox (@CourteneyCox) January 21, 2017
Even former presidential nominee, Hillary Clinton joined in the protest on twitter.
'Hope Not Fear'
Indeed.
And what a beautiful piece by Louisa Cannell. #womensmarch pic.twitter.com/7h3Bzx79nB

— Hillary Clinton (@HillaryClinton) January 21, 2017
Women and men shut down streets in the US, chanting slogans and marched on in opposition to the values they think Trump represents.
Here are a few of the placards in protest across the globe.
At the #WomensMarchOnWashington. Exciting energy everywhere!!! #WhyIMarch
Equality for ALL!!! Make America Kind Again!! pic.twitter.com/1SKPirZ052

— Christy Hudson (@dinoroc74) January 21, 2017
#WomensMarch Antarctica https://t.co/Wx3SHQaMht pic.twitter.com/wtfk7ioiJZ

— Andrew Stroehlein (@astroehlein) January 21, 2017
Sisters' March Nairobi. So amazing to see the community to come together #whyIMarch #sistermarch #Inauguration #nairobi #WomensMarch pic.twitter.com/imvhAieJ6h

— Isaac Simonelli (@DiceTravels) January 21, 2017
So many great signs and banners today! #WomensMarch #WMNewZealand #whyIMarch #WM_global #WMW pic.twitter.com/G3ll5a4KM6

— Women's March NZ (@WMNewZealand) January 20, 2017
#womensMarchAntarctica (still photo from our march video in Paradise Bay this morning) video to come Thursday pic.twitter.com/MfebPcDJsy

— linda zunas (@lindazunas) January 21, 2017
#futuretweets pic.twitter.com/6oQE6wY4iy

— Brendan Nyhan (@BrendanNyhan) January 21, 2017
Today was a day to remember #WomensMarch pic.twitter.com/14dJ2chDLQ

— URGE (@URGE_org) January 21, 2017
So many beautiful Muslim sisters at the #WomensMarch on Washington pic.twitter.com/Y2LlGfDjwx

— Linda Sarsour (@lsarsour) January 21, 2017
- #ScienceIsReal #LoveTrumpsHate #DiversityIsBeautiful #BlackLivesMatter #WomensMarch #WomensMarchJXN #WMWArt #MSWomenRiseUp #WhyIMarch pic.twitter.com/KfDndGGF5J

— Ariel Blackwell (@blackwhale00) January 21, 2017
This was so much bigger than one person or one issue and I'm so proud I could be a part of it. #WMWArt #WomensMarch pic.twitter.com/ku7HBIzs50

— Alyssa Holden (@_alyssaholden) January 21, 2017
London
Paris
Oslo
Toronto#WomensMarch pic.twitter.com/cvDYfQ0Dhs

— Greg Hogben (@MyDaughtersArmy) January 21, 2017
More education, more peace, more equality, more support. #WMWArt. #WomensMarch pic.twitter.com/OyjmM6rPjn

— Elena (@iElenaojeda1) January 21, 2017
#WMWArt @womensmarch pic.twitter.com/S8NcIr9ChU

— Melissa (@Missy303) January 21, 2017
#whyIMarch because immigrants are here to stay and they are what make this country great. #WomansMarch pic.twitter.com/cdAZgM4kBB

— Wendy (@_wendayflowers) January 21, 2017
Great job ladies #WomensMarch pic.twitter.com/ZESws8b3Yw

— Bilbo Swaggins (@ja_seen_a) January 22, 2017