Will Ripple be the new hot cryptocurrency in 2018?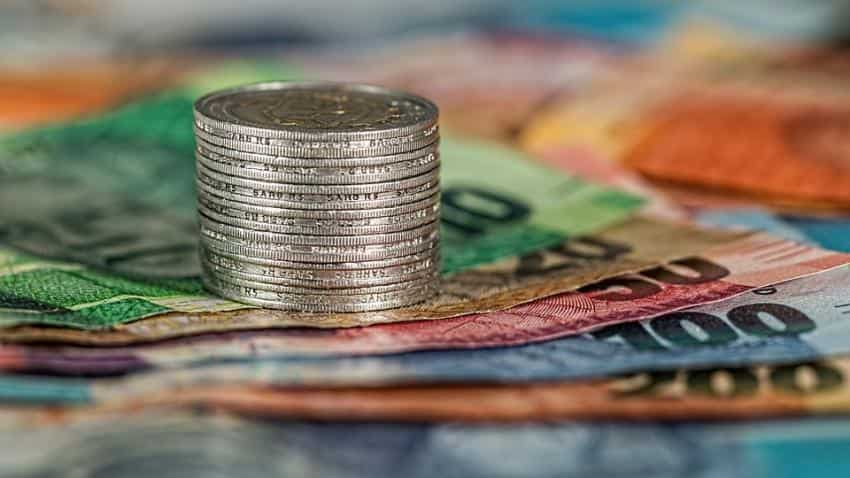 Representational Image: Photo: Pixabay
The year 2017 was all about Bitcoin, but another cryptocurrency has found investors' love as the world entered into the year 2018. The new digital coin, Ripple, after touching new heighs has now become the second most valued virtual currency after Bitcoin.
 
On January 4, Ripple clocked a $3.81 higher by 38.36%, as per CoinMarketcap data.
Bitcoin, which stood at $19,694-mark on December 19, has been losing streak in the past two weeks. It has tumbled by 38.31% or $7,545.76 so far.
 
According to CoinDesk data, Bitcoin slumped by 4.51% on Thursday and was trading near $ 14,452.55.

 
Ripple has been available for trading since 2012, but it witnessed uptrend from December 21, 2017. Bitcoin, however,  has been seeing downward trend from December 21.
 
Ripple which stood below $0.005882 on August 04, 2013 reached $1.19 on December 21, 2017 and further jumped to $3.81 currently. This coin was trading below $1 since inception till December 20, 2017.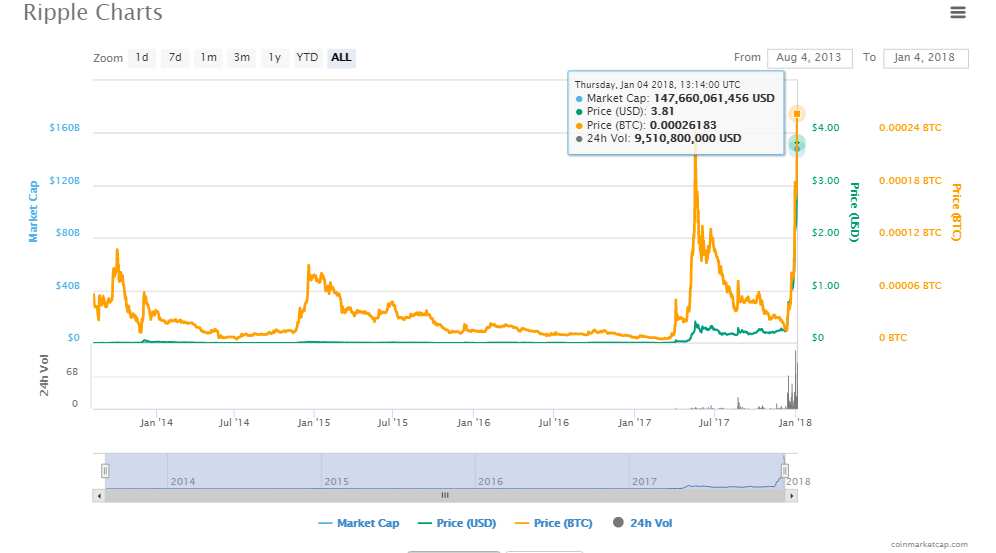 With this blockbuster performance, Ripple grew by a massive 64673.89% or 647.74 times across nations.
 
According to Investing.com, Ripple's surge outran Ethereum and bagged the second spot in the most valuable digital currency. Ethereum now stands at third place with a market cap of $72 billion.
 
The data mentioned that Ripple's market capitalisation increased by more than 50% on December 29, and recorded $85 billion, the uptick continued further and peaked to valuation of $100 billion this week.
 
However, Bitcoin still dominates the cryptocurrency market with valuation of $220 billion.
 
Stephen Powaga, head of research at investment firm Blockchain Momentum in CNN money, said, "Ripple and some other cryptocurrencies have relatively low transaction fees, which made them popular when people began looking for alternatives to Bitcoin."
 
Alexis Roussel, CEO Bity, in Incrementum research report said, "Until recently we had individuals from financial institutions buying Bitcoin because they were working on crypto projects and wanted to see how it worked. This year, these institutions are also investing in cryptocurrencies."
 
The report further said, "Bitcoin is the name of one cryptocurrency and blockchain. Ethereum is another. Ripple is another. There are over 1,000 different cryptocurrencies."
 
Let's have an understanding about the Ripple cryptocurrency, as per Investopedia.
 
Ripple was introduced in 2012 and was co-founded by Chris Larsen and Jed McCaleb. The coin is labelled as a XRP.
 
This digital currency acts as a bridge to other currencies. One key point of Ripple is that the coin does not discriminate between one fiat/crypto currency and another, therefore, makes it easy for any currency to be exchanged for another.
 
Ripple adopts a medium known as Gateway which serves as the intermediary in the trust chain between two parties who are desiring to make a transaction.
 
This Gateway performs as the credit intermediary that receives and sends currencies to public addresses over the Ripple network.
 
Trading in Ripple is little complex, as anyone or any business can register and open a gateway which authorizes the registrant to act as the middleman for exchanging currencies, maintaining liquidity and transferring payments on the network.
 
However, Ripple network does not operates on a proof-of-work system like Bitcoin or proof-of-stake system like Nxt which is another block chain. Instead, the transaction made in Ripple rely on a consensus in order to validate account balances and transactions on the system.
 
Investopedia mentions that the consensus works to improve the integrity of the system by preventing double spending.
 
The Ripple keeps watch of all IOUs in a given currency for any user or gateway. Interestingly, even though financial transaction history is publicly recorded and made available on the block chain, the data is not linked to the ID or account of any individual or business.
 
Thus, Ripple operates on an open source and peer-to-peer decentralized platform that allows a seamless transfer of money in any form, whether USD, Yen, litecoin, or bitcoin.
 
Updated: Fri, Jan 05, 2018
10:59 am
Mumbai, ZeeBiz WebDesk