Warren Buffett's three stocks Well Fargo, Bank of America, Coca Cola yield more than S&P 500: Here's why you should buy them
Three of Berkshire's top five holdings--wide-moat  Wells Fargo (WFC),  Bank of America (BA), and  Coca-Cola (KO)--yield more than the S&P 500, and they account for about one third of the insurer's equity portfolio.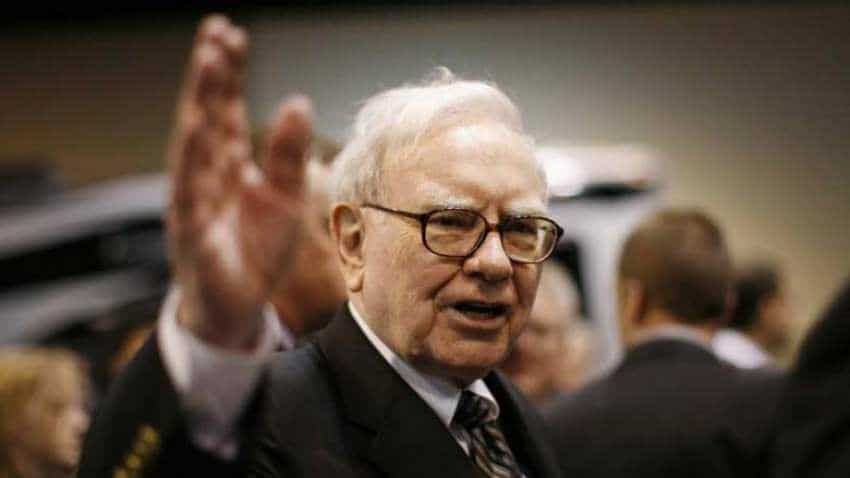 Surely holding the tag of equity king comes with immense focus, patience and looking at a long-term picture. Photo: Reuters
Updated: Wed, Mar 20, 2019
07:31 pm
Mumbai, ZeeBiz WebDesk
Warren Buffett who is also called as 'Oracle of Omaha' has surely stayed faithful and unshaken towards his investments, even when investors lost their faith. It would not be wrong to say that Buffett in past has worked against the forces of stock markets' nature. But, surely holding the tag of equity king comes with immense focus, patience and looking at a long-term picture. In one of his famous quotes, Buffett said, "The stock market is a device for transferring money from the impatient to the patient." This quote is definitely true when it comes to the big bull's three stocks namely Well Fargo, Bank of America and Coca Cola.  The real charm of these three stocks are that, they are dividend yielding and are best performers even compared to S&P 500.
 MorningStar in its research note titled "Our Ultimate Stock-Picker's Top 10 Dividend-Yielding Stocks", revealed that Buffett at Berkshire Hathaway has spoken highly of companies that return capital to shareholders and is not against investing in and holding higher-yielding names.
Thereby, the note highlighted that, three of Berkshire's top five holdings--wide-moat  Wells Fargo (WFC),  Bank of America (BA), and  Coca-Cola (KO)--yield more than the S&P 500, and they account for about one third of the insurer's equity portfolio. 
Here's how these three companies are set to make Buffett further rich! 
Well Fargo! 
So far in 2019, the Well Fargo stock has surged by nearly 12%. It was trading near $46-level in the beginning of January 2019 month, and on Tuesday, it touched $52.39-level as well. 

(Image source: Reuters)
Buffett's relation with Well Fargo has been a bittersweet symphony since past two years. In late 2016, a scandal brokedown many investors faith in Well Fargo, when it was known that that millions of fraudulent savings and checking accounts were created on behalf of the company's client. The investigation is ongoing. However, despite the scandal and ongoing controversies around Well Fargo, Buffett stood still by this California-based bank. Currently, he holds 9% stake with somewhat 442 million shares which are valuing up to $23.2 billion. 
Also, Well Fargo is among MorningStar's best dividend-yielding stock list. Morningstar analyst Eric Compton thinks that the market has been overly pessimistic about Wells Fargo. Compton's fair value estimate of $65 represents 13.5 times his 2019 earnings per share estimate and 2 times reported tangible book value per share as of December 2018.
Compton forecasts that the bank has the most room for operating income growth independent of revenue growth simply due to retreating legal and other accruals. To Compton, Wells is not a revenue growth story but instead a story of declining expenses and improving sentiment. 
According to Reuters analysts poll - 8 have given a buy rating, while 8 with 'Outperform' outlook. Meanwhile 2 each for underperform and sell ratings. 
Bank of America! 
In 2018, the billionaire showed strengthened his faith in Bank of America, by buying more $13 billion worth shares during third quarter of 2018. Returns of this bank in 2019, has been quite commendable and one can only imagine how richer Buffett would have been. 
From January 02 where it stood near $24.96-level, the bank surged to over $30-level on Tuesday. This results in overall gains of nearly 21% in just within 3 months time already.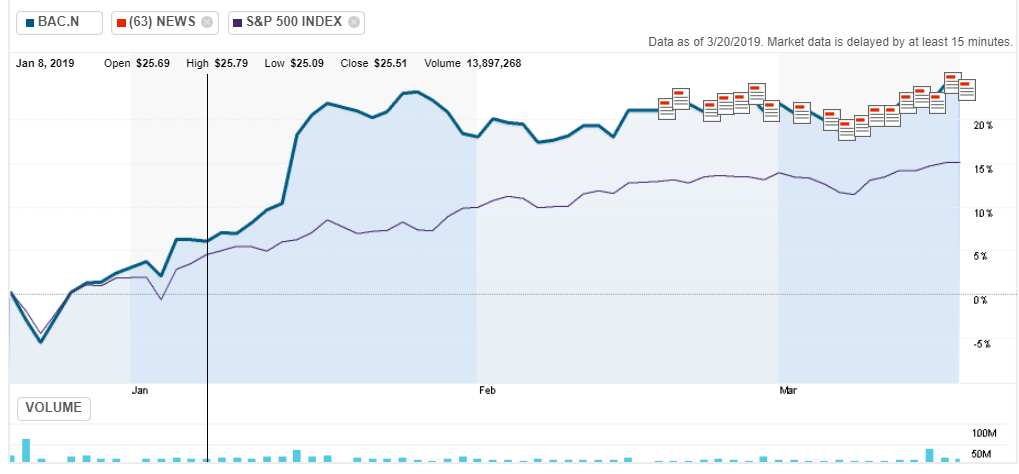 (Image Source: Reuters)
Analysts at Reuters are also very optimistic in Bank of America, as there are no sell or underperform calls but instead more of buying. Analysts sensus here shows that, 11 recommend buy rating, while 11 recommending outperform outlook and 9 advising to hold the stock. 
Buffett has about 877 million shares in Bank of America which are worth $25.8 billion.
Coca Cola! 
This one is a very special stock for Buffett. The company first stole Buffett's attention way back in 1988, when he made a surprising move by buying more than $1 billion of Coca Cola shares. This was equivalent to 6.2% of Coca Cola, and since then has now become his largest holding. In fact, Coca Cola was that company for Buffett, which influenced his quote to rather invest in great company at fair price, than buying a fair company at great price. 
Over the period of 31 years, Buffett's investment in Coca Cola surged by nearly 16 times, when accounting for dividends. Now, Buffett owns majority of Coca Cola with 442 million shares aggregating to 9% stake worth $23.2 billion. 
Interestingly, the start of 2019, has not been fruitful for Buffett when it comes to Coca Cola. The company which traded near $46.93-mark on January 02, has now corrected and is hovering between $44 to $45-levels.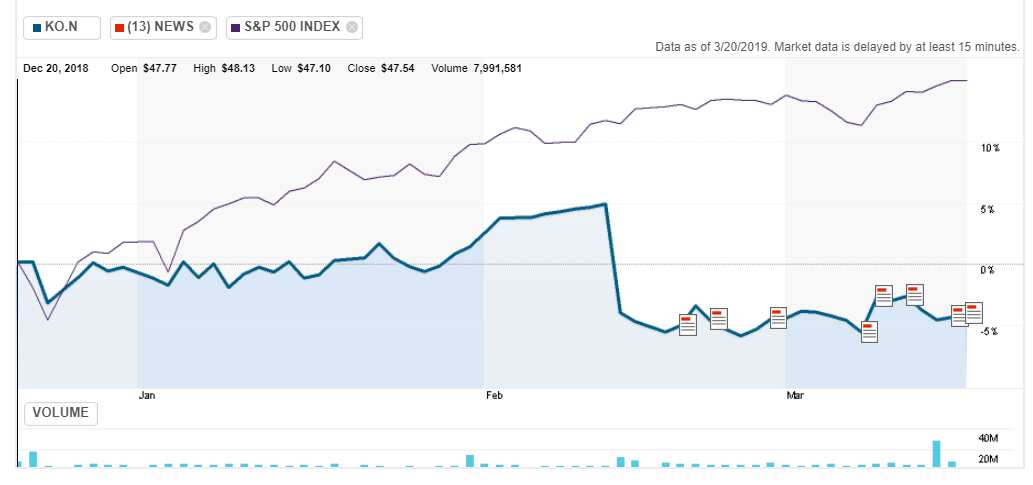 (Image source: Reuters)
But, there is no doubt that Coca Cola is an appealing stock to hold. Among analysts at Reuters poll - 5 have suggest a Buy rating, 6 with Outperform outlook  and 14 recommended to hold the stock. While there were no sell and underperform outlook on this stock. 
Other two top holdings of Buffett are Apple and Kraft Heinz. Buffett in Apple holds 250 million shares which are 5% of the company's stake worth $57 billion. Meanwhile, in Kraft Heinz, the equity king has about 35 millio shares.
According to Bloomberg Billionaire Index, Buffett's holdings have added $615 million so far in 2019. His wealth now stands at $84.4 billion as on March 20, 2019, holding fourth rank in the index.
Thereby, from the above as an investor one can definitely learn, wise investment options and seek great companies at fair price. The key to become rich here is search stocks which will help you earn more. 
Get Latest Business News, Stock Market Updates and Videos; Check your tax outgo through Income Tax Calculator and save money through our Personal Finance coverage. Check Business Breaking News Live on Zee Business Twitter and Facebook. Subscribe on YouTube.