US economy slowed less than expected in Q1; outlook cloudier
The US economy has slowed less than expected in the first quarter (Q1) and the softening business investment and moderate consumer spending are clouding expectations of a sharp acceleration in the second quarter (Q2).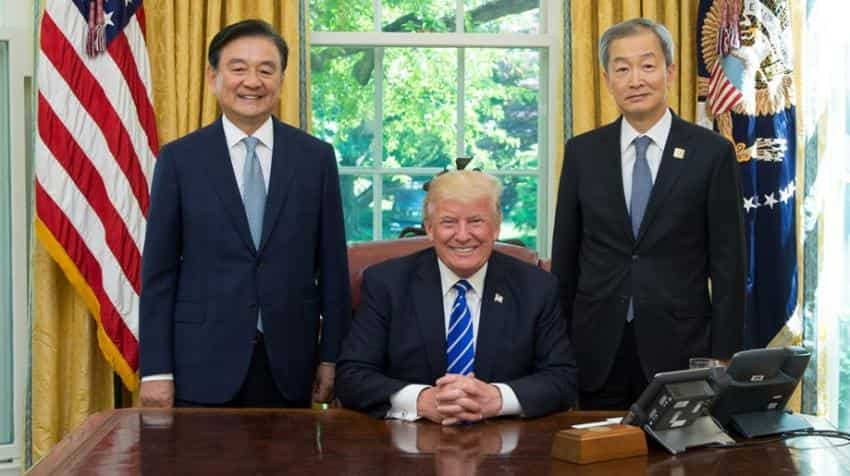 Hong Seok-hyun (L), a special envoy of South Korean President Moon Jae-in, poses for a photo with US President Donald Trump (C) during their meeting in the Oval Office at the White House in Washington on May 17, 2017. Image Source: IANS/Yonhap
Updated: Sat, May 27, 2017
02:08 pm
Washington, Reuters
The US economy slowed less than initially thought in the first quarter (Q1), but softening business investment and moderate consumer spending are clouding expectations of a sharp acceleration in the second quarter (Q2).
Gross domestic product (GDP) increased at a 1.2% annual rate instead of the 0.7% pace reported last month, the Commerce Department said on Friday in its second GDP estimate for the first three months of the year. 
That was the worst performance in a year and followed a 2.1% growth rate in the fourth quarter (Q4). 
"Economic indicators so far aren`t entirely convincing on a second-quarter (Q2) bounce in activity and show a US economy struggling to surprise on the upside," said Scott Anderson, chief economist at Bank of the West in San Francisco.
The first-quarter weakness is a blow to President Donald Trump`s ambitious goal to sharply boost economic growth. 
During the 2016 presidential campaign Trump had vowed to lift annual GDP growth to 4%, though administration officials now see 3% as more realistic.
ALSO READ: Consumers, exports give US economy muscle in the third-quarter 
Trump has proposed a range of measures to spur faster growth, including corporate and individual tax cuts. But analysts are skeptical that fiscal stimulus, if it materialises, will fire up the economy given weak productivity and labor shortages in some areas.
"If the economy is going to grow at 3% for as long as the eye can see, businesses better spend lots of money on capital goods. That is not happening," said Joel Naroff, chief economist at Naroff Economic Advisors in Holland, Pennsylvania. 
The economy`s sluggishness, however, is probably not a true reflection of its health, as first-quarter GDP tends to underperform because of difficulties with the calculation of data that the government is working to resolve.
The government raised its initial estimate of consumer spending growth for the first quarter (Q1), but said inventory investment was far smaller than previously reported. The trade deficit also was a bit smaller than estimated last month.
Economists had expected that GDP growth would be revised up to a 0.9% rate. Despite the tepid growth, the US Federal Reserve is expected to raise interest rates next month. 
The dollar was trading slightly higher against a basket of currencies on Friday, while US stocks were flat after six straight days of gains. Prices for longer-dated US government bonds rose.
ALSO READ: Federal Reserve Chair Janet Yellen: US economy faces 'considerable uncertainty'
April Data Disappointing
Though the economy appears to have regained some speed early in the second quarter (Q2), hopes of a sharp rebound have been tempered by weak business spending, a modest increase in retail sales last month, a widening of the goods trade deficit and decreases in inventory investment.
In a second report on Friday, the Commerce Department said non-defense capital goods orders excluding aircraft, a closely watched proxy for business spending plans, were unchanged in April for a second straight month. 
Shipments of these so-called core capital goods dipped 0.1% after rising 0.2% in March. Core capital goods shipments are used to calculate equipment spending in the government`s gross domestic product measurement.
Second-quarter GDP growth estimates range between a rate of 2.0% and 3.7% rate. 
"It looks instead that many companies may be delaying their equipment purchases for now to see if they get a better tax deal later on down the road," said Chris Rupkey, chief economist at MUFG Union Bank in New York. 
The GDP report also showed an acceleration in business spending equipment was not as fast as previously estimated. Spending on equipment rose at a 7.2% rate in the first quarter (Q1) rather than the 9.1% reported last month.
Growth in consumer spending, which accounts for more than two-thirds of US economic activity, rose at a 0.6% rate instead of the previously reported 0.3% pace. That was still the slowest pace since the fourth quarter (Q4) of 2009 and followed the fourth quarter`s robust 3.5% growth rate.
With consumer sentiment hovering at lofty levels, consumer spending could pick up. But there are worries that surging household debt could cut into spending as monthly repayments squeeze paychecks.
Businesses accumulated inventories at a rate of $4.3 billion in the last quarter, rather than the $10.3 billion reported last month. Inventory investment increased at a $49.6 billion rate in the October-December period.
Inventories subtracted 1.07 percentage point from GDP growth instead of the previously estimated 0.93 percentage point.
The government also reported that corporate profits after tax with inventory valuation and capital consumption adjustments fell at an annual rate of 2.5% in the first quarter (Q1), hurt by legal settlements, after rising at a 2.3% pace in the previous three months.
Penalties imposed by the government on the US subsidiaries of Credit Suisse and Deutsche Bank related to the sale of mortgage-backed securities reduced financial corporate profits by $5.6 billion in the first quarter (Q1). 
In addition, a fine levied on the US subsidiary of Volkswagen related to violations of US environmental regulations cut $4.3 billion from non-financial corporate profits. 
ALSO READ: Federal Reserve expected to hike interest rates for second time in three months as US economy flexes muscle
Get Latest Business News, Stock Market Updates and Videos; Check your tax outgo through Income Tax Calculator and save money through our Personal Finance coverage. Check Business Breaking News Live on Zee Business Twitter and Facebook. Subscribe on YouTube.