US-China trade war to hurt global growth, says EIU
According to the Economist Intelligence Unit (EIU) report, while global trade will be overshadowed by the ongoing dispute between China and the US,  appetite  for new free-trade deals will continue in the rest of the world including those involving India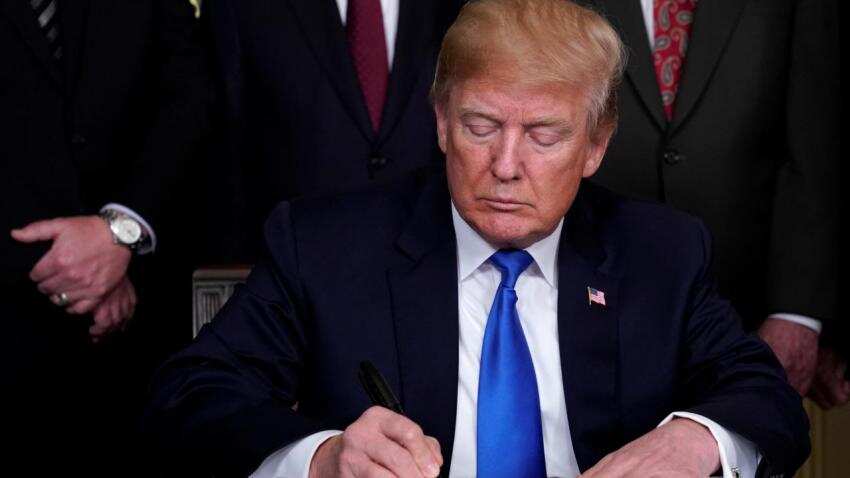 As per the World Trade Organisation (WTO), the global trade growth recorded in 2017 stood at 4.7 per cent and is estimated at about 4.4 per cent for 2018. Image source: Reuters
A high-octane trade dispute between the world's two largest economies -- China and the US -- will harm global trade this year as it would give rise to protectionism, an EIU report says. According to the Economist Intelligence Unit (EIU) report, while global trade will be overshadowed by the ongoing dispute between China and the US, appetite for new free-trade deals will continue in the rest of the world including those involving India. "Our assumption that protectionism will rise, but that a trade war will be averted, means that global trade growth will continue to slow in 2019-22, to an average of 3.5 per cent a year," the EIU report said. As per the World Trade Organisation (WTO), the global trade growth recorded in 2017 stood at 4.7 per cent and is estimated at about 4.4 per cent for 2018.
The report, however, noted that a "full-blown trade war" ? where there is an exchange of tariff or non-tariff barriers that causes significant economic pain to both sides ? will be averted, for "both economic as well as political reasons". With the US turning away from multilateral trade liberalisation, after Donald Trump pulled the country out of the 12-member Trans Pacific Partnership (TPP), China now has the opportunity to help to set the rules of engagement, it said. The EIU, however, noted that China does not have "the willingness or the capability to take on the free-trade mantle for now".
Meanwhile, negotiations on the Regional Comprehensive Economic Partnership (RCEP), a China-focused trade agreement, will continue, but we do not expect these talks to be concluded in the next five years. The proposed agreement includes the ten-member states of the Association of South-East Asian Nations (ASEAN) and six partner countries (Australia, China, India, Japan, New Zealand and South Korea). Instead, its Belt and Road Initiative, a major long-term programme, will encourage trade and investment flows with recipient countries in the short and medium term.
The report further noted that global trade growth will continue to slow in 2019-22. 
According to EIU, a mild recession in the US in 2020 is likely, which will subdue economic activity and thereby pull down the rate of global trade growth in that year and elevate it slightly in 2021-22 owing to the release of pent-up demand. On March 8, the US administration led by Donald Trump imposed broad tariffs on imports of steel and aluminium; while a number of countries were temporarily exempted from these tariffs, China and Japan were not. The Trump administration's proposal would see tariffs of an additional 25 per cent on USD 50 billion of imports from China, covering goods that are related to the Made in China 2025 initiative such as machinery and electrical equipment.
China responded "quickly but proportionately" the report said with a list of tariffs of equivalent value on imports from the US including soybeans, vehicles and aircraft.
Updated: Sun, Apr 22, 2018
06:15 pm
PTI