Starbucks' departing chairman backs China prospects, hints at Jack Ma tie-up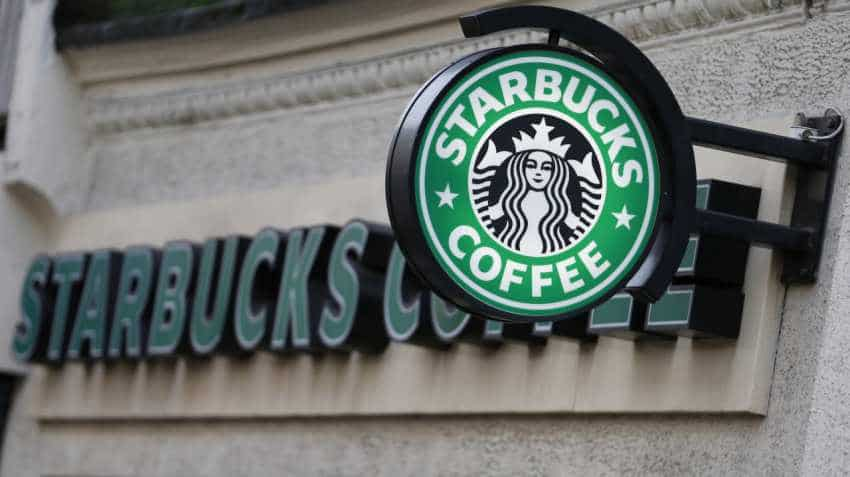 Starbucks said last month China same-store sales would be flat to slightly negative in its second-biggest market in April-June. Image source: Reuters
Starbucks Corp`s outgoing Executive Chairman Howard Schultz said on Monday that a recent slowdown in China would be short-lived, seeking to salve investor concerns that the U.S. coffee chain is under pressure in the fast-growing market. Schultz also hinted at a potential tie-up with e-commerce giant Alibaba Group Holding Ltd`s billionaire founder Jack Ma, that could help rev up online coffee sales for the chain in China.
Starbucks said last month China same-store sales would be flat to slightly negative in its second-biggest market in April-June, versus 7 percent growth a year earlier, triggering a sharp drop in the chain`s share price.
Schultz, ostensibly on a farewell tour after he stepped down in June, said fears of a slowdown in the market were a "false narrative", and that over time the closely watched metric would regain its momentum.
"It`s a very short-term number that Wall Street uses, it`s not a number we`re concerned about," he said at a roundtable at the firm`s flagship Roastery store in Shanghai.
"I will say, unequivocally, that anyone who is betting against Starbucks in China is dead wrong."
China has been a sweet spot for Starbucks for the past few years, with a burgeoning cafe culture driving rapid growth even as the market saturated back home. 
Schultz, who owned about 3 percent of Starbucks stock as of Dec. 18, sees China as overtaking the United States as Starbucks` top market, with the firm aiming to double cafe numbers there to 6,000 by 2022.
ALIBABA TIE-UP?
Starbucks has no formal online delivery in China, where Alibaba-backed Ele.me competes with Tencent Holdings Ltd-backed Meituan-Dianping as the country`s two biggest food delivery platforms.
Schultz, however, said he was close with Alibaba`s Ma and suggested the two could work together to boost Starbucks` online distribution in China.
"There`s no doubt that no brick-and-mortar retailer anywhere in the world, let alone China, can exist as a stand-alone business without having a significant, integrated e-commerce mobile application," he said. 
"I have been very dear and close friends with Jack Ma for many, many years... and suffice to say there will be news coming that will relate to our plans for accelerating and integrating mobile commerce at a higher level into our core business."
Current trade tensions between the United States and China were creating a negative atmosphere between the two countries, he added, though he downplayed the impact on the chain.
"I think we will be able to navigate through this fairly well. Having said that I don`t think it`s a healthy atmosphere between the two countries and I hope it`s short-lived."
The long-time Starbucks executive said his next move was not yet clear, though he did not rule out a shift into politics.
"I want to do something that provides some level of public service, but I don`t know what that will mean ... I would say I am taking the summer off and we`ll see what happens," he said.
Updated: Mon, Jul 09, 2018
06:49 pm
Reuters