Star Wars: The Last Jedi tops $1 billion worldwide at Box Office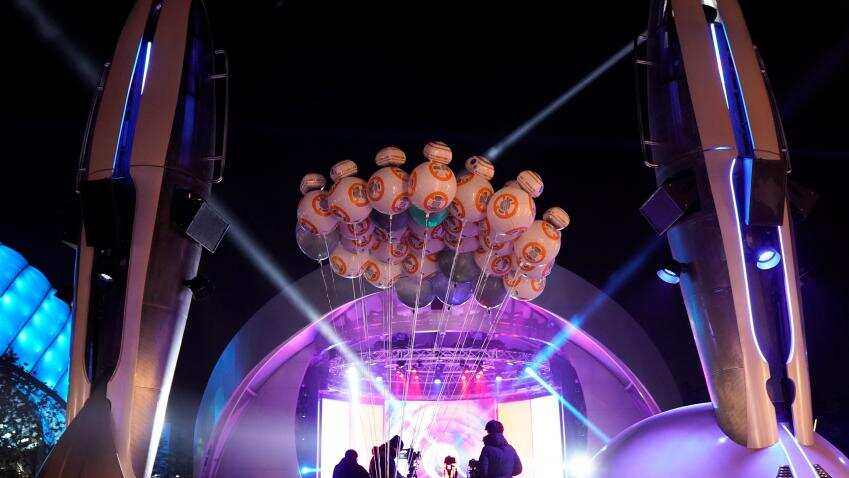 Star Wars robot BB8 shaped balloons are seen at the China premiere of ''Star Wars: The Last Jedi'' at the Shanghai Disney Resort in Shanghai. Image Source: Reuters
Disney-Lucasfilm`s "Star Wars: The Last Jedi" has cleared the $1 billion milestone in worldwide grosses in less than three weeks.
"Star Wars: The Last Jedi" pulled in $120.4 million globally on the New Year`s Eve weekend with $52.4 million at 4,232 domestic venues and $68 million internationally during the Friday-Sunday period.
"The Last Jedi" is now the eighth highest-grossing domestic movie of all time with $517.1 million -- only $15 million behind last year`s "Rogue One: A Star Wars Story" in the seventh spot. On the worldwide chart, it`s now 24th with $1.04 billion, edging Universal-Illumination`s "Despicable Me 3." The tentpole`s international total, currently at $523.2 million, will see a significant jolt when it opens on Jan. 5 in China, its final market.
"Star Wars: The Last Jedi" has also topped Disney`s "Beauty and the Beast," which grossed $504 million in North America, for the top spot among 2017 releases domestically. It`s the fourth 2017 title to go past $1 billion worldwide, along with "Beauty and the Beast" at $1.26 billion, "The Fate of the Furious" at $1.24 billion and "Despicable Me 3" at $1.03 billion.
"The Last Jedi" is also winning the domestic weekend box office crown for the third time with $52.4 million, edging Sony`s "Jumanji: Welcome to the Jungle," which took in $50.6 million at 3,765 locations for the Friday-Sunday. However, Sony`s projection showed the "Jumanji" sequel grossing $16.5 million on New Year`s Day on Monday -- well above Disney`s forecast of $13.2 million for "The Last Jedi." Should those numbers hold, "Jumanji" would edge "Jedi" over the four-day period with $67 million, winning by $1.4 million.
"Jumanji" has been "The Last Jedi`s" biggest competitor by far since it opened on Dec. 20. The action-comedy should wind up with an 11-day domestic total of $186.3 million by the end of Monday. The action-comedy, starring Dwayne Johnson and Kevin Hart, has a $90 million budget. It`s also performed impressively in international markets with $107 million thr0ugh Dec. 28.
"Jedi" and "Jumanji" helped lift the entire domestic box office for 2017 to $11.12 billion, down 2.3% from last year`s $11.38 billion and off slightly from 2015`s $11.14 billion, according to comScore. The gap for 2017 had been more than 6% at the end of the worst summer in a decade but performances by "It," "Thor: Ragnarok," "Justice League," "Jedi" and "Jumanji" closed most of that margin.
"With another $11 billion plus year on the books, the industry looks ahead to awards season and a 2018 packed with blockbuster titles and a hope for a year slightly less volatile than 2017," said Paul Dergarabedian, senior media analyst with comScore. Universal`s "Pitch Perfect 3" led the rest of weekend`s domestic pack with a projected $22.7 million at 3,468 locations for Friday-Monday, lifting its 11-day total to $69.2 million. The comedy threequel, starring Anna Kendrick and Rebel Wilson, took in $13.1 million this weekend from 34 international markets for a foreign total of $28.6 million.
Hugh Jackman`s musical drama "The Greatest Showman" is finishing a close fourth with $20.3 million at 3,316 theaters forecasted for the four days. The Fox-Chernin Entertainment title showed the biggest gain in the top 10 movies from the Christmas Eve weekend with an impressive 73% surge. The domestic total should hit $53.8 million through Monday.
Fox`s second weekend of "Ferdinand" -- the only film to open on the same weekend as "The Last Jedi" -- followed in fifth with $15.1 million at 3,337 North American venues, giving the animated comedy $57.3 million in 18 days. Disney-Pixar`s seventh weekend of "Coco" finished sixth with a projected $8.8 million at 2,845 sites for a domestic total of $181.1 million and $539 million worldwide.
Sony`s "All the Money in the World" and Focus Features` "The Darkest Hour" were in a battle for seventh place at about $7.2 million for the four days. "All the Money" opened on Christmas Day as the final wide release of the year at 2,074 locations after director Ridley Scott excised Kevin Spacey`s scenes and reshot them with Christopher Plummer as J. Paul Getty, following the early November sexual abuse allegations against Spacey. Its eight-day total will be around $14.4 million.
Awards contender "Darkest Hour," starring Gary Oldman as the 1940 version of Winston Churchill, expanded to 943 venues in its sixth weekend and will have taken in $19.8 million by the end of the weekend. Focus reported strong performance in Washington, D.C./Maryland, Phoenix, Boston, Salt Lake City, and Florida markets.
"`Darkest Hour` is taking America by storm," said distribution chief Lisa Bunnell. "We`re seeing audiences coming out in big numbers. It`s a movie they found inspiring over the holiday break and the word of mouth gives us a strong outlook for the upcoming weeks."
Matt Damon`s comedy-drama "Downsizing" finished ninth with a projected $6 million at 2,664 sites for the four days for Paramount. The 11-day total for "Downsizing," which carries a $65 million budget and was directed by Alexander Payne, should come in around $18.5 million.
Warner Bros.-Alcon Entertainment`s second weekend of R-rated comedy "Father Figures" rounded out the top 10 with a projected $5.5 million at 2,902 locations. The 11-day total for the Owen Wilson-Ed Helms vehicle, which has a $25 million price tag, should hit about $14 million.
 
Updated: Mon, Jan 01, 2018
08:53 am
Reuters