Rough times for Saudi retail as govt cuts bite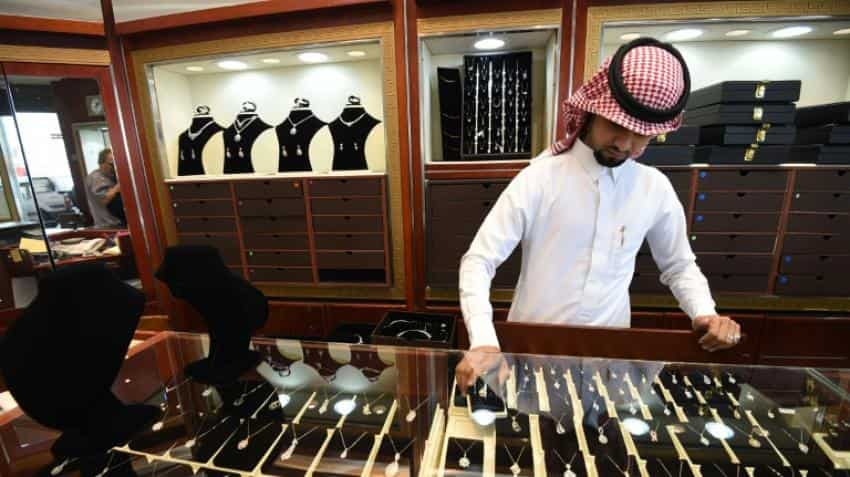 "In comparison to last year, this period is very weak," says Saddam al-Yafae, a salesman at Al-Abdoul Wahab for Jewellery in central Riyadh. Image Source: AFP
Diamonds glitter in the display cases of Saddam al-Yafae's shop, but the business has lost its sparkle.
He and other retailers in Saudi Arabia say sales were already down -- along with the kingdom's oil revenues -- and cuts to civil service benefits announced last week only add to their gloom.
"In comparison to last year, this period is very weak," says Yafae, a salesman at Al-Abdoul Wahab for Jewellery in central Riyadh.
Sales used to come easily, he says, an array of silver and diamond creations behind him. 
But this morning there are no customers, and Yafae has time to chat.
"There's a lot less work, especially with these decisions," he says, referring to the government spending cuts.
"It's getting worse and worse."
On September 26, the cabinet imposed a wage freeze on the civil service, which makes up the bulk of the kingdom's workforce.
It eliminated their annual pay hike of 3 to 5% and capped overtime pay.
Other allowances including for hazardous work will be cancelled, amended or suspended.
The highest ranks of government were not spared either as King Salman chopped the salaries of ministers by 20%, which the Saudi Gazette said amounts to 10,350 riyals ($2,760) each per month.
Top officials will no longer be given cars, and telephone expenditures will be curbed.
A lot of pain
The 150 members of the Shura Council, appointed to advise the cabinet, will see a 15% drop in their allowances for housing, furniture and vehicles. That amounts to almost 4,000 riyals monthly per member, Saudi Gazette said.
Since 2014 global oil prices have collapsed by more than half, leaving Saudi Arabia with a record deficit last year.
The shortfall in the kingdom's main revenue source had already led to unprecedented subsidy cuts and a slowdown in government projects as the administration tries to diversify the economy.
Even before the cuts to civil service bonuses, economists had noted a slowdown in consumer spending and economic growth.
"Fiscal austerity has inflicted a lot of pain on the economy," London-based analysts Capital Economics said in early September.
"We are over-stocked because sales are down," says an expatriate rug seller, whose offerings hang from ceiling to floor with price tags of several hundred riyals.
Outside, a customer haggles over a small floor mat. He ends up paying 50 riyals.
Next door, a South Asian rug dealer says business was much better three or four years ago.
Further down Olaya Street a merchant selling phone cards, batteries, stereo speakers and cables said "the situation (is) very bad".
He did not want to be named out of concern he could be forced from the country for speaking critically.
Business is down almost 25% over the past two years, he said, partly blaming the underground Metro transit line being built outside.
No money
Cuts to government bonuses are adding to the woes, as customers cite the latest austerity for their reluctance to buy.
"No money, my friend," he said they have told him.
Some government workers contacted by AFP declined to talk about the reduction in bonuses. Those who did said they accepted the cuts and would adapt.
"I will redo the family budget," said Musa Mohammed, 41.
Khalid al-Bishi, 35, another civil servant, said it's time to "stand with our country" and reduce spending at home. "We will make do with the basics," he said.
Others see a lot of room for adjustment.
"Saudi families weren't saving and leaned towards luxuries," Majdi Damanhori, 45, who works for a private company, said adding that the government has taken a "bold decision".
Hadi al-Osaimi,39, a teacher, said Saudis should stop splurging on things like parties for weddings and newborn babies.
"Let's not forget the extravagance of travelling overseas, and shopping at high-end outlets," he said.
In a report on Monday, the Saudi firm Jadwa Investment said ATM cash withdrawals and point-of-sale transactions "have shown signs of weakness in 2016, and public sector workers' allowance reductions will likely push down consumption patterns in coming months."
In July, food prices fell for the first time in six years and they are expected to continue downward, Jadwa said.
Abdullah al-Sadoun, a Shura Council member, said he and his fellow members are glad to be targeted by the cuts in a step to reforming the economy.
"We've been addicted to oil for the last 50 years," he told AFP. "To spend it the way we've been doing is very bad."
Get Latest Business News, Stock Market Updates and Videos; Check your tax outgo through Income Tax Calculator and save money through our Personal Finance coverage. Check Business Breaking News Live on Zee Business Twitter and Facebook. Subscribe on YouTube.
Updated: Wed, Oct 05, 2016
12:34 pm
Riyadh , AFP