Number of UK workers edges down again, but pay growth picks up pace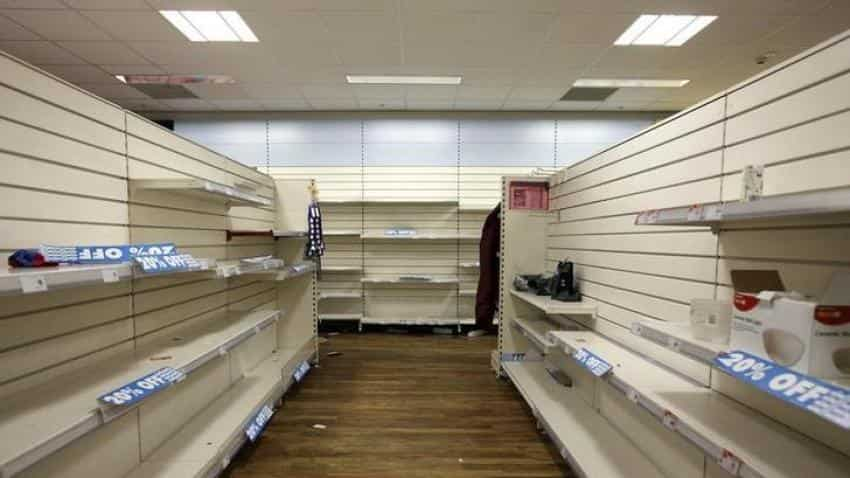 Empty shelves at the hardware section at Woolworths. Image Source: Reuters
Updated: Wed, Jan 18, 2017
03:34 pm
London, Reuters
The number of people in work in Britain fell for a second time in a row in the three months to November, official data showed on Wednesday, a latest suggestion that the Brexit vote may be making employers nervous about hiring.
Reflecting the largely resilient picture in Britain`s labour market since the shock decision to leave the European Union (EU) last year, the unemployment rate held at an 11-year low of 4.8%, in line with the median forecast in a Reuters poll of economists.
The employment rate held at all-time record high of 74.5% and wage growth picked up pace. 
But the number of people in work slipped by 9,000 to just over 31.8 million, the Office for National Statistics (ONS) said.
It was the second report in a row to show a decline in the number of people in work, the first back-to-back falls since the middle of 2015.
The unemployment rate is widely expected to rise this year as companies hold off from hiring as they wait for more clarity on the country`s future ties to the EU.
ALSO READ: Britain will leave European Union's single market, PM Theresa May says 
The Bank of England (BoE) said in November it expected the jobless rate to stand at 5.4% by the end of this year although last week one of its policymakers, Michael Saunders, said recent signs of resilience in the economy meant the increase in joblessness in 2017 could be slower than the BoE`s projections.
The ONS said the number of unemployment benefit claimants unexpectedly fell by 10,100 in December after rising by 1,300 in November.
Economists taking part in the Reuters poll had expected the number of benefit claimants to rise by 5,000 last month.
The ONS also said the number of vacancies in the three-month period to the end of December slipped to 748,000, the lowest number since the three months to July of last year.
Despite the signs of some nervousness amongst employers about the Brexit outlook, growth in wages picked up, possibly reflecting shortages of skilled workers reported in several sectors.
The ONS said workers` total earnings in the September-November period rose by an annual 2.8%, the fastest pace since September 2015.
Economists taking part in the Reuters poll had expected wage growth of 2.6%.
Excluding bonuses, earnings rose by 2.7% year-on-year, the strongest increase since August 2015 and ahead of expectations for a 2.6% rise. 
However wages are not expected to keep pace with inflation in 2017, calling into question whether consumers will be able to continue driving Britain`s economy with their spending.
Inflation rose to 1.6% in December, its highest level since mid-2014, and many economists expect it will climb sharply towards 3% during this year, reflecting the fall in the value of the pound since the Brexit vote.  
ALSO READ: Britain presses for 'unique' deal with EU after Brexit