Gold holds losses on firm dollar after positive US data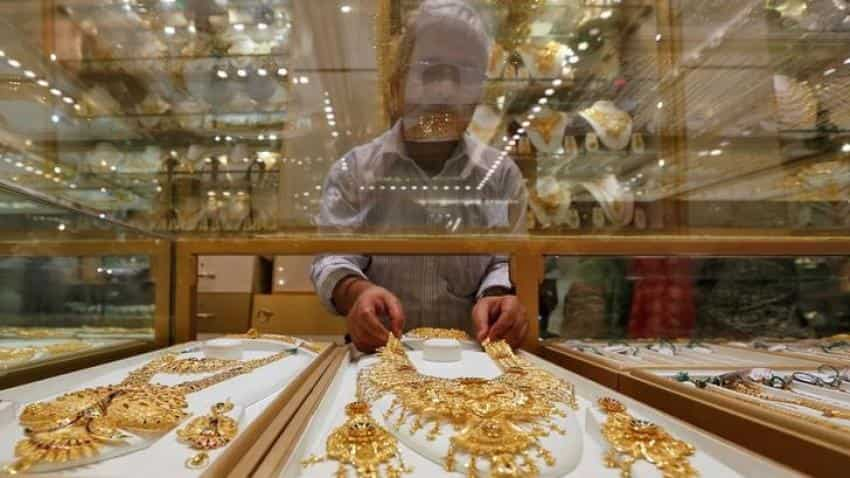 A salesman arranges a gold necklace in a display case inside a jewellery showroom on the occasion of Akshaya Tritiya in Kolkata, India. Image Source: Reuters
Gold held on to losses early on Tuesday, after falling slightly in the previous session, on a firmer dollar after an upbeat US economic data.
Fundamentals
* Spot gold edged down nearly 0.1% to $1,310.35 an ounce by 0048 GMT. The bullion fell 0.3% to a near two-week low of $1,309.07 on Monday.
* US gold futures were nearly flat at $1,313.10 an ounce.
* US factories ramped up activity in September, shaking off a one-month contraction in a sign America was resisting the downward pull of the sluggish global economy.
* Positive data usually puts pressure on gold prices, because investors raise bets on a US interest rate hike that would increase the opportunity cost of holding non-yielding bullion.
* However, the US Federal Reserve would probably not be able to cut interest rates as aggressively as the last time around if it were faced with a US recession in the next few years, New York Fed President William Dudley said on Monday.
* The Bank of Japan (BoJ) would deepen negative interest rates to thwart any sharp spikes in the yen, which the central bank sees as an obstacle to stoking inflation and economic growth, sources familiar with its thinking say.
* Japanese companies' long-term inflation expectations weakened in September, a Bank of Japan (BoJ) survey showed, highlighting the difficult and drawn-out task the central bank faces in trying to conquer the country's deflationary mindset. 
* Charging banks even more to park their money with the European Central Bank (ECB) could backfire if the damage to the banking sector outweighs the benefit for borrowers, ECB Executive Board member Yves Mersch said on Monday.
* The US dollar rose against the yen early on Tuesday after receiving a boost from upbeat US economic data.
* The dollar added to overnight gains and was up 0.3% at 101.925 yen, a 13-day high. The dollar index nudged up over 0.1% to 95.816.
* Goldcorp Inc said on Monday it was temporarily shutting down its Peñasquito gold mine in Mexico as it was unable to safely continue operations due to a week-long blockade by a trucking contractor, sending its shares down nearly 5%.
* India's gold imports fell for a ninth straight month in September as weak retail demand and higher discounts prompted banks and refineries to cut overseas purchases of the bullion, provisional data from consultancy GFMS showed on Monday.
Updated: Tue, Oct 04, 2016
08:36 am
Reuters