Gold holds gains as dollar slips ahead of Fed meeting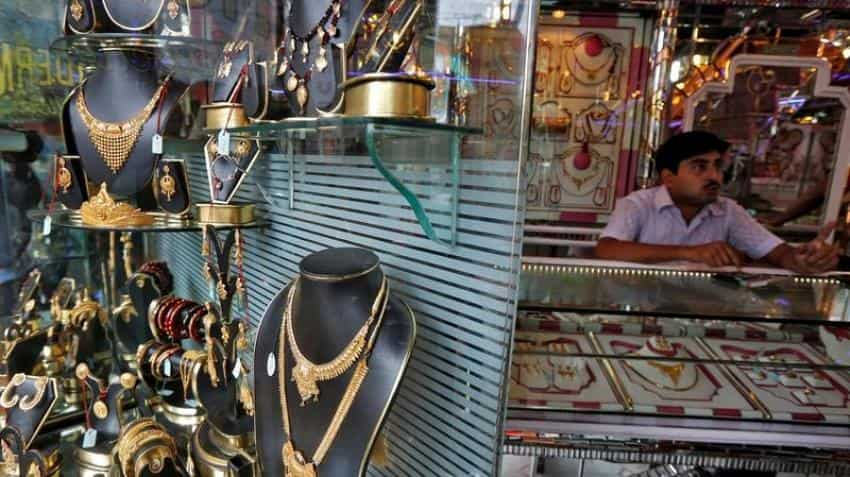 Gold jewellery is on display as a salesman waits for customers inside a jewellery showroom on the occasion of Akshaya Tritiya in Kolkata. Image Source: Reuters
Updated: Tue, Dec 13, 2016
09:37 am
Reuters
Gold held gains on Tuesday after inching up in the previous session, with U.S. Treasury yields coming off their highs and the U.S. dollar falling ahead of the start of a two-day Federal Reserve meeting.
FUNDAMENTALS
* Spot gold was up 0.2 percent at $1,164.21 an ounce at 0032 GMT, after climbing 0.4 percent on Monday.
* U.S. gold futures were firm at $1,166.40.
* The dollar eased against the yen on Tuesday, coming off a 10-month high, as a surge in Treasury yields was tempered for the time being. The U.S currency was also capped by the prevailing wait-and-see mood ahead of the Fed meet. [USD/]
* The U.S. central bank is widely expected to hike interest rates for the first time in 2016 at its meeting that begins on Tuesday.
* A wild ride for bond markets since the U.S. election has re-ignited concern about a liquidity crunch in parts of the exchange-traded funds market, home to a small but fast-growing slice of global assets.
* Republican lawmakers and the Fed may be ready to strike a compromise deal on legislation that would give Congress greater scrutiny over the central bank, now that there is no longer the threat of a presidential veto, but it would likely stop short of dictating rules on setting interest rates.
* The Bank of Japan is likely to give a more upbeat view of the economy at next week`s rate review, sources say, as a pick-up in emerging Asian demand and positive signs in private consumption improve prospects for a solid, export-driven recovery.
* Axis Bank Ltd , India`s top importer of gold, has suspended the bank accounts of some bullion dealers and jewellers after two of its executives at a branch were arrested over alleged money laundering.
* SPDR Gold Trust , the world`s largest gold-backed exchange-traded fund, said its holdings fell 0.14 percent to 856.26 tonnes on Monday from Friday. [GOL/ETF]
* For the top stories on metals and other news, click [TOP/MTL] or [GOL]
DATA AHEAD (GMT)
0200 China Industrial output Nov 
0200 China Retail sales Nov 
0200 China Urban investment Nov 
0700 Germany Wholesale price index Nov 
0930 Britain Consumer prices Nov 
1000 Germany ZEW economic sentiment Dec 
1000 Euro zone Employment Q3 
1100 U.S. NFIB business optimism Nov 
1330 U.S. Import prices Nov 
1330 U.S. Export prices Nov 
Federal Reserve starts two-day policy meeting 
(Reporting by Nallur Sethuraman in Bengaluru; Editing by Joseph Radford)