Cryptocurrency dilemma: Bitcoin loses flavour, but still won't die, here's why
Bitcoin rebounded after taking a tumble on Tuesday, and was trading at $6,870.94 up by 1.20%. The market cap of Bitcoin stood at $117.28 billion for now.   
Representational Image: Photo: Reuters
We have been talking about Bitcoin losing its golden touch since start of 2018, and going by its recent performance, this coin may soon turn into a bubble. If we look closely at Bitcoin's performance, it has already entered in the bubble territory, and today the coin has hit 2018 low after a cryptocurrency exchange was hacked over the weekend, triggering a steep fall in cryptocurrencies amid renewed concerns about security at virtual currency exchanges. But as they say, there is more to the situation than meets the eye. So, while we were busy writing obituaries for Bitcoin, a new trend has emerged and this one shows there is still much life left in this coin after all. Yes you may see Bitcoin plunging again, but you might not see its ultimate end soon. 
On the Luxembourg-based Bitstamp, Bitcoin was last trading at $6825.36, down nearly 1%. With this prices slipped below Bitcoin's 2018-low of $6,874 hit on February 5. 
Bitcoin prices had fallen over 6% on Monday, following a sharp dip of 10.8% on Friday. The prices have fallen roughly 66 per cent from its all-time peak of $20,000 hit around mid-December 2017.
However, as per CoinMarketCap data revealed that Bitcoin rebounded after taking a tumble on Tuesday, and was trading at $6,870.94, up by 1.20%. The market cap of Bitcoin stood at $117.28 billion for now.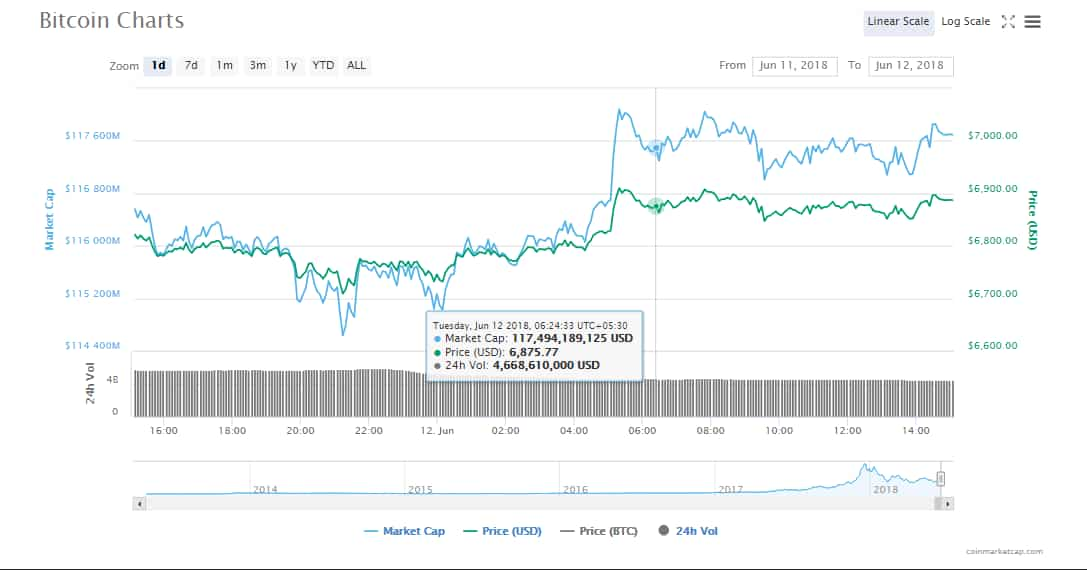 Other cryptocurrencies were trading buoyant with Ethereum below 0.25% at $531.80, on the other hand Ripple surged by 1.73% at $0.5937, Bitcoin Cash up by 0.52% at $944.58 and EOS above 0.94% at $11.30. 
Bitcoin exchange volumes are now dominated by investors in Korea and Japan – countries with no recent history of monetary instability and/or unmet portfolio diversification needs.
Zach Pandl and Charles P Himmelberg, Economist at Goldman Sachs, said, "The anonymity of many cryptocurrencies makes them a useful medium of exchange for criminal activities, including tax avoidance and the circumvention of capital controls."
But did you know there are lot of major exchanges globally that are trying to launch their own Bitcoin - which can be the next big thing? 
As per a report by The New York Times, Intercontinental Exchange (ICE), the parent company of the New York Stock Exchange, was last month reported to have been developing an online platform to buy cryptocurrencies. 
Meantime, US major major regulatory Nasdaq has entered into a partnership with Gemini which is a crypto-exchange in the month of April. They plan to launch their own futures market of cryptocurrencies. 
Meanwhile Chicago exchanges like Cboe Global Markets and CME Group have already begun issuing cryptocurrency futures. 
The headline over many exchanges are planning to launch their own Bitcoin has been in news since November last year, when Bitcoin started making new highs. 
Also, in March month, CoinfloorEX, a London-based exchange founded in 2013, announced that it would launch bitcoin futures contracts next month, joining a number of other companies to offer such product to their customers, according to Reuters.
CoinfloorEX would become the fifth firm that will enter in offering Bitcoin futures contracts, joining Bitmex, CryptoFacilities, CME Group and the CBOE. 
This was not enough, than you should also know that even social media-giant Facebook has already revealed its vision for exploring the creation of its own cryptocurrency.
Facebook started studying blockchain almost a year ago, when a member of its corporate development team, Morgan Beller, began looking at how the social platform could use the emerging technology. 
From above one thing is clear, Bitcoin price may tumble but it wont die, as new trend will soon begin in the history of this coin. 
Marc Andreessen, an American investor in Incrementum research, said, "Bitcoin gives us, for the first time, a way for one Internet user to transfer a unique piece of digital property to another Internet user, such that the transfer is guaranteed to be safe and secure, everyone knows that the transfer has taken place, and nobody can challenge the legitimacy of the transfer. The consequences of this breakthrough are hard to overstate."
Bitcoin was trading at $14 on January 2013, but it grew 141,825.71% or 1419.26 times by December 17, 2017 - where it clocked $19,869.60-mark. 
In India, today, one Bitcoin is available at Rs 4,58,891.51. 
Updated: Tue, Jun 12, 2018
03:07 pm
Mumbai, ZeeBiz WebDesk